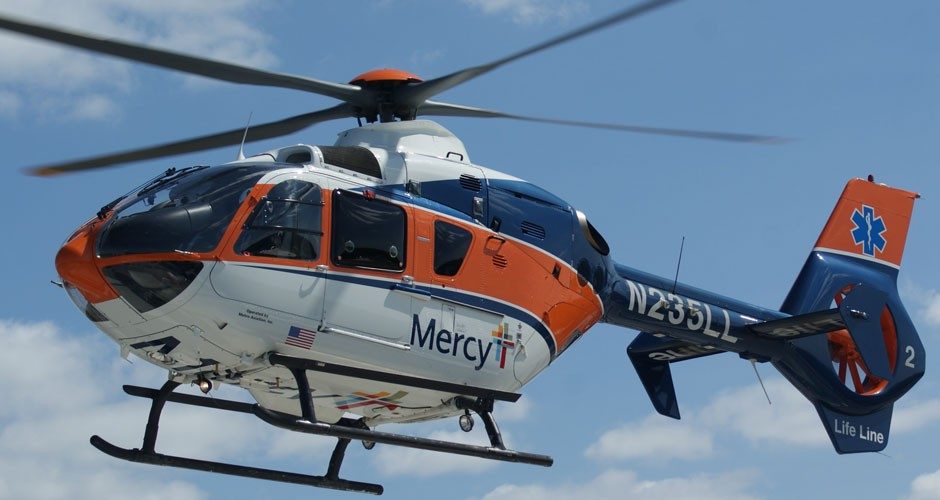 Mercy Life Line helicopter service will begin operation in Fort Smith on April 1.
Mercy Fort Smith will debut its Life Line air ambulance service on April 1. The Life Line helicopter will help Mercy provide more lifesaving services to the River Valley.
Mercy Life Line has provided safe, rapid air transport for emergency patients since 1984, serving patients in northwest Arkansas, Missouri, Kansas and Oklahoma. Mercy Life Line operates aircraft that are equipped with weather radar, auto pilot, terrain awareness and global positioning satellite technology. They use Instrument Flight Rules -- like commercial airlines – which enables them to fly in some weather conditions when other helicopters can't. Mercy Life Line has a 35-year legacy of accident-free service, with its roots in Springfield.
"Mercy Life Line is excited to support Mercy Fort Smith along with the other critical access hospitals in the River Valley," said D.J. Satterfield, program director for Mercy Life Line. "Life Line brings over 35 years of accident free service, while providing continuity of care the community has come to expect from Mercy."     
Flight crews include a registered nurse, a paramedic and a pilot who respond to life-threatening emergencies including trauma, medical or obstetrical. Crews respond to an emergency scenes, and to hospitals to transfer a critically ill patients to the appropriate hospital for their condition. Life Line is accredited by the Commission on Accreditation of Medical Transport Systems.
Mercy Fort Smith's helicopter will be housed at the Fort Smith Regional Airport.
"Mercy Fort Smith is excited about bringing faster, safer health care to those who need it in an emergency," said Juli Stec, vice president of operations for Mercy Fort Smith.
Life Line aircrafts have the latest technology that allows flights during a wide spectrum of inclement weather and can fly under instrument flying rules (IFR).
Each helicopter includes the following safety features:
Helicopter Terrain Awareness Warning System    

Traffic Avoidance Collision System
On-board weather radar
Satellite weather
Autopilot
Night vision goggles
Clinical Equipment on every flight:
On-board ventilator
CPAP/BiPap
Infusion Pumps
Advanced cardiac and hemodynamic monitoring
Blood and plasma
Specialty Flights:
Intra-aortic balloon pump
Impella
Life Line has a membership program that protects members from any out-of-pocket expense for a transport by Life Line. An introductory offer for River Valley residents is $49 ($10 off) for a one-year and $130 ($30 off) for a three-year membership. To sign up, call toll free at 844-637-2928.