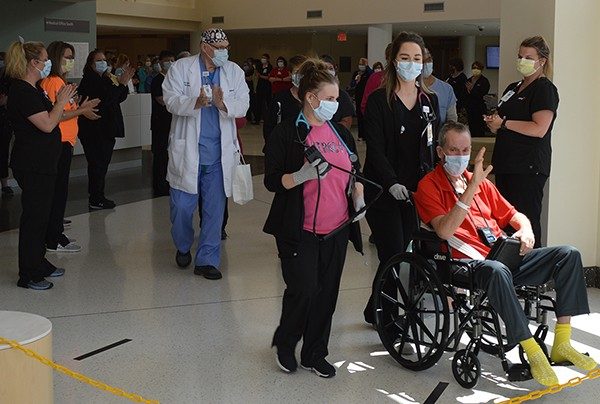 Mercy Jefferson co-workers cheer for patient Terry Bridgewater as he is escorted to the Main Entrance.
Discharge celebrations continue at Mercy Hospital Jefferson, as our third COVID-19 positive patient who had been on a ventilator in the Intensive Care Unit was able to return home today. 
Terry Bridgewater had spent several weeks being treated for the novel coronavirus. At 2 p.m. on Friday a Code Sunshine was called, and hospital co-workers lined the halls as he was escorted to his waiting family at the front entrance. The "Code Sunshine" recognizes patients with extended hospital stays, who needed ventilator assistance in their treatment. Watch a video of his departure here.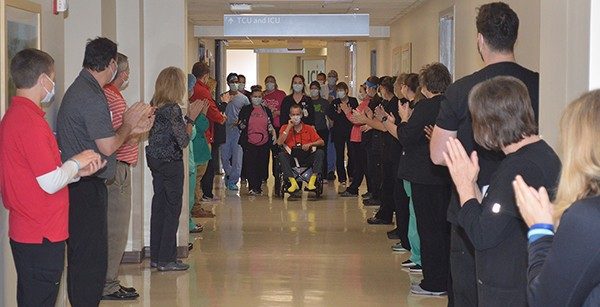 Mercy co-workers lined the hallway from the Intensive Care Unit to applaud the discharge of COVID-19 patient Terry Bridgewater.
"These celebrations are a tremendous source of joy for our caregivers, the patients and their families," said Dr. Karthik Iyer, Chief Medical Officer at Mercy Jefferson. "Each individual patient has his or her own story to tell, but they all have been champions in overcoming unique circumstances from the same debilitating disease."
In addition to his duties as chief medical officer, Dr. Iyer also provides direct care to patients in the intensive care unit. He credits the teamwork of the patients, families and entire hospital staff for the successful recoveries.
"It is not just the physicians. It is a unified effort. All the nurse and health care workers. Everybody from housekeeping, dietary and beyond, all deserve credit," Dr. Iyer said. "These stories provide hope and inspiration to our community. We can beat this virus."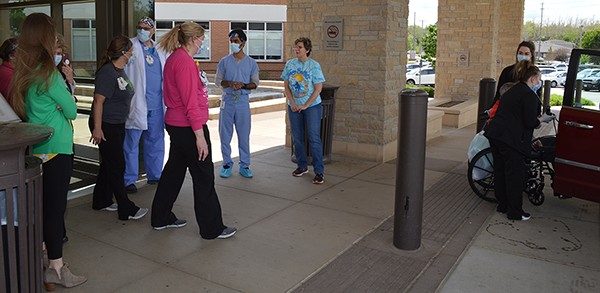 Ellen Bridgewater meets some of her husband's caregivers for the first time. Visitor restrictions during the COVID-19 pandemic limit access for families to patients.
Two other patients who had been hospitalized at Mercy Jefferson with COVID-19 also were discharged on Friday, April 24.
Prior discharge celebrations for long-term COVID-19 patients also brought out cheering family members and Mercy Jefferson co-workers.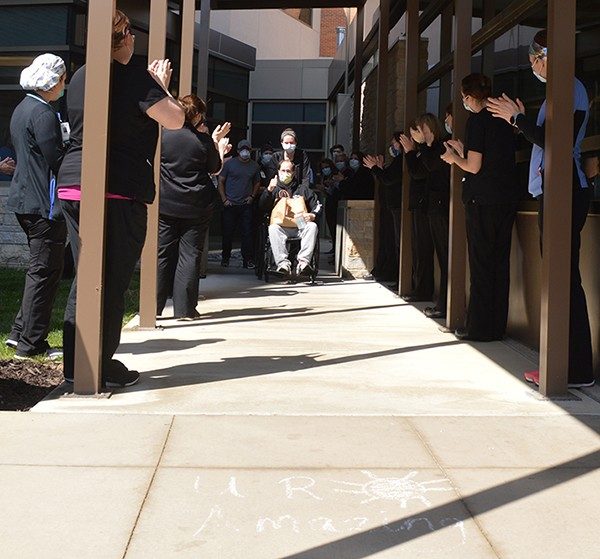 Patrick Linderer gives a thumbs up to cheering hospital co-workers as he is wheeled to his vehicle at the discharge canopy. The chalk art in the foreground could apply to him and all his caregivers.
From the moment he arrived at Mercy Jefferson, Patrick Linderer was ready to go home. One month later, including more than two weeks with a life-sustaining ventilator providing oxygen to his lungs, he got his wish. Click here to watch a video of his departure.
Linderer had COVID-19 and spent three weeks in the Intensive Care Unit, before being transferred to Progressive Care COVID Unit in the hospital. On Thursday, April 16, he was discharged with Mercy Jefferson Home Health assigned to his continued care.
His primary care physician Dr. Briccio Cadiz said, when Linderer arrived in the emergency department, his symptoms indicated significant respiratory issues, but his first COVID-19 test came back negative.
"He wanted to leave. I had to convince him to stay so that we could get another test and continue to monitor his symptoms," Cadiz said.
Mercy Jefferson's Chief Medical Officer Dr. Karthik Iyer joined Dr. Cadiz in the recommendation and helped convince Linderer to stay in the hospital. Less than a week later, he was intubated and in the ICU with ventilator assistance.
"This is such a story of hope," Iyer said. "People do get better with treatment. With the proper care, his will to work and improve paid off."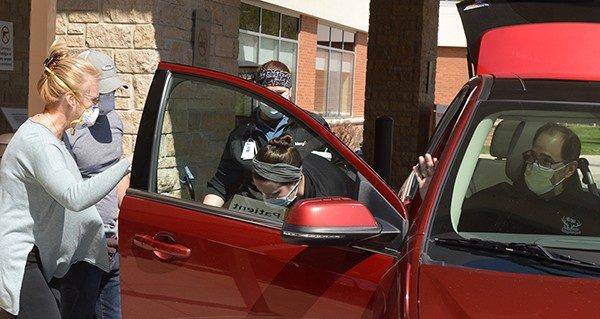 Patrick Linderer waves goodbye to hospital staff as he takes a seat in his vehicle.
Linderer's wife Brenda helped him into his awaiting car then turned to the dozens of caregivers and Mercy Hospital Jefferson representatives who had gathered to send him off.
"Thank you all so much," she said, with her voice cracking in emotion. "You are God's angels. I can't believe eight days ago he was still on a ventilator."
Her heartfelt speech was interrupted when Patrick honked the horn, indicating that he was ready to go home. "That's my husband. He's back!"
The Emergency Department parking lot was filled with vehicles of family and friends honking their horns while nurses wheeled Linderer from the hospital to his car.
"With all his friends and relatives in the parking lot honking, and the hospital staff lined up clapping for him, it brought goosebumps," Iyer said. "We want many more of those moments of celebration."
After Patrick Linderer was in his seat, Dr. Iyer introduced himself to Brenda. The two had talked daily about Patrick's progress over the past several weeks, but because of visitor restrictions they had not met in person.
"I wanted to give her a hug; she wanted to give me a hug, but we had to settle for an elbow bump," Iyer said. "This is what the ministry of healing is all about."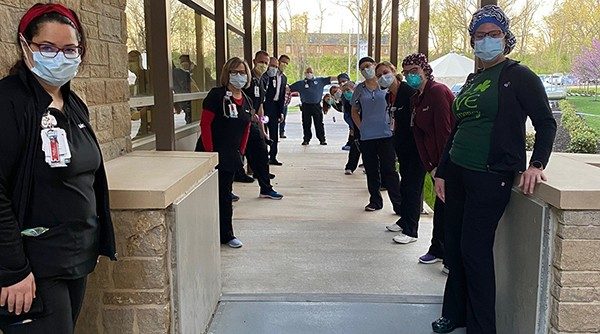 Frank Helderle was the first Mercy Jefferson COVID-19 patient to be discharged after being on a ventilator.
Almost everyone at Mercy Jefferson was cheering April 10 as patient Frank Helderle was wheeled from his room to a waiting vehicle at the discharge canopy. He was the first Mercy Jefferson novel coronavirus (COVID-19) patient to be discharged after having been on a ventilator.
The Leader newspapers of Jefferson County published a full story of his recovery and included interviews with the patient as well as his doctors from Mercy Jefferson including Dr. Karthik Iyer, Dr. Chandra Dommaraju, Dr. Ben Albano and his primary care physician Dr. Tracy Riordan from Mercy Clinic Internal Medicine – Imperial. Click here to read the Leader story.
Click this link to see a video of Mr. Hederle as he left on April 10 afternoon.