The birthday of the founder of modern nursing, Florence Nightingale, is celebrated each year on May 12. Not coincidently, it's also Nurses Week. Mercy nurses have been at the forefront of health care since the Sisters of Mercy were founded. Nightingale, with the Sisters of Mercy by her side, revolutionized modern nursing based on their experiences during the Crimean War.
We've seen the power and necessity of Mercy nurses especially vividly during the COVID-19 epidemic to save lives while putting their own health at risk. This has always been the way for Mercy nurses, going back to the first Sisters of Mercy.
'The Mission of Mercy: Florence Nightingale Receiving the Wounded at Scutari' by Jerry Barrett, 1856–1858. Florence Nightingale, clearly highlighted in the center of the group, is shown receiving casualties in the courtyard of the Barrack Hospital at Scutari. Mother Clare Moore can be seen to the left of Florence Nightingale.
Florence Nightingale, the Sisters of Mercy and the Crimean War
The Crimean War was fought between the Russian Empire and an alliance made up of the Ottoman Empire, France, Britain and Sardinia. In 1854, Mother Mary Clare Moore and four other Sisters of Mercy traveled to Crimea to serve as nurses. They were assigned to the hospital in Scutari, under the superintendence of Nightingale.
The Sisters were used to serving the streets and hovels of Dublin where the surroundings were rudimentary at best. But even that couldn't prepare them for what they found. The "hospital" was a converted stone building that trapped the winter cold and damp, the sewers overflowed, and the stench of excrement, infection and body odor was overwhelming—not the best conditions for healing. The only light came from a few candles and oil lamps suspended from the ceiling and all the surfaces—floors, walls, and ceilings—were filthy. Rats had even taken up residence under the beds.
What was worse—there was no clean clothing, bedsheets or even towels. The soldiers' uniforms were infested with lice and fleas, but there was no soap with which to wash them and only a dozen baths for approximately 2,000 soldiers. The beds were long past filled, leaving wounded and dying men on cots or even the bare earth, their bodies spilling out into the hallways. Food and water were scarce and infections spread quickly—so quickly that 10 times more men died from typhus, typhoid, cholera and dysentery than from their battle wounds. 
In spite of all this, the Sisters worked hard to provide relief and to heal those in their care. In addition to ordering food from England, Nightingale purchased towels, clean shirts, soap and necessities like plates, knives, and forks, cups and glasses. Her nurses cleaned the hospital wards and sanitized the kitchens, all of which improved conditions and infection rates tremendously.
This bit of order allowed them more time to truly minister to the men's physical, mental and spiritual needs. Night after night, they knelt by their bedsides, illuminated only by a small lamp each Sister carried. While they didn't have our modern medicines to treat their wounds, they did the best they could to keep them clean and soothe fevers with cool cloths. They spoke kind, loving words and prayed with the soldiers. One of the doctors who spoke to Nightingale about the significant impact of the Sisters on his patients said, "They do more than medicine."
Today, with the aid of the lessons Nightingale and the Sisters learned at that hospital—her Notes on Nursing: What It Is and What It Is Not was a major influence on Mercy's Nursing Professional Practice Model—and of course, technology and advances in medicine, we are able to practice under much more sanitary conditions. While recent events remind us, even 166 years later, shortages can still occur, we also have the legacy of strength and success started by these Sisters in the Crimea to draw upon when times get tough. 
Often referred to as the "Lady with the Lamp," Florence Nightingale was a British social reformer and statistician, and the founder of modern nursing. Nightingale came to prominence while serving as a manager and trainer of nurses during the Crimean War, in which she organised care for wounded soldiers. (Getty Images)
Catherine McAuley, the Sisters of Mercy and the Cholera Epidemic of 1832
On Dec. 12, 1831, Catherine McAuley, Mary Ann Doyle and Mary Elizabeth Harley professed their vows as the first Sisters of Mercy. Only three months later, in March 1832, the long-feared Asiatic Cholera had arrived in England and Ireland. Catherine wrote to Archbishop Murray seeking permission to offer the services of the Sisters of Mercy wherever they were needed. Within the week, they began to serve in a temporary cholera hospital at the Depot on Townsend Street in Dublin.
It was one of the deadliest months of the epidemic. Sister Clare Moore (who later joined Nightingale to minister to the wounded in the Crimea) remembered that there were always four at the Depot working in shifts from 9 in the morning until 8 at night. Moore wrote of Catherine, that although she "had a natural dread of contagion, she overcame that feeling and scarcely left the hospital." The Sisters nursed for seven months in the temporary hospital for the duration of the epidemic.
Since the pallets of the cholera victims were low off the ground, Sister Mary Ann Doyle moved from bed to bed on her knees, resulting in great pain and permanent damage. One evening, in hopes of cheering the exhausted Sisters, Catherine wrote a verse that has ever since been treasured by the Sisters. The poem speaks with gentle humor and sympathy to the hardships Doyle and the others experienced. Here are two of the five verses:
Since fatal Cholera appeared you've scarce been seen to stand, nor danger for yourself e'er feared when death o'erspread the land. While on your knees from Bed to Bed you quickly moved about, it did not enter in your head that knees could e'er wear out.
A mural of the Sisters of Mercy caring for typhus patients in 1847 in Newfoundland.
The Sisters of Mercy During the Typhus Epidemic of 1840
Typhus, like COVID-19, did not discriminate by class. At least a dozen Sisters died, including a postulant in Carlow who came from a wealthy family, but the most impacted were the poor who lived in overcrowded spaces with poor hygiene. In a letter to Sr. Elizabeth Moore, Catherine called the disease "a prevailing influenza amongst the poor of Dublin and great poverty." Interestingly, the high and middle classes had a greater mortality rate than the poor, and it is now thought that they eventually developed immunity through long-term exposure.
As they had done with the cholera epidemics in years past and would continue to do even today, the Sisters cared for the victims. Daniel O'Connor, a famous Irish politician, described the Sisters: "Look at the Sisters of Mercy, wrapped in coarse black cloaks... They are hastening to the lone couch of some sick fellow creature fast sinking into the grave with none to console, none to soothe. They come with consolation and hope."
Catherine worried about the health of her Sisters. She advised those nursing the sick to take "prudent precautions" and stay away from those who are ill unless they were caring for them, writing, "duty only should bring us in the way of contagion," a form of modern social distancing. She advised the weakest among them to forego the Lenten fast so as not to weaken themselves further—something very unusual for a religious at the time. She advised the Sisters to look after their own health, not just that of their patients: "I trust you to use every prudent precaution. I am sure you do for others, but remember well-regulated charity begins at home"—advice we would do well to heed today.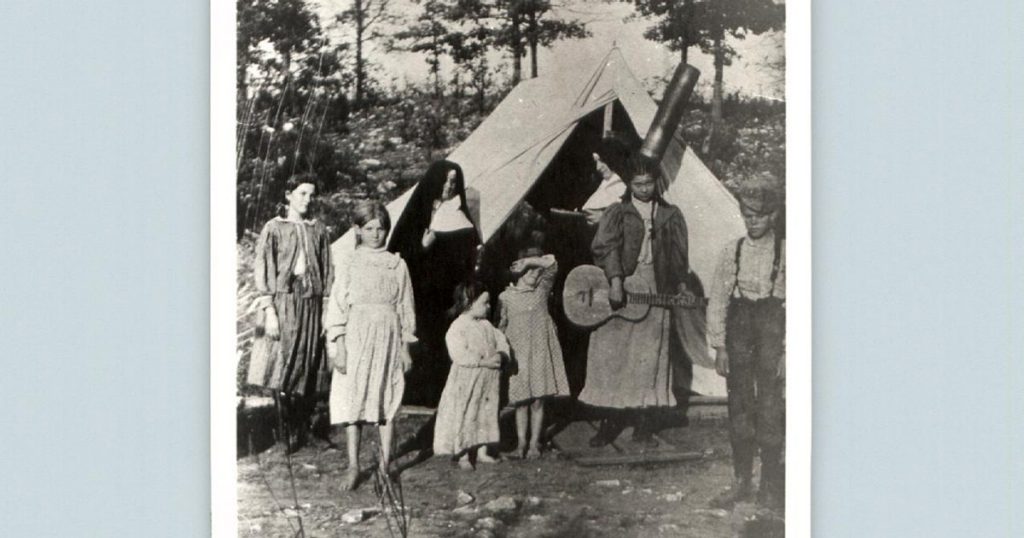 The smallpox epidemic of 1899 – 1900, in Springfield, Missouri, forced victims into quarantine. The Sisters of Mercy were the only ones willing to serve the people who were isolated in the "pest camp."
Remembering the Smallpox Epidemic of 1899 – 1900
When the Sisters heard of the plight of these very sick people, they were filled with compassion, and many, both in Springfield and in St. Louis, volunteered to nurse them.
Mother M. de Pazzi Bentley offered the mayor of Springfield the services of two Sisters. The doctors admitted later they expected both to be misshapen, pockmarked creatures. Their amazement was equal only to their unbounded joy when Sister M. Xavier Kinsella and Sister M. Veronica Fitzpatrick appeared.
Almost immediately, these two changed an ugly madhouse of squalor and despair into a haven of cleanliness and Christian cheer. To alleviate the woes of the outcasts of society, the Sisters had to suffer with them in voluntary exile. They brought some cheer to a bad situation. Despair could not linger in a building where walls might echo at any moment with Sister M. Xavier's merry laugh.
Aren't We Lucky?
Sister M. Xavier lived in her tent from October 1899 to June 1900, separated from the community she loved so dearly. She was a daily witness to the squalor of the camp, yet nothing could cloud her radiant good nature. After an especially poor meal she once remarked with great satisfaction, "Aren't we lucky! Here we are, living at the expense of the city on the fat of the land."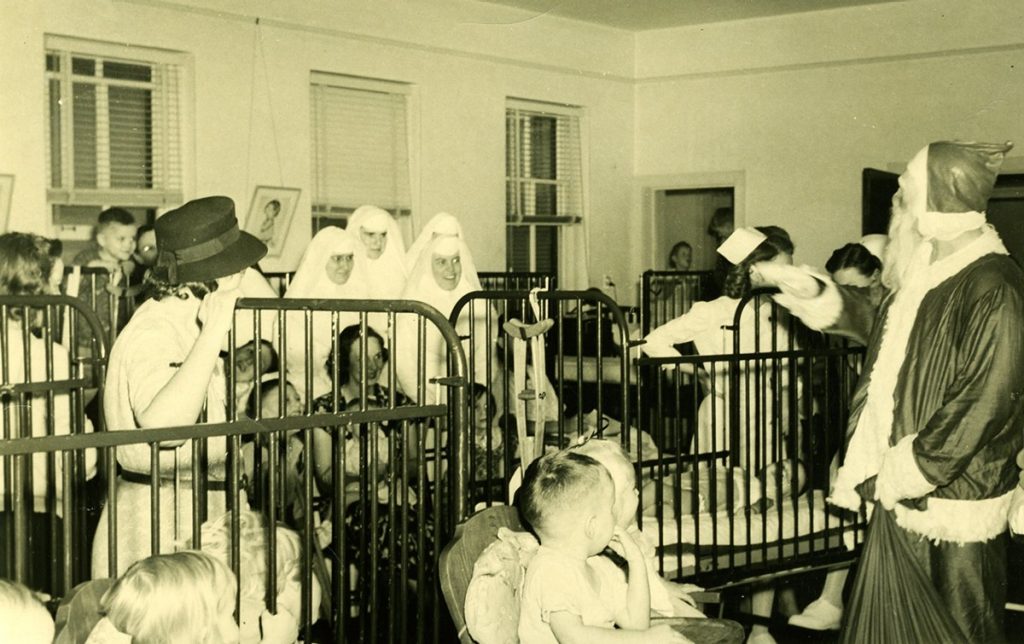 The polio unit at Mercy Hospital in Vicksburg, Mississippi, Christmas 1947. Pictured are Sisters Chabanel Finnegan and Marian Strohmeyer.
The Sisters of Mercy and the Polio Epidemic of the 1940s and 1950s
The first recorded polio case in the United States was in 1875. The virus is an intestinal infection spread by contact with fecal waste. Many people who got it recovered with only minor symptoms such as a sore throat, fever, chills, nausea or an aching limb. But in more serious cases the virus attacked the central nervous system causing permanent paralysis, most often in the legs. Victims who recovered often had deformed limbs and were forced to use wheelchairs, crutches or leg braces for the rest of their lives. Others died when the virus immobilized the muscles used to breathe.
Polio - technically called infantile paralysis, or poliomyelitis, but shortened by newspapers to "polio" to save headline space - was frightening not only for its effects, but because it struck without warning. From 1905 on, people knew it was contagious, but were powerless to stop it or predict where it might strike. Localized epidemics made children and young adults ill every summer, causing more than 15,000 cases of paralysis each year. As time went on, the age of its victims increased. In 1921, 39-year-old Franklin Delano Roosevelt, future President of the United States, was paralyzed.
In the late 1940s, polio outbreaks in the U.S. quadrupled, increasing in frequency and size and crippling an average of more than 35,000 people each year. As always, the Sisters of Mercy were there to help. In 1943, they assumed operations of City Hospital in Vicksburg, Mississippi, which they renamed Mercy Hospital. Under their leadership, it was designated a Regional Pediatric Polio Center, and as such was able to provide more treatment and therapy than other locations.
The Sisters in hard-hit Iowa and Pittsburgh, Pennsylvania, worked long hours, despite travel restrictions and quarantines on homes and towns where polio cases were diagnosed. One Sister recalled that all movie houses and swimming pools were closed, ball games canceled and few people attended Sunday church services. Parents were afraid to let their children go outside, much less send them to school.
In Siouxland, Iowa, the Sisters ministered at the newly-opened St. Joseph Mercy Hospital, where in 1952, they experienced the highest number of cases in the United States. By mid-July, there were so many patients that gurneys lined the hallways, waiting for beds to become free. The Sisters had to open an additional floor of the hospital even though it wasn't even fully painted and had to be emergency wired to handle the iron lungs that the most critically ill needed to survive. This became the "polio floor," with separate wings to care for each of the four types of polio. In all, the hospital cared for 738 of the city's 923 cases.
The only known treatment at the time was to try to relive symptoms with hot towels and warm baths. Sr. Elizabeth Mary Burns, who worked the night shift in the respiratory hall, recalled what it was like to try to help the young patients:
"It was heartbreaking… you just felt helpless. It wasn't an ordinary kind of nursing where you'd take care of someone and feel good about it. We'd take care of people and feel depressed. Not all the patients died, but a great percentage of them did. Mostly, we could comfort the patients and help them be as comfortable as possible.
"I remember there was a 19-year-old college student, a handsome human specimen. He just went from bad to worse and finally died. Another woman was five months pregnant. We put her in an iron lung and were hoping we could keep her alive long enough so that perhaps if she couldn't live, the baby would, but we weren't able to save her or the baby.
"Doctors were just wonderful to the patients. They were there day and night taking care of them. The nursing staff was excellent, too. To me it was a very difficult experience. Here were all these young people and I also was young. I could just see them deteriorating; there was so little we could do. It crossed my mind that I might get polio; we'd come in contact with so many people. But we all seemed to come through it all right. I was a little afraid at first; I'd never taken care of those kinds of patients. I had just finished basic nursing and I still had to take my state boards. I felt very inadequate, but we all helped each other out."
Cases of polio in the U.S. peaked at 37 per 100,000 in 1952. In 1955, the trivalent inactivated poliovirus vaccine was invented, followed by the trivalent oral poliovirus vaccine in 1963. Thereafter, the number of polio cases fell rapidly to less than 100 in the 1960s and fewer than 10 in the 1970s. Thanks to a successful vaccination program, the United States has been polio-free since 1979.
Mercy
, one of the 20 largest U.S. health systems and named the top large system in the U.S. for excellent patient experience by NRC Health, serves millions annually with nationally recognized quality care and one of the nation's largest Accountable Care Organizations. Mercy 
is a highly integrated, multi-state health care system including
 more than 40 acute care, managed and specialty (heart, children's, orthopedic and rehab) hospitals, 
convenient and urgent care locations, imaging centers and pharmacies. Mercy has 
900 physician practices and outpatient facilities, more than
4,000
physicians and advanced practitioners and more than 40,000 
co-workers serving patients and families across 
Arkansas, Kansas, Missouri and Oklahoma. Mercy also has clinics, outpatient services and outreach ministries in Arkansas, Louisiana, Mississippi and Texas.