ST. LOUIS - Shannon Knabach walks the halls of the Mercy Kids neonatal intensive care unit in St. Louis seeing babies who remind her of her own baby pictures. She was born at 23 weeks gestation, weighing only 1 pound, 9 ounces. Doctors gave her only a 5% chance of survival. This year, Knabach celebrated five years of working with some of the same doctors and nurses who saved her life.
"God has blessed me with so much and I give God the glory for having all the right medical staff and equipment that I needed when I was born," Knabach said. "And for bringing me back to work with the NICU team where my journey began."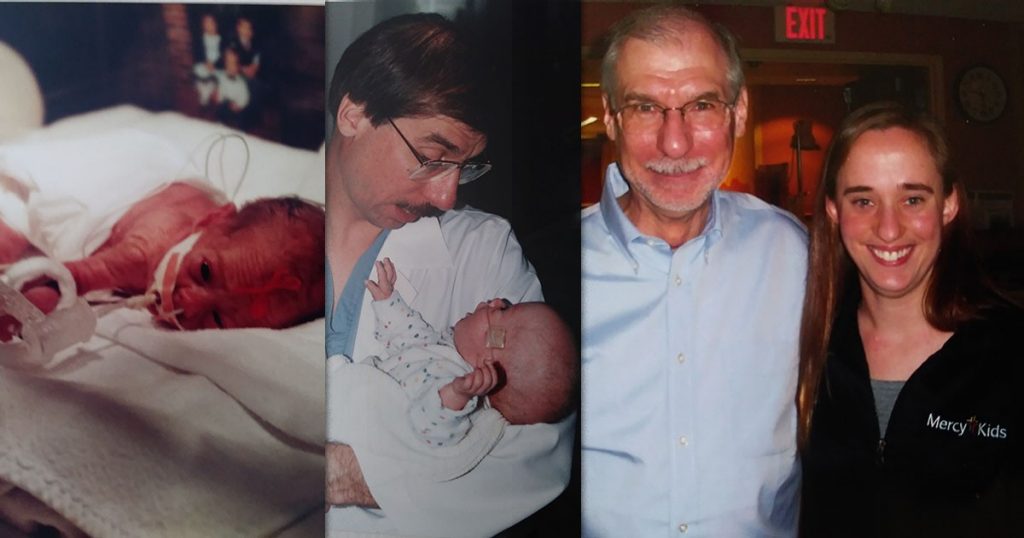 Shannon Knabach in the NICU, on discharge day with Dr. Kenneth Klesh and as a friend with now retired Dr. Klesh.
Knabach was born with a blood infection and had many blood transfusions. She suffered a brain bleed and was on oxygen until her first birthday. Once those immediate concerns were addressed, the rest of her 4 ½-month stay was to let her grow and learn to feed, she said.
Helping babies grow and feed is now part of Knabach's job as nourishment technician in the NICU.
"On the floor they call me the milk tech," Knabach explained. "My role is to make different calorie formulas and fortify breastmilk to different calories and then pull everything into bottles or syringes in the amount the babies need for their feeds. I then deliver them to the bedside nurses."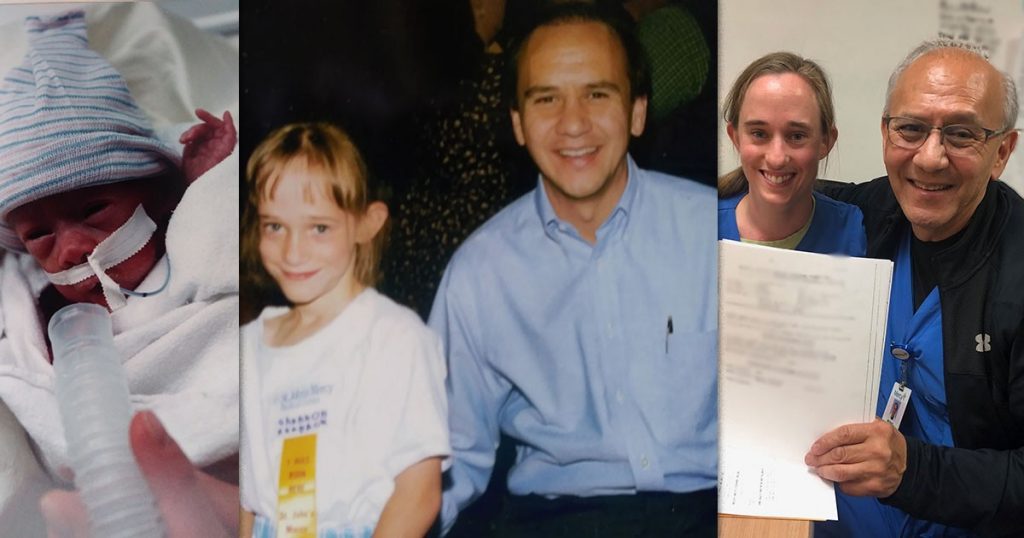 Shannon Knabach in the NICU, at a NICU reunion with Dr. William Chao and as a co-worker with Dr. Chao.
After five years, Knabach still loves her job. She said she had always hoped to make it back to the NICU in some capacity and when she came across the job posting she knew it was the perfect fit.
Knabach has truly come full circle. She said, "While I don't have a direct patient care role, I am able to have an impact and help babies gain weight to get on the road to going home."
Our Emerson Level III NICU offers the most advanced care in St. Louis County for premature or critically ill babies.