Heroic caregivers who have been at the bedside caring for COVID-19 patients throughout the pandemic were the first at Mercy Hospital Oklahoma City to get a vaccine today to fight the virus.
Lauren Jerichow, RN and Dr. Maroun Tawk, take care of patients on COVID-19 units and were the first Mercy co-workers to receive the vaccine. 
"We are so grateful for the hands and expertise responsible for the creation and distribution of this potentially lifesaving vaccine," said Jim Gebhart, Mercy Hospital Oklahoma City president. "This has been a very dark year for our co-workers and patients and this vaccine offers what our clinical teams need need most: hope and the first significant advancement in preventing COVID-19 infections."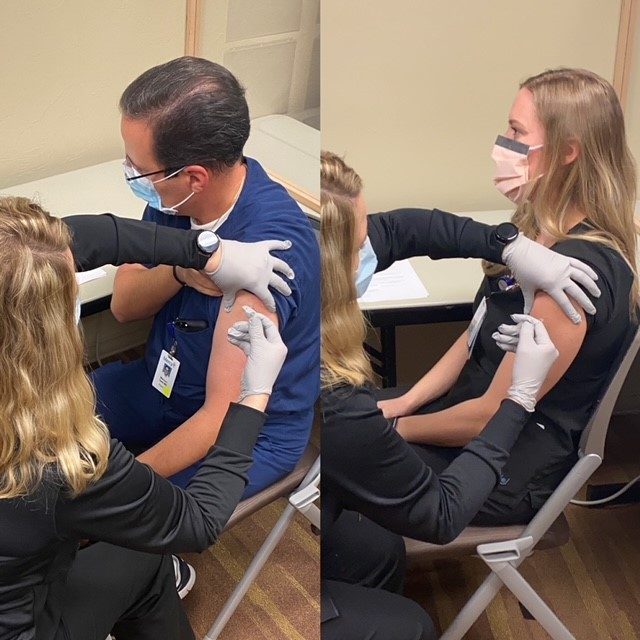 The Pfizer vaccine, which just received emergency use authorization Friday, arrived at Mercy Hospital Oklahoma City about 9 a.m. Tuesday morning. It was quickly moved into the ultra-cold freezer set aside for its storage. From there, pharmacy staff began the process of thawing the vaccine in a designated refrigerator.
Mercy caregivers will be prioritized for the vaccine based on state guidelines, with those working directly with COVID-19 patients receiving it first.
"This is a truly historic time in our nation and for Mercy," said Dr. Chad Smith, Mercy Hospital Oklahoma City chief medical officer. "We have thoroughly reviewed the clinical trial data and we are confident in the safety and efficacy of this vaccine. While this vaccine is one tool in our toolkit, it does not mean we can stop taking every precaution available. So, please continue to mask, social distance, wash your hands frequently and get a flu shot, if you haven't already."
Mercy offered vaccines to around 75 co-workers Tuesday evening and plans to open with a full vaccine schedule Wednesday through the end of the week. The first shipment will be enough to vaccinate all those working with COVID-19 inpatients followed by all Mercy co-workers when more vaccines are received in the coming weeks. 
From the virus itself to the vaccine, here's what people are asking us.
Throughout the COVID-19 outbreak, Mercy has remained open to the greatest extent possible to care for you.
We're ready for your safe return. We follow strict standards for disinfecting, Personal Protective Equipment use and social distancing.