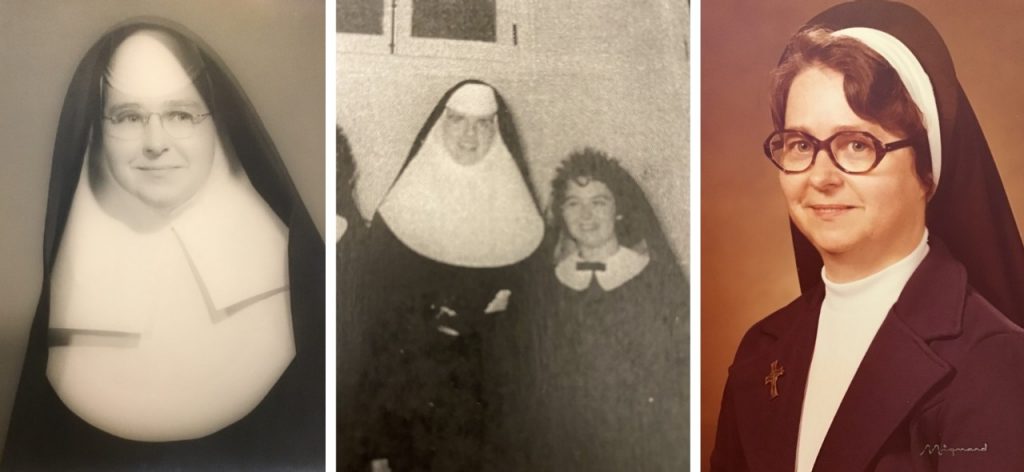 Sister Chabanel Finnegan joined Mercy in 1960, where she has served in a variety of roles for the ministry. She has been with Mercy Fort Smith since 1999.
After more than 60 years of serving Mercy, its people, patients and ministry, Sister Chabanel Finnegan will be departing Fort Smith to begin a new journey.
Better known as "Sister Chab," she joined Mercy in 1960 and arrived at Mercy Fort Smith in 1999. She currently serves as ethicist, ministering to co-workers and others in need of kindness, guidance and comfort, but has served Mercy in a variety of ways for over six decades.
Sister Chab marked 60 years with Mercy on July 1, 2020, and was honored on Mercy Day in September 2020 when a plaque in her honor was placed in the garden in front of Mercy Hospital Fort Smith.
"Sister Chab has a peaceful presence about her and provides a calm reassurance when it's needed most," said Ryan Gehrig, president of Mercy Hospital Fort Smith. "She has been a personal mentor and she is a great listener who gives you her full attention."
Gehrig added that Sister Chab "has been the foundation for the modern era of Mercy Fort Smith."
Her new role with the Sisters of Mercy takes her to Mobile, Alabama, where she will assist retired sisters at the Convent of Mercy. She will be primarily responsible for the community and prayer life of the sisters and will help plan retreats and Masses. She will work with the administrative team, in addition to just being available to those who need her, much like she is at Mercy Fort Smith.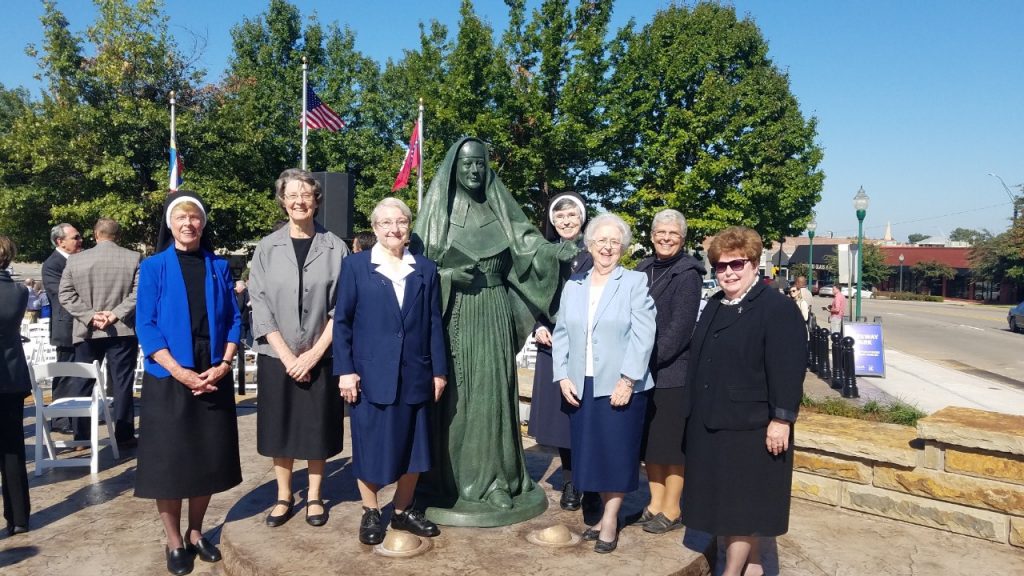 Sister Chabanel Finnegan, third from right, stands with other Sisters of Mercy at the statue of Sisters of Mercy founder Mother Superior Mary Teresa Farrell in downtown Fort Smith.
Sister Chab said she thought about the opportunity in Mobile and prayed about it. Eventually – but not now – she will retire in Mobile, which is closer to family members.
"I didn't decide, God did," Sister Chab said with a laugh. "People have said, 'When are you going to retire?' Age-wise, I could, but I said, 'God will let me know.' And I prayed that I would know when it's time. Instead of letting me know when it was time to retire, it was time to go there, where eventually I will retire.
"It feels right. It is what God wants, and I've been very peaceful from the beginning."
Joining Mercy
Sister Chab was called to nursing at a very early age, inspired by two aunts who were Sisters of Mercy.
"One of those Christmases when I was 4 or 5, one of the gifts that I got was a little nursing outfit," she recalled. "There were nurses in the family. Somewhere along in there, I just felt called to do that. It just was what I wanted to do."
Nursing ran in Sister Chab's family, as she had several aunts and a cousin who were nurses. However, when she felt the call to be a Sister of Mercy, she was unsure as to how she could combine her calling to serve the Lord with her desire to care for others' health. When an aunt (who was also her godmother) began serving as both a sister and a nurse, it became clear to Sister Chab that this was possible.
Sister Chabanel Finnegan was honored with a plaque on Mercy Day in September 2020. Pictured are Father Paul Fetsko, from left, Dr. David Hunton, Dr. Paul Bean and Ryan Gehrig.
After she finished high school, she went to St. Louis for three years of basic formation, then three years of nursing school while continuing formation. In 1960, she joined St. John's Mercy Hospital in Springfield, where she stayed for 13 years with intervals in other communities. She also served at Mercy locations in New Orleans and Vicksburg, Mississippi. She served as director of formation for new members in St. Louis, and in the early 1990s began graduate studies in ethics.
After completing studies, she came to the Mercy ministry office to serve as ethicist for communities around the ministry. During that time, she traveled to different Mercy locations to assist in any way needed. She also served as interim vice president of mission for the entire Mercy ministry for one year before transitioning to Mercy Fort Smith in 1999.
"The role I came for evolved into that of vice president of mission," she said. "But ethics takes a lot of attention. You have to be able to respond as the needs come. Trying to do the administrative part as well as doing that was difficult. I felt that ethics was suffering because of that."
Under Sister Chab's mentoring and guidance, Father Paul Fetsko transitioned into the role of vice president of mission. Sister Chab was impressed with Father Paul's focus and commitment to ethics, which she says is "helping people do the right thing for the right reason.
"To me, that's what ethics basically is," she said. "Ethics and mission really builds on my experience in nursing, so they're not three distinct things; they all come together for me in ministry."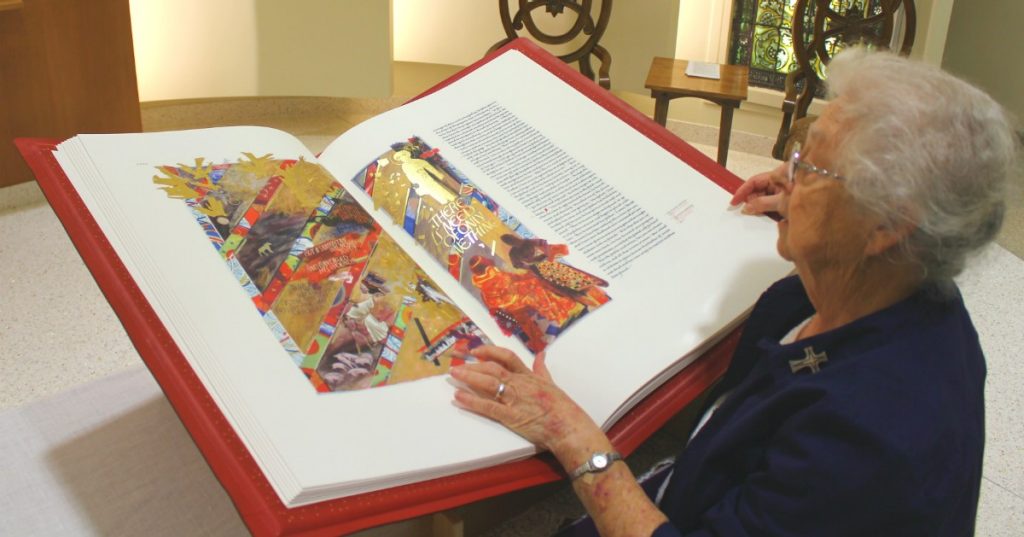 Sister Chab looks over the Heritage Edition of the Saint John's Bible during its stay at Mercy Fort Smith in 2018.
Sister Chab's legacy
Father Paul said that "from patient rooms to boardrooms, Sister Chab has done it all.
"Whether it is her engaging smile or her gentle correction, she speaks authoritatively as a pastor, an ethicist, a nurse, a leader and as a friend. She has been an immense help in keeping alive the legacy of the Sisters of Mercy in Fort Smith," he said.
He continued by calling Sister Chab a "living embodiment of the Sisters of Mercy for us in Fort Smith."
"For over 60 years, she's lived a life of service in the religious Sisters of Mercy. She carries with her the spirit of Catherine McAuley to all those she meets," he said.
Sister Chab also is responsible for bringing Advanced Formation, the Catholic Church's personal preparation for a defined mission, to Mercy Fort Smith in 2005. Mercy's ministry-wide Advanced Formation is based on her model. Advanced Formation helps Mercy address the challenge of helping laypeople understand that everything lies in God's hands.
"That's why we have Advanced Formation with leaders and co-workers, so that people know what's expected of them and what the ministry expects of every co-worker, not just leaders," she said. "I always tell people in Advanced Formation that we're never formed; 67 years later, I'm still being formed."
Among Sister Chab's other highlights in Fort Smith over the years are the opening of Mercy's Centers of Excellence and the building of new clinics that have extended the ministry in appropriate ways.
Most of all, she is grateful to have been here as a Sister of Mercy.
"I just feel it is important if possible to have a Sister of Mercy; people still see that and kind of identify that as connecting to Mercy," she said. "People stop by and talk, sometimes for a little counseling, especially in spirituality."
It's the people at Mercy she will miss most of all, Sister Chab said. She plans to continue her role on Mercy's Board of Directors and hopes to continue serving on the board at Mercy Crest a Sisters of Mercy facility in Barling.
"That's been the hardest part of the whole decision, is knowing that I was going to be saying goodbye," she said. "People are happy for me but sad I'm going, so I appreciate that they can accept it and walk with me in it."
Father Paul added that "as she has taught us in Fort Smith, we Mercy co-workers now need to carry on that legacy without her. May the teaching, formation and guidance she has provided to us over these years bear much fruit as we carry forth the healing ministry of Jesus."
Sister Chabanel Finnegan will depart Mercy after more than 60 years to begin a new role with the Sisters of Mercy in Mobile, Alabama.