A new building to serve women is under construction on the campus of Mercy Hospital Oklahoma City. The hospital's labor and delivery and postpartum services have been at capacity for years, limiting Mercy's ability to serve more patients.
Forty percent of the $98 million project is funded through generous local donors. When construction is complete, Mercy will have a total of 73 patient rooms to serve women in the new center, increasing the capacity for deliveries by 40%.
As the population in Oklahoma City has increased over the last 10 years, so has the need for more services.
"We have seen a 34% increase in childbirths at Mercy in the last 10 years," said Jim Gebhart, community president of Mercy Hospital Oklahoma City. "We want to be able to serve every pregnant mom and newborn that needs us, but the reality is that our existing facility is not designed to support our current volume of patients. We simply need more space."
Mercy Hospital Oklahoma City was built in the 1970s and the existing Mercy BirthPlace was designed to handle around 3,000 births a year. Nearly 4,000 babies were delivered annually at the hospital over the last two years.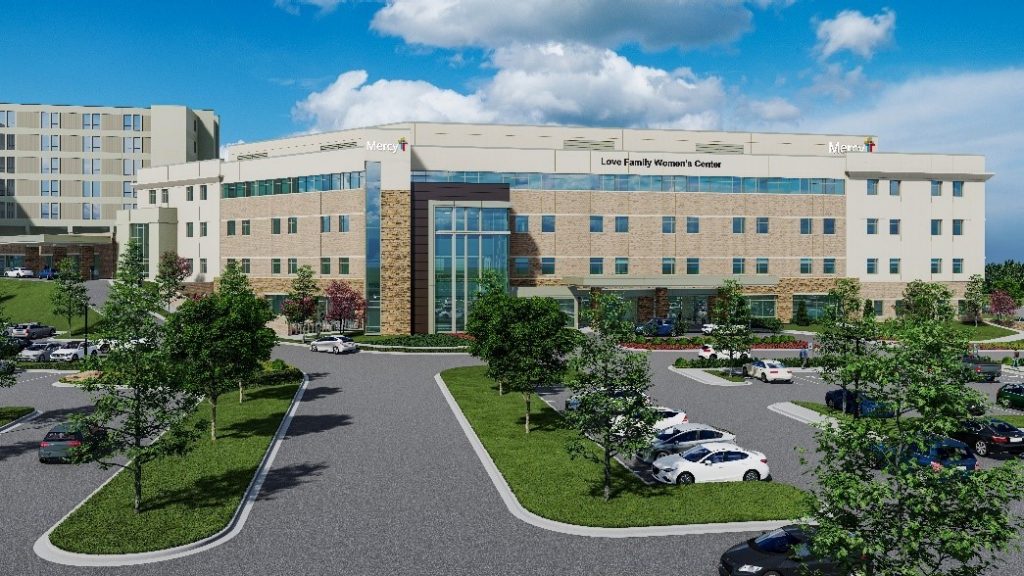 "Our physicians and nursing staff are incredible, and they're always looking for creative ways to serve more patients with the kind of compassionate care they've come to expect from Mercy," said Dr. Chad Smith, obstetrician-gynecologist and chief medical officer at Mercy Hospital Oklahoma City. "They know the need for this new facility better than anyone, and they are just so excited to see this dream finally become a reality."
The Love Family Women's Center will be a 175,000-square-foot, four-story building on the campus of Mercy Hospital Oklahoma City. It will feature an obstetrics emergency department staffed by obstetricians.
Three large Caesarean section suites located in the women's center will connect to the hospital on the first floor via the existing hospital surgery suite. This strategic design allows for quick, safe access to additional services if there are any medical emergencies during delivery. 
"We looked at a number of different options and locations for a new facility over the years and ultimately decided this really is the best of both worlds for patients," said Dr. Donald Rahhal, longtime Oklahoma City obstetrician-gynecologist and former medical director of Mercy BirthPlace. "Patients will have the easy, convenient access a free-standing structure provides while also having immediate access to all the services a hospital provides in case of any kind of emergency."
Postpartum rooms will be on the third floor of the women's center that connects to the hospital via a skybridge. This allows moms of babies needing a higher level of care to have direct elevator access to the neonatal intensive care unit on the fifth floor.
The new state-of-the-art facility will also feature Oklahoma's first hospital-based low intervention birthing unit. The unit will be run by accredited midwives who are also registered nurses in collaboration with obstetricians. The program will offer the option of a low intervention birth with access to a higher level of care under the same roof if issues arrive during labor and delivery.
Mercy will serve women of all ages at the Love Family Women's Center, including a dedicated area for women recovering from surgeries. Outpatient therapy services, specifically pelvic floor therapy, will also be offered. A large conference center will host support groups and classes on everything from childbirth, infant care, CPR and more.
A large portion of this project was generously funded through Mercy Health Foundation Oklahoma City. It is the largest fundraising campaign in the history of Mercy. The Tom and Judy Love family gave a $10 million lead donation to this project. Campaign co-chairs Judy Love and Cathy Keating led the way in raising more than $30 million toward the $40 million fundraising goal.
"Judy Love and Cathy Keating dedicated themselves to helping us serve more patients and raised an incredible amount of money during a pandemic and worldwide economic uncertainty," Gebhart said. "We simply could not have done this without them, and our Oklahoma City community is better because they are a part of it."
Thank you to our Generations of Mercy lead donors
Tom and Judy Love Family
E.L. and Thelma Gaylord Foundation
Herman and LaDonna Meinders
J.E. and L.E. Mabee Foundation
Anonymous
Dobson Family Foundation
Affiliated Anesthesiologists, LLC
Mo and Richard Anderson
Chickasaw Nation
Mercy Auxiliary
Colleen and Allen B. Pease
The Leichter Family Trust
Robert Glenn Rapp Foundation
American Fidelity Foundation
Kirkpatrick Family Fund
Anonymous
Archdiocese of Oklahoma City
Arnall Family Foundation
Clyde R. Evans Charitable Trust
Whitney and Jack McClendon
Robert Meinders
Jonathan and Annie Middlebrooks
The Payne Family
George Records
Terri and John Stanley, III, MD