ST. LOUIS - Dr. David Meiners has been named president of Mercy Hospital St. Louis, its first physician leader, effective today. Dr. Meiners steps into this new role as Steve Mackin, former president of Mercy's St. Louis hospital, was recently named incoming president and chief executive officer of Mercy.   
"David has dedicated more than five decades to Mercy as both a general surgeon and administrator," Mackin said. "He's respected as a physician and is an exceptional leader. He always has the best interest of patients, physicians, co-workers and the community at the heart of everything he does."
Dr. Meiners most recently served as chief administrative officer for Mercy Clinic and as surgery department chair in Mercy's eastern Missouri region. He previously served in Mercy-wide roles as clinical director of surgical services and as medical director of surgical specialties. He has been instrumental in the planning and development of the new Mercy Ballas Multispecialty Building, currently under construction at Ballas and Conway roads, and received the inaugural Charles E. Thoele Physician Leadership Award in 2015 for his "commitment to Mercy's mission and values, long-time leadership, compassionate care, respect for colleagues, co-workers and patients."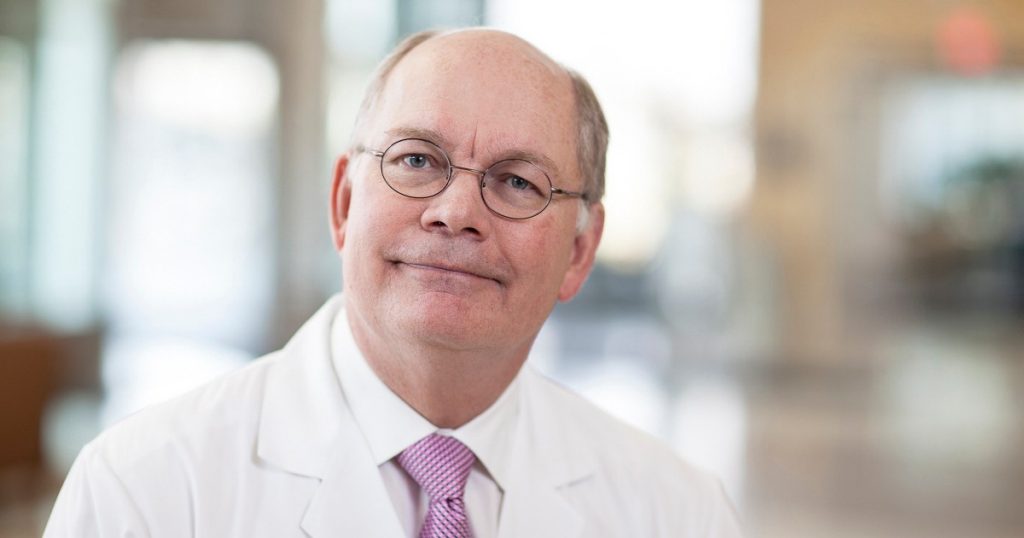 Dr. David Meiners becomes first physician president at Mercy Hospital St. Louis.
His first job at Mercy was as an operating room surgical tech in 1970, where he learned much from his uncle, Dr. Paul Meiners, also a surgeon. He also was greatly influenced by Sister of Mercy Mary Helen Tunnicliff, director of the operating room and his first boss.
"Sister Mary Helen demonstrated a spirit and dedication that inspired the entire staff, both physicians and nursing. She commanded the utmost respect, but also enabled a congenial work environment," Dr. Meiners recalled. "From that first experience, I knew I would spend the rest of my career at Mercy. I have taken every role at Mercy as a calling – it's a calling to provide better care to my patients and the communities Mercy serves across many states."
Mackin, who will officially serve as Mercy's president and CEO beginning April 1, 2022, echoed Dr. Meiners' commitment.
"To say Mercy is a part of his DNA is no understatement," Mackin added. "David believes in our mission passionately and embodies all the qualities of a supportive and collaborative leader making him the right choice to lead the important work in our region. He represents the best of Mercy, and it's a privilege to name him as our first physician to lead Mercy Hospital St. Louis."