ST. LOUIS - A young couple expecting their third child, the Phams were looking toward the future and excited to introduce their two boys to a new baby sister. Instead, November 2020 brought the unimaginable sadness of losing their baby girl just five weeks before her expected arrival.
"Camellia's death was sudden and unexpected, and looking back, we were undoubtedly in shock," said Hannah Pham, Camellia's mom. "While the details are blurry, some of our most poignant memories were the empathy and resources we received."
Jen Hibdon, Mercy HeartPrints coordinator, and Ali Stewart, Mercy Kids Child Life specialist, were able to work in tandem to lighten the darkness that grief brought to the Phams.
"Shortly after delivery, Jen was at our bedside to offer resources for funeral arrangements, ongoing grief support, and most of all, compassion," Hannah recalled. "We were able to keep Camellia in our room as long as we liked and our sons (ages 6 and 3, at the time) were allowed to visit the hospital to meet her."
Hannah continued, "Ali's knowledge of grief and child development made the process go smoothly and set our boys up for the best possible experience. She helped prepare us for their questions and reactions, and even took photos of our fleeting moments as a family of five."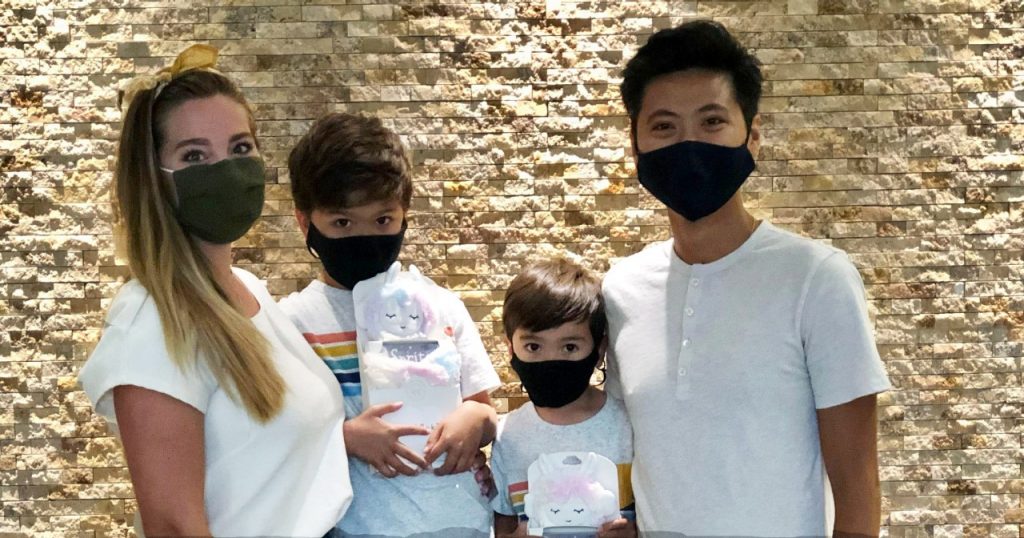 The Pham Family dropped off their donation.
The Phams started a candle company in Camellia's honor and used a portion of the proceeds to give back to the stillbirth and infant loss community. Last July, the Phams donated 24 Slumberkins Sprites to the Mercy HeartPrints and Child Life programs.
"We felt called to give back because of our experience at Mercy," Hannah said. "We had incredible support from the entire team, but especially Jen and Ali."
In partnership with the Child Life team in St. Louis, Mercy Kids recently developed a Children and Grief Toolkit to help educate those caring for children and their families, regardless where in the hospital a loss occurs.
"We know not every Mercy hospital has the resources of Child Life," said Dr. Joe Kahn, Mercy Kids president. "The toolkit will enable co-workers across Mercy to learn about grief and feel more comfortable working with families when they experience a loss."
"There are certainly no quick fixes in grief, but during our darkest hours, we were lucky to have a prepared, knowledgeable team on our side," Hannah added. "They were thinking clearly when we couldn't, anticipating our needs and our children's questions and walking us through options we never thought to consider. Their unique skillset and immeasurable kindness minimized the trauma of our loss and left us with bittersweet but beautiful memories that we will cherish forever."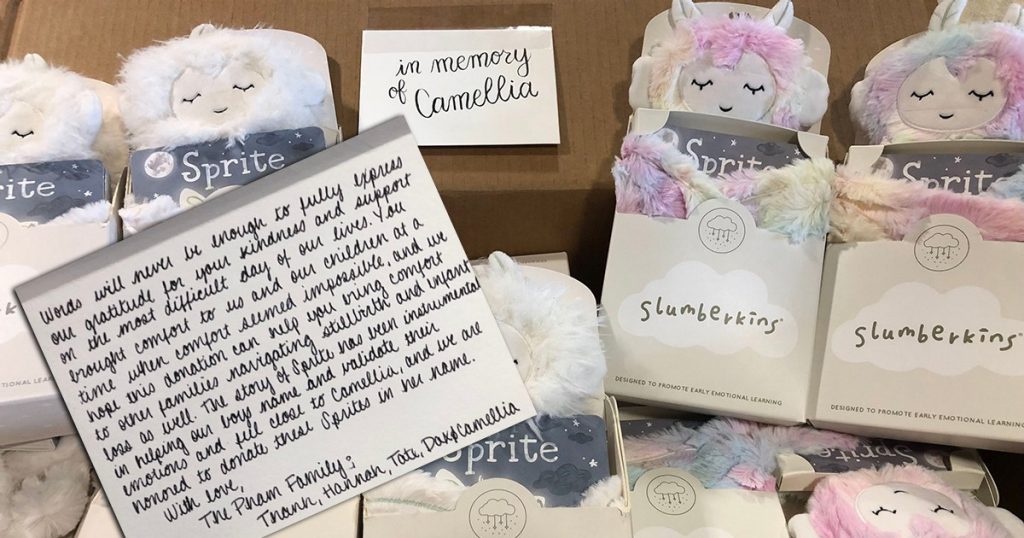 The Pham Family donated Slumberkins blankets as a way to give back to others suffering through grief.