Mercy Hospital Jefferson, already honored as a Best Maternity Hospital, will add a new special care nursery to expand the newborn care it provides and allow more families to stay closer to home.
The special care nursery will serve newborn babies who are born moderately ill but are expected to improve quickly with urgent intervention. This new space will allow the Mercy Birthplace – Jefferson team to provide mother and baby with the individualized care they need, increased privacy and a better opportunity to bond.
The special care nursery will include a quiet environment to help calm the newborns and support brain development, a sterile room to prevent potential infections, and an improved space for a transport team to stabilize an infant should they need to be transferred to another hospital.
The new special care nursery will be funded by a donation from Sara Govero and will be named the Sara Govero and Family Special Care Nursery. Govero's gift also establishes an endowment fund to help provide parents in need with the items they need for their babies' safety, nourishment and care.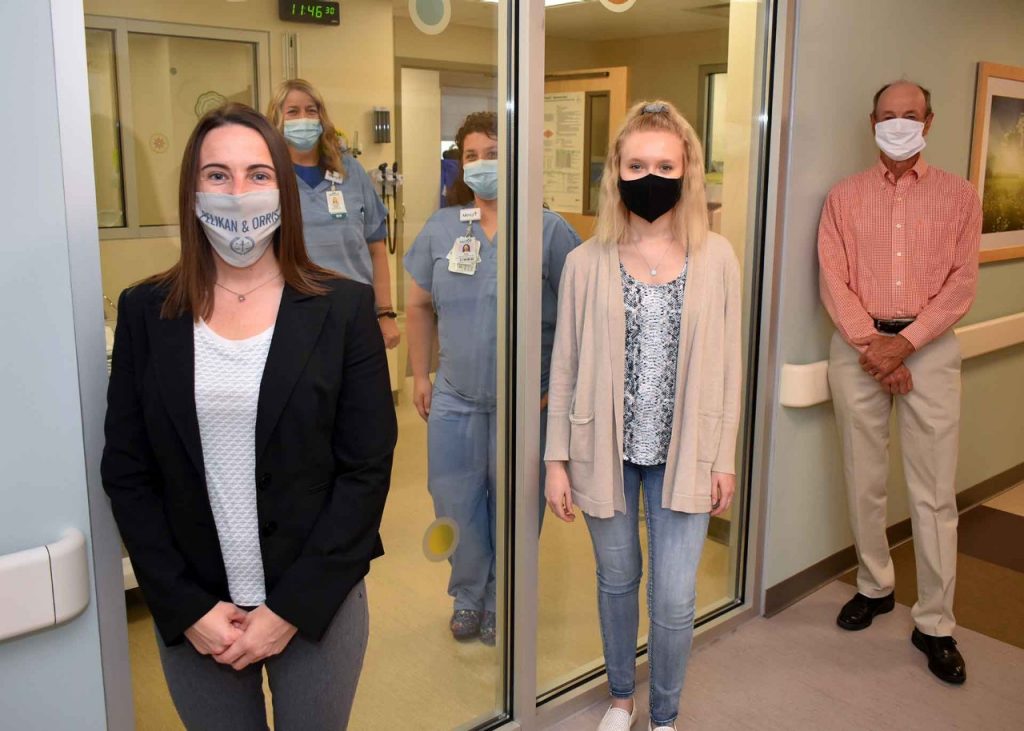 front row, left to right: Sara Govero, Heather Munguia (niece of Sara) and Dave Govero (father of Sara); back row, left to right: Chandra Alsop (director of women's and children's services) and Amy Schwent (supervisor-clinical nursing women's and children's services) stand inside the room that will become the Sara Govero and Family Special Care Nursery at Mercy Hospital Jefferson.
"It is important to me that our community receive the highest quality of care close to home," said Govero. "I want the babies born here to have the best technology and equipment to give them the highest level of care, and to have all the things they need when leaving the hospital."
Construction of the new special care nursery is planned to begin by spring 2022 with the project schedule to take about a month to complete.
Govero previously funded the purchase of other new equipment for the birthplace, including three vapotherms, which offers respiratory support for newborns with breathing distress symptoms; two pulse oximeters, which monitor the amount of oxygen babies are getting in their blood; and two vein viewers.
"Sara's support has been instrumental in improving the care we are able to provide our community," said Chandra Alsop, director of women's services. "Being able to expand our facilities and services to include a special care nursery is the next step in better serving families."
The number of newborns delivered at Mercy Jefferson has increase over the last several years to 520 in fiscal year 2021. About 10% of those newborns require specialized care or equipment.
"I am so excited to get this project started," said Govero. "We have a great hospital in Jefferson County. I was born at this hospital, and I get to be a part of helping babies have the best possible start. It's the children who are going to shape the future we live in."