ST. LOUIS - The winner of the 2022 Jane Whelan Scholarship at Mercy Hospital St. Louis is Katie Blaha, RN. The memorial scholarship was developed to support the pursuit of an advanced professional degree with knowledge gained to enhance the practice of nursing.
Blaha, currently the neonatal intensive care unit lactation team coordinator, started as a staff nurse in the newborn nursery at Mercy St. Louis in 2007. She served in other nursing roles including staff nurse in the neonatal intensive care unit, and float pool nurse in pediatrics, pediatric intensive care unit, women's health, postpartum, antepartum and lactation.
With a passion for advocacy, Blaha hopes her advanced degree in nursing informatics will help her identify barriers and address root causes to problems in health care, specific to patient and co-worker advocacy.  
"I have leaned into my leaders to learn how to propose and make changes for the sake of best practice, better time management, improving patient outcomes all while being a good steward of resources," Blaha said. "I want to do more of that, am driven by making changes where needed and enjoy working on process review and change."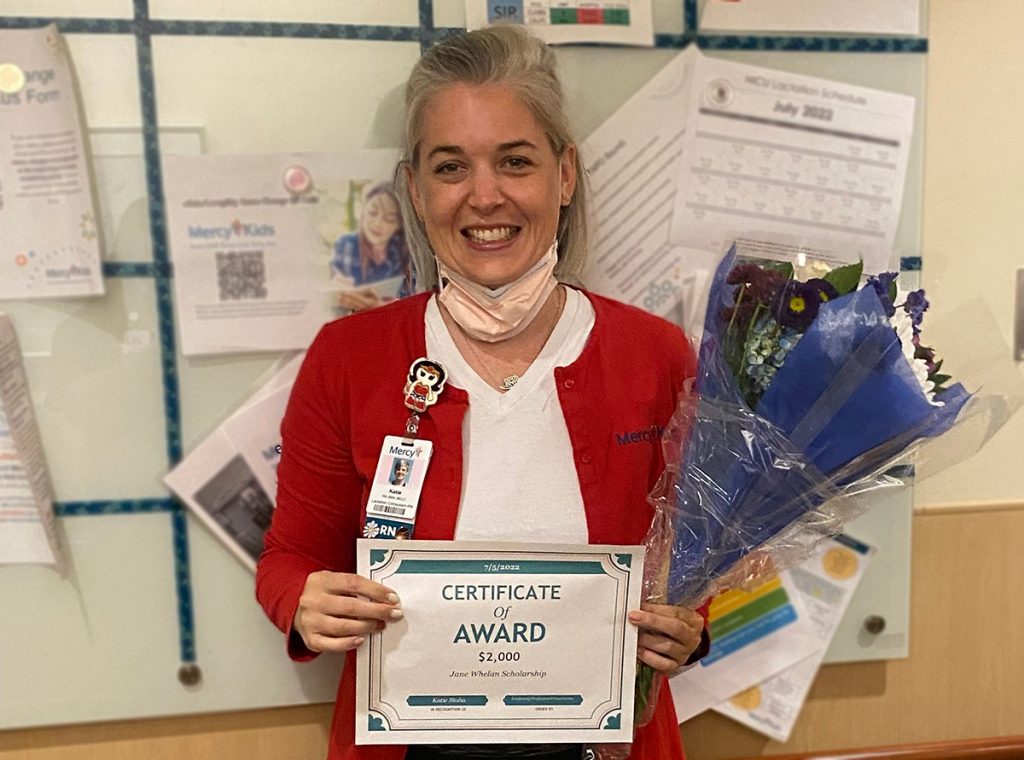 Katie Blaha, RN, is the 2022 Jane Whelan Scholarship recipient.
In her role as lactation team leader, Blaha created a fellowship presentation for new NICU nurses now used Mercy-wide as part of orientation education. She was involved in establishing Mercy St. Louis as a milk donation depot giving patients with excess breastmilk a place to donate it to be sent for pasteurization for safe human milk for more babies – addressing a community health need.  
Blaha plans to complete her Master's in Science of Nursing focused on nursing informatics through Western Governor's University (WGU) giving her flexibility to complete course assignments while working full time and raising young children.
Jane Whelan, BSB, RN, was a psychiatric clinical specialist with Mercy from 1980 to 1986. She was actively pursuing a master's in nursing when she died of cancer in October 1986. Whelan was proud to be a nurse and of her nursing profession. She valued education, searched for excellence and encouraged her colleagues to do the same. The Jane Whelan Nursing Scholarship was developed in that spirit as a memorial to her.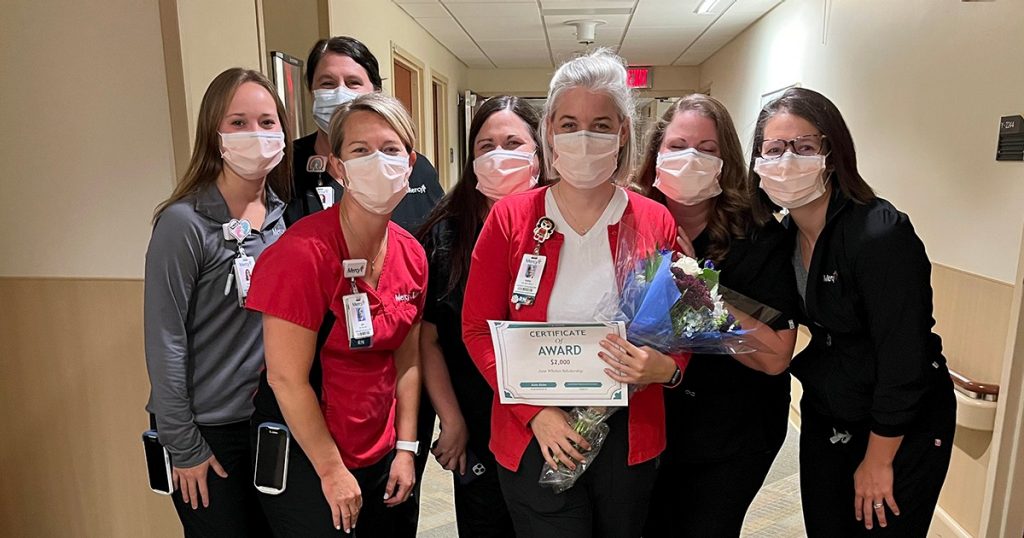 Katie Blaha, RN, shown with the Mercy St. Louis NICU team.