ST. LOUIS - Mercy Hospital St. Louis, one of the first hospitals 10 years ago to offer transcatheter aortic valve replacement, commonly called TAVR, has earned a distinguished three-star rating from The Society of Thoracic Surgeons (STS) and the American College of Cardiology (ACC) for its patient care and outcomes in TAVR procedures. The top rating from the STS/ACC Transcatheter Valve Therapy Registry signifies the hospital has better than expected performance with very few hospitals in the U.S. earning three stars.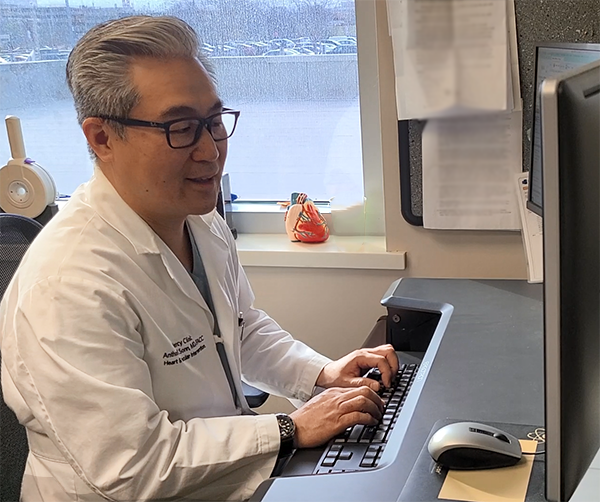 Dr. Anthony Sonn, Mercy St. Louis TAVR program director, conducts a virtual follow-up visit with a TAVR patient.
"We know patients have a choice when it comes to where they get their health care," said Dr. Anthony Sonn, Mercy Clinic interventional cardiologist and Mercy St. Louis TAVR program director. "The results Mercy St. Louis has shown puts us among the best in the country and highlights the quality care we know patients seek."
The new rating, developed by physician leaders at Duke Clinic Research Institute, gives patients the data needed to compare quality when it comes to the TAVR procedure. The report reviews a 30-day risk adjusted composite that consists of six categories based on worst possible outcome to the best possible outcome during hospitalization and the 30-day follow-up period – mortality, stroke, major or life-threatening bleeding, acute kidney injury or moderate-severe paravalvular aortic regurgitation leakage around the new valve or none.
Mercy Hospital St. Louis performed its first TAVR procedure in May 2012 and has since helped hundreds of patients get back to doing what they love. In 2021, the hospital introduced nurse-led sedation to get patients home faster while reducing infection rates.