Athletic trainers with Mercy Sports Medicine are embedded inside many St. Louis metro area high schools and get to know the athletes throughout the year. As a way of highlighting outstanding students from these schools each month, a new Mercy Sports Medicine Athlete of the Month will be recognized. Athletes are nominated by coaches and selected by a committee.
Here are the Mercy Sports Medicine Athletes of the Month for the 2022-2023 school year.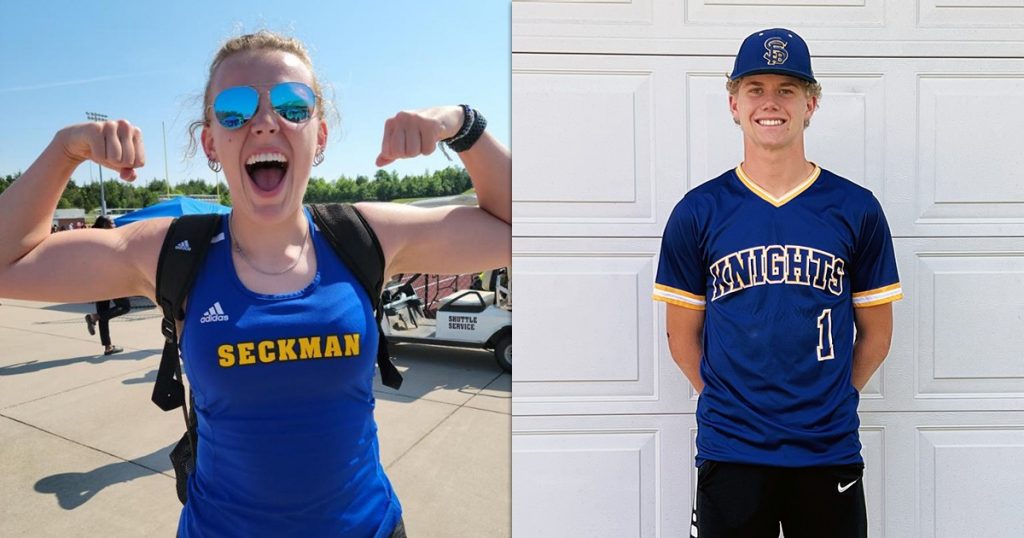 Christina Stanley and Jack Nobe - Mercy Sports Medicine Athletes of the Month - May 2023
Christina Stanley is a junior multi-sport athlete at Seckman High School. She is a three-year softball player, serving as the team' varsity catcher for two, and on the Track and Field team holding the school's current record in javelin and qualified for state in discus. Stanley shows great sportsmanship and is a leader for both the softball and track teams.
With a 4.3 Cumulative GPA, Stanely is a member of the National Honor Society and has been awarded Academic All-state for two consecutive years, 2021 and 2022. Outside of school, she volunteers at Open Door Animal Sanctuary. 
Jack Nobe, a junior baseball player at St. Francis Borgia High School, helped lead the Knights to the Class 5 state championship game with his efforts on the mound and at the plate. Nobe junior season stats speak for themselves hitting .393 at the plate with six home runs and 28 RBIs. On the mound, he had an 8-1 record with a 1.05 ERA in 66.7 innings and struck out 101 batters. In the district title victory over Washington High School, Nobe pitched for 6 and 2/3rd innings, threw a complete game shutout in the state quarterfinal win, pitched a two-hit complete game shutout in the state semifinal game and helped the team advance to the Missouri State Championship game.
A natural leader on the field, Nobe encourages younger teammates to play their hardest and helps his others to stay focused on the game. He works hard in the classroom and already has multiple offers to play baseball in college.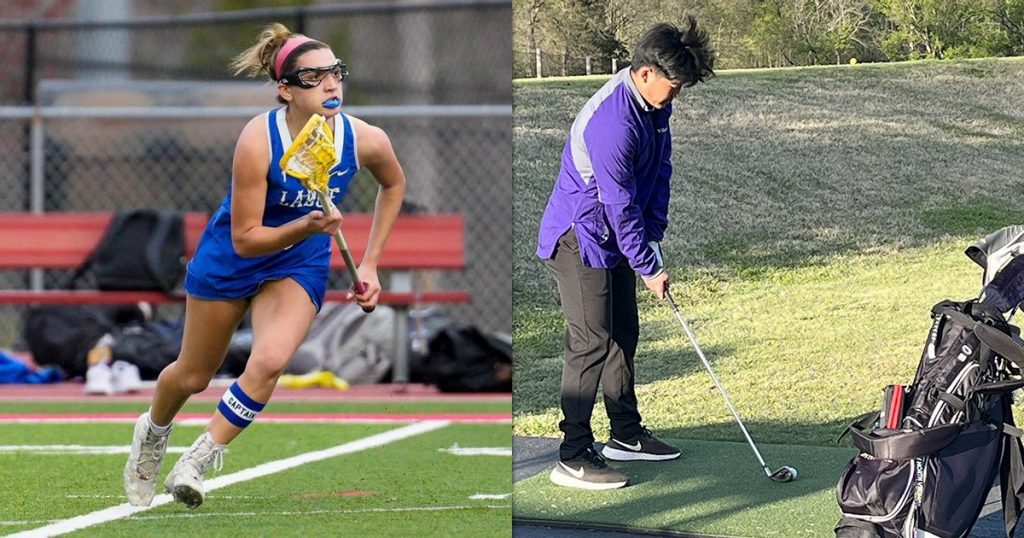 Mia Wallis and Everett Cui - Mercy Sports Medicine Athletes of the Month - April 2023 (submitted photos)
Mia Wallis, a senior lacrosse player at Ladue Horton Watkins High School, is a natural leader on the field and the team's leading goal scorer. Off the field, with a 3.94 unweighted GPA, Wallis serves as the president of the school's DECA club, which is headed to nationals, and is on the executive board for the Children's Miracle Network Dance Marathon, which helped raise close to $75,000. Wallis stays humble and puts her teammates first by checking in with them, guiding the younger players, taking extra reps before and after practice and encouraging them in the hallways. Her coach says, "I've coached a lot of athletes over 13 years and Mia is easily one of the best athletes/teammates I have ever known." 
Everett Cui is a sophomore playing varsity in three sports - football, basketball and golf - at Parkway North High School, all while keeping a GPA higher than 4.0. As a freshman, Cui worked hard to earn his spot on the teams and puts forth 100% effort during every practice while pushing his teammates to do the same. This spring golf season, he worked tirelessly to improve his game and continued to lift and train daily for the upcoming football season. Cui faces challenges, such as injury, with determination earning him the Tri-Athlete Award. Outside of athletics, he is in honors classes, orchestra and other school activities, recently earning an Orchestra Excellence award. His coaches say he is one of the most dedicated, well-rounded student-athletes they have witnessed at Parkway North and they are lucky to have him in so many of their programs.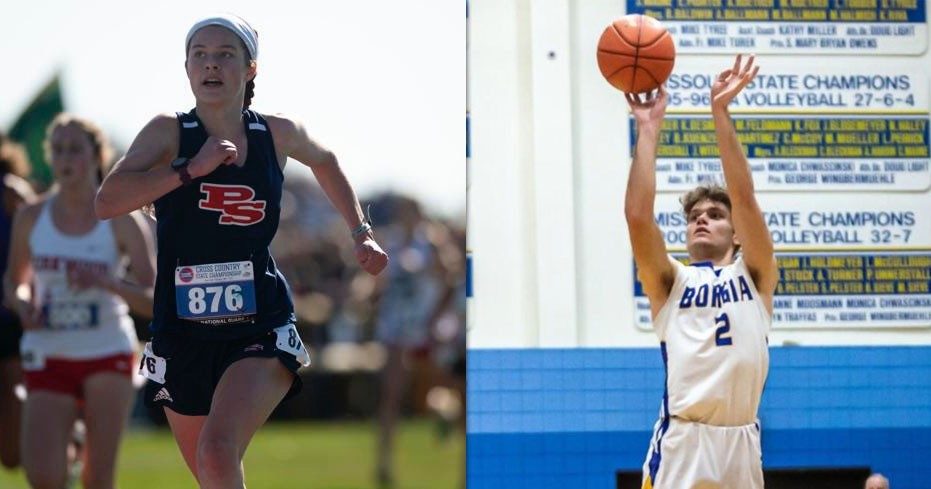 Lena Singleton and Grant Schroeder - Mercy Sports Medicine Athletes of the Month - March 2023 (submitted photos)
Lena Singleton, a senior cross country and track runner at Parkway South High School, has been a varsity athlete since day one. She qualified for state cross country her freshman year and each year since. She is the first to practice and last to leave, puts everything she has into each workout and her teammates rely on her. Singleton also gives it her all in the classroom where she has a 4.2 GPA.  

Grant Schroeder, a four-year varsity basketball letterman at Saint Francis Borgia High School, recently scored his 1,000th career point. He was chosen as All Conference 1st Team and Class 5 All District. His stats speak for themselves with 57% from 2-point range, 47% from 3-point range and 82% from the free throw line. He averaged 5.3 rebounds and 3.4 assists per game. In addition, he maintains his grade and is a member of the National Honor Society.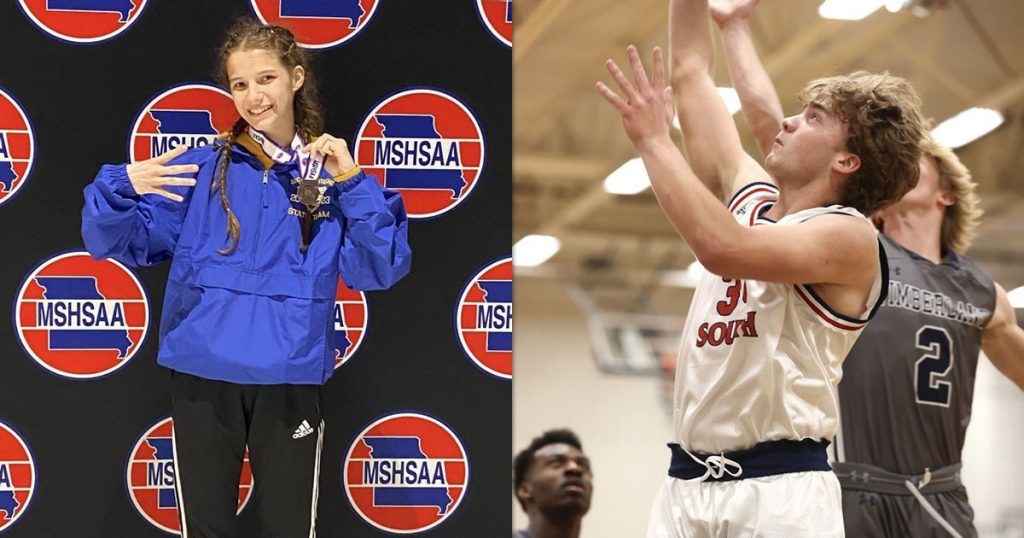 Andrea Karagiannis and Eddie Ahearn - Mercy Sports Medicine Athletes of the Month - February 2023 (submitted photos)
Andrea Karagiannis, a senior wrestler at Seckman High School, only wrestled for two years, yet recently placed fourth at the Missouri State High School Wrestling Championships. She was driven all season by her goal to place in the state tournament, never missing a practice and pushing herself to her limit each day. Karagiannis was a team leader to the young team and a mentor to her teammates.
She maintained high grades and was able to balance wrestling practice, trips to the gym and her studies. She also spent countless hours in the summer sharing her love of the sport and training junior high school girls to become the next high school stars.
Eddie Ahearn, a three-sport varsity junior at Parkway South High School, is recognized for his contributions on the basketball team. He is a third-year starter and through hard work and dedication became one of the team's best offensive players and a team leader. His work to improve around the basket made him so vital to the team's success he rarely came out of the game. He accepts the challenge of being an undersized post player, at 6'2", and never complains about his role. He challenges his teammates, is there to pick them up and accepts responsibility when he knows he can improve. Coaches say Ahearn is very coachable, has a will to win that is fun to be around and that they program is forever indebted to him for his leadership and commitment on and off the court.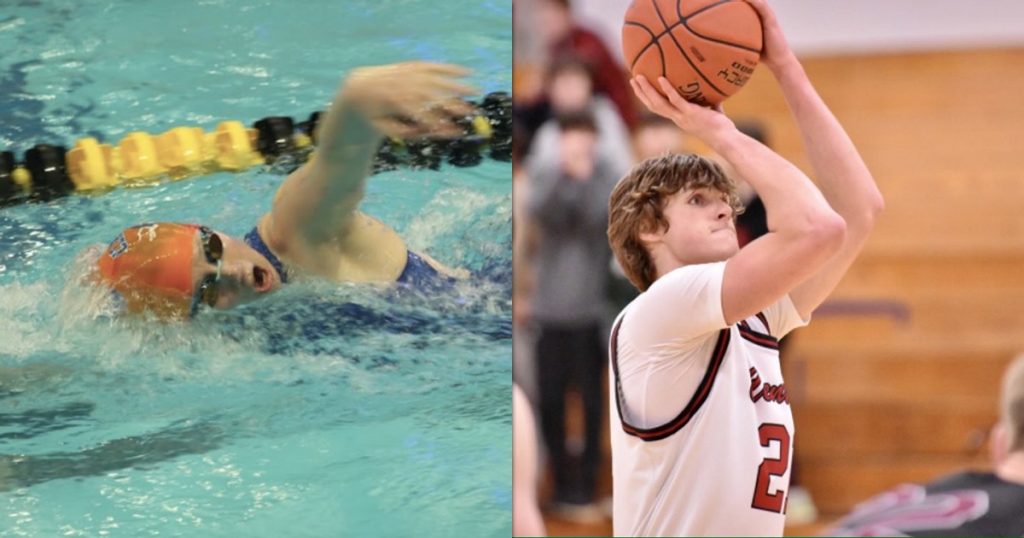 Anna Stouffer and Oliver Kohal - Mercy Sports Medicine Athletes of the Month - January 2023 (submitted photos)
Anna Stouffer, a junior swimmer at Clayton High School, is a leader in and out of the pool. She is responsible for 18 first place finishes, the most on the team. She is on all three record-holding relay teams and set one herself in the 50-meter freestyle. Stouffer's versatility and team-first mentality gives coaches the ability to create the best line up, as she gives 100% in any event she swims, even if it's not one of her favorites.

Stouffer was voted team captain by her peers, a role typically reserved for seniors. She is the first person in the pool at the start of practice, cheers for all of her teammates regardless how long the event and is encouraging to those new to the sport. She maintains a 4.18 GPA with a rigorous course load.
Olive Kohal, a junior basketball player with Parkway Central High School, recently reached 1,000 career points – only the 11th boy's player in school history to hit the milestone. During the same game, he also marked his personal record of 38 points in the 64-58 win. Kohal averaged 20.5 points and 8.6 rebounds per game in January, with a season average of 20.8 points and 8 rebounds. He also has 7 double-doubles (all points/rebounds). He was recently selected by the officials for the Suburban Conference Sportsmanship Award. Kohal excels in the classroom with a 4.0 cumulative GPA.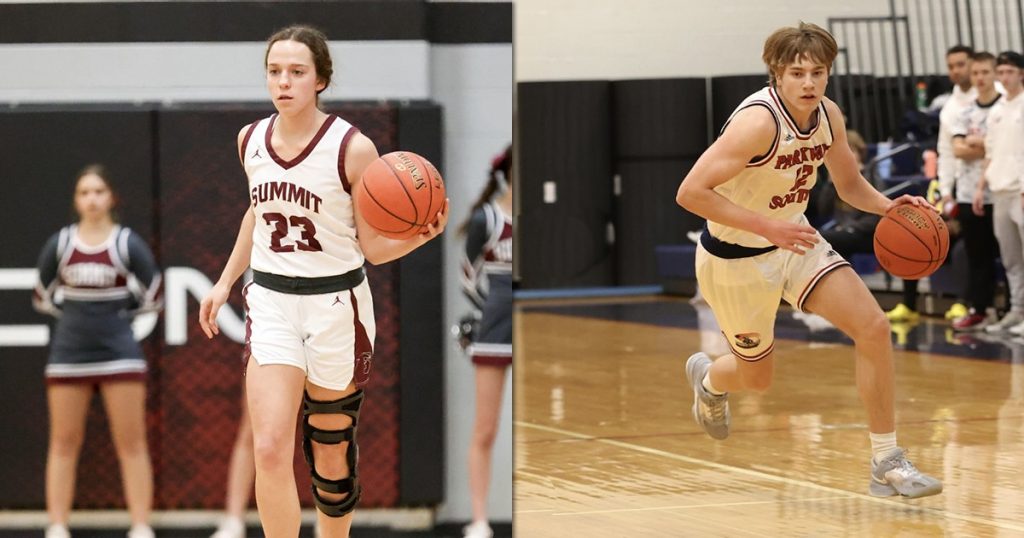 Abby Ulsas and Evan Renz - Mercy Sports Medicine Athletes of the Month - December 2022 (submitted photos)
Abby Ulsas, a senior softball and basketball player at Rockwood Summit High School, has earned numerous awards in both sports and set the school softball record in runs and steals and is second in hits, batting average and on base. She was honored as a four-time All-Conference player, two-time All-Metro player and three-time All-State player, leading her team to four district championship appearances and one Final Four appearance. In basketball, she is an all-around player, who leads by example. She is self-motivated and does what is best for the team, whether it's picking up equipment or making a big play, all while maintaining the highest grades in the classroom. She plans to attend St. Louis University and play softball for the Billikens. 

Evan Renz, is a senior basketball player at Parkway South High School, has grown in many ways on and off the court since his freshman year. A strong shooter, Renz put in the hard work to become one of the team's best defenders and most reliable players. He provides guidance to other teammates to help them focus and is the first to offer support when someone needs it, during games and practices. He makes sure his classroom work is complete so he can take care of business on the court.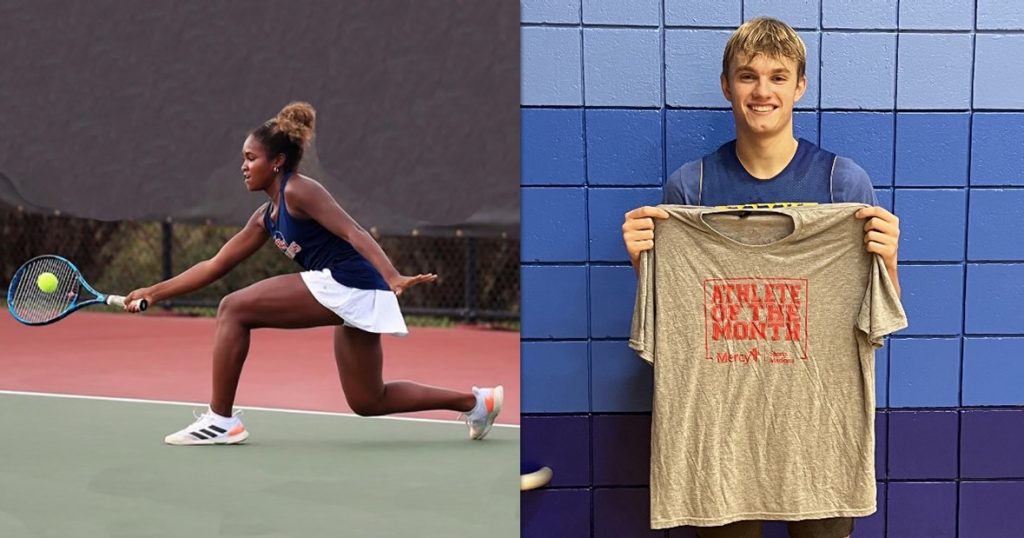 Khayli Buckels and Adam Rickman - Mercy Sports Medicine Athletes of the Month - November 2022 (submitted photos)
Khayli Buckels, a senior tennis player at Parkway South High School, is a story of perseverance in sports during her four years. She became the first girls' tennis singles state champion in school history. Buckels qualified for state each year and the last two years lost to the eventual state champion. This year, in the final match, she was down both sets but stayed positive and fought back to win 6-4, 6-3.
Adam Rickman, a junior dual sport athlete at St. Francis Borgia High School, plays both soccer and basketball. He played a key role for the Knights winning their first ever soccer state championship, scoring 16 goals with seven assists through the season. He scored the team's two goals in the state-semifinal game, winning 2-1, and scored the only goal of the Class 1 state championship game. The following week, Rickman led the boys' basketball team to a championship in the 70th annual Borgia Turkey Tournament, named MVP of the tournament, averaging 19.3 points, 11 rebounds, 4.3 assists, 3.3 steals and one block per game.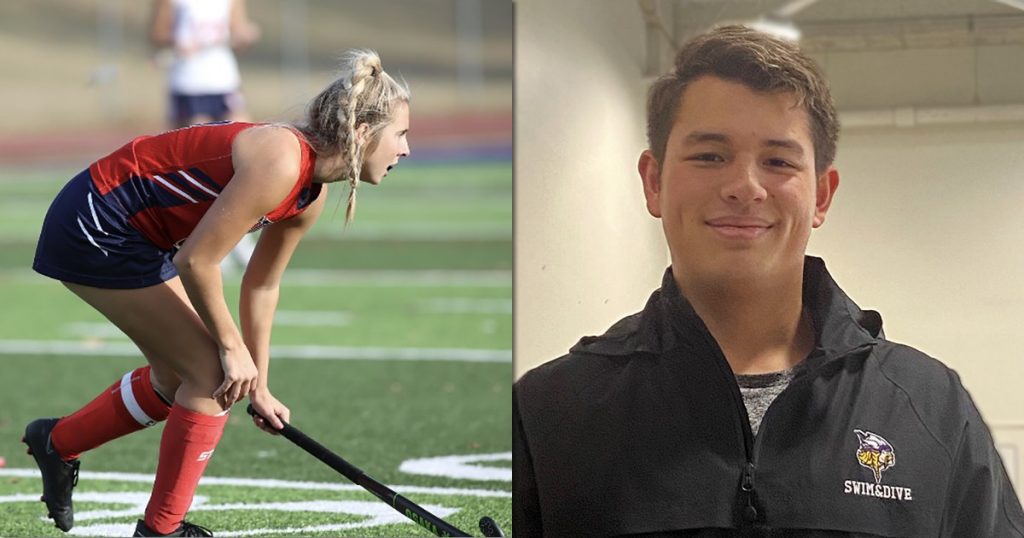 Sydney Buehrer and Riley Huelsmann - Mercy Sports Medicine Athletes of the Month - October 2022 (submitted photos)
Sydney Buehrer, senior field hockey captain for Parkway South High School, is an all-around leader. Coaches say she is early to practice and last to leave and organizes many of the daily practice activities. She works with younger players to help with communication, skills and development. Buehrer leads the team with 16 goals and 14 assists. Statewide, she ranks fourth in overall offensive points, sixth in overall goals, ninth in overall assists and second in game winning goals.

She was named 2022 Suburban Player of the Year, an award voted on by coaches and referees, and led her team to the Suburban Conference Green Pool Championship with an undefeated conference season (5-0).
Buehrer also works hard in the classroom and plans to become a nurse. She has been accepted to several schools including University of Louisville, Murray State University and Lindenwood University.
Riley Huelsmann, a senior on Parkway North High School's swim team, is a leader the whole team looks up to both in and out of the pool. He has been a top point scorer each year and competed in the state championship three times, competing in two individual and two relays this year. He holds the second fastest recorded time for breaststroke in school history.

Huelsmann has been a huge part of the boys' team and volunteers as team manager for the girls' swim team. He keeps his grades high, tutors other students in math and participates in National Honor Society and Future Business Leaders of America. He also teaches swimming skills to disabled athletes as part of the Disabled Athletic Sports Association.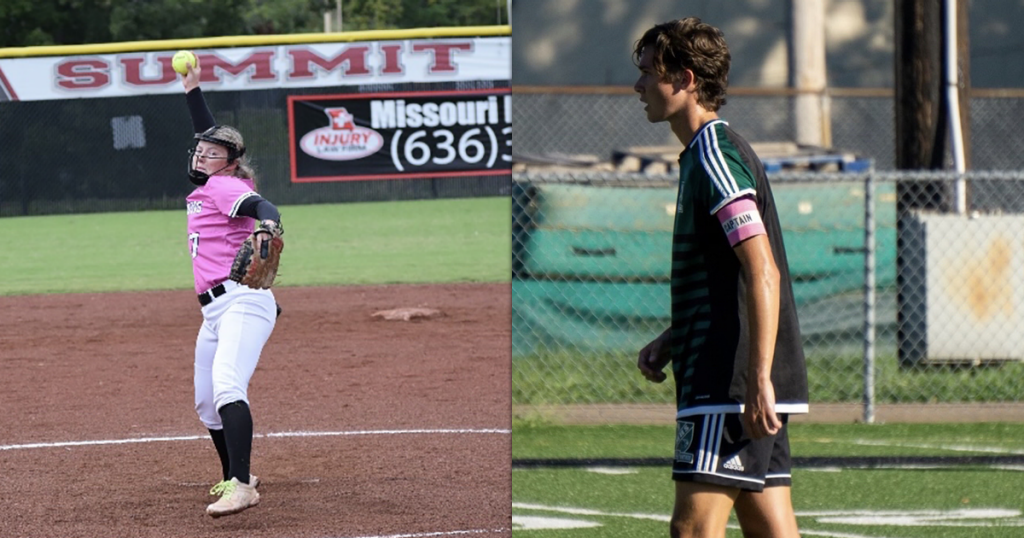 Sami Schultz and WIll Raftery - Mercy Sports Medicine Athletes of the Month - September 2022 (submitted photos)
Sami Scholtz, senior pitcher on the Rockwood Summit High School softball team, continued her strong Summit softball career boasting 14 starts, 10 complete games, 79 innings, a 12-2 record, four shutouts and a save. She's hitting .425 with five doubles and a homerun in only 31 batting appearances. Throughout it all she's maintained a high GPS and serves on the Link Crew helping with a variety of tasks. Outside of school, she gives pitching lessons to young athletes and works a part-time job.

Will Raftery, a senior and four-year starter on Mehlville High School's varsity soccer team, is a leader on and off the field. He served as team captain the last two years and has received many awards for his soccer prowess including all-conference, all-districts and all-state honors. He was formerly part of the U.S. national team and a state championship Elite Club National League team. Off the field, he is a member of the National Honor Society, student council, Konnect (a program to welcome and support freshman), a teaching cadet and one of three selected to participate in a specialized biomedical class. He carries an impressive GPA and is always stepping up to help others in any way he can. He is a true leader and someone younger athletes and students can look up to.