Staff and volunteers at Mercy's Good Samaritan Clinic go above and beyond to provide medical care to uninsured and underserved patients in the Oklahoma City community. During a recent major renovation, the local team kept the clinic open by providing virtual or telephone appointments so patients didn't miss out on critical care.
Mercy's Good Samaritan Clinic operates like a primary care clinic, except services are free for uninsured patients. The building that houses the clinic hasn't seen updates since the 1980s. Thanks to a $128,000 donation from Mercy Health Foundation, it now has new paint, flooring, cabinets and countertops. It also received a new front desk and nurses' station, all to elevate the standard of care and better serve those in need.
"The Good Samaritan Clinic is an anchor institution for our most vulnerable patients," said Lucia Salcedo, clinic manager. "Many of these patients live in survival mode every day, and medical care is often a last priority. Here at the clinic, we do our best to welcome everyone and give them hope that everything will be okay."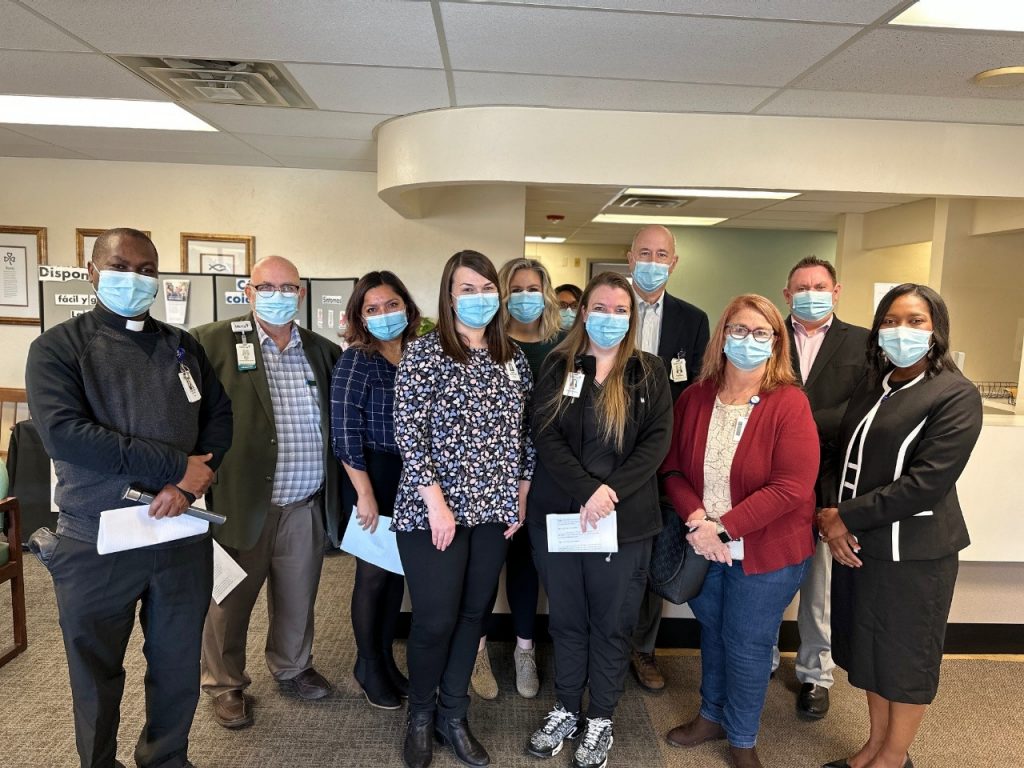 Mercy hosted a blessing for the Good Samaritan Clinic in Oklahoma City following renovations.
Two local patients, Lilian Murcia and Melissa Lopez, heard about the services offered at Good Samaritan from family and friends. Murcia was struggling to get the care she needed after a breast cancer diagnosis when a friend referred her to the clinic.
"At one point I thought I wouldn't be able to continue with treatment because of lack of funds," Murcia said. "Thanks to this clinic, I have been able to continue care and get the attention I need. They've helped me with not only treatment, but in other ways as well. For example, because of my health issue, I stopped working, and the only one working was my husband. The clinic helped me with food and even a Christmas tree, which was a blessing."
Lopez heard about the clinic through a family member. "Every time you go through pain or illness, you always start thinking about the cost," she said. "It's been great how I've been able to get medical help through Mercy. Not only has it helped me personally, but it's helped my whole family." 
Staff and volunteers at the Good Samaritan Clinic work to ensure that the space is for more than just medical care. They try to connect patients with as many community resources as possible. In the last year, 1,842 patients have received care at Good Samaritan. In addition to regular clinic services, staff and volunteers over the last two years have:
Provided 94 health screenings for Afghan refugees in partnership with Catholic Charities.
Taught free diabetes education classes with interpretation services for Spanish speakers.
Assisted 105 patients with prescription costs for a total savings of over $44,000.
Supplied 56 children with back-to-school supplies.
Awarded 50 patients with no-cost eye care and prescription glasses.
Supplied 60 patients with free medicine, totaling over $32,000, through Americares.
Helped 45 patients with Medicaid applications, 32 of which were approved.
Distributed free glucometers to 36 diabetes patients to help monitor blood sugar levels.
Provided free produce and food boxes.
"Health disparities in our community have always existed, but they grew tremendously during the COVID-19 pandemic," said Morgan Rozzell, a nurse practitioner at the clinic. "Many patients lost jobs, which means they lost insurance coverage. This forced a lot of people to put their health on the back burner so they could focus on feeding their family."
The clinic offers appointment slots Monday through Friday, with Friday appointments reserved solely for women. Visitors often come from a wide variety of backgrounds, and the clinic offers interpretation services on an iPad in a patient's native language.
"The phone is always ringing, which is a bittersweet reminder of how great the need is within this community," Rozzell said. "It's like an audible reminder and a call to action when we hear the phone ring."
Due to the increased demand, the clinic is seeking new volunteers for a wide variety of roles, including advanced care providers, administrative help, pharmacy and more. Interested parties can fill out a volunteer application here.
The Good Samaritan Clinic first opened 15 years ago as a collaboration between Dr. James Dixson and St. Monica Catholic Church in Edmond, Oklahoma, to meet the needs of underserved patients in the community. Soon, it moved to Mercy, where volunteers operated a weekend clinic before eventually opening weekday hours. The clinic moved locations multiple times to allow for increased patient access and growth. It temporarily closed during the COVID-19 pandemic before reopening in Aril 2021 as a freestanding full-time clinic in its current location.
"This clinic is a beautiful representation of Mercy's mission and ministry. We've assembled a great team of individuals who have a passion for serving this community, and we're proud to work for an organization that supports and fuels that passion," Rozzell said. "Now with the clinic refresh, we can serve the community in a more functional and beautiful space."
Mercy Good Samaritan Clinic – Memorial Circle is located at 4505 Memorial Circle in Oklahoma City. The clinic treats patients ages 18 and up for acute and chronic illnesses. Services not offered at this clinic include pregnancy-related care, pre-employment physicals, dental care, eye care, treatment involving emergencies or accidents, and workers' compensation.