Story by Ellis Kmetzsch
OKLAHOMA CITY – Individuals with a family history of cancer often feel fear about someday receiving the same diagnosis for themselves or a loved one. That weight of wondering can now be lessened through a simple blood test offered at Mercy hospitals that can detect more than 50 types of cancer.
GRAIL's Galleri test, named one of TIME Magazine's best inventions of 2022 and a breakthrough of the year from The Atlantic magazine, is a multi-cancer early detection (MCED) blood test designed to spot early signals in the blood associated with many cancers. If a cancer signal is detected, results can help guide further testing.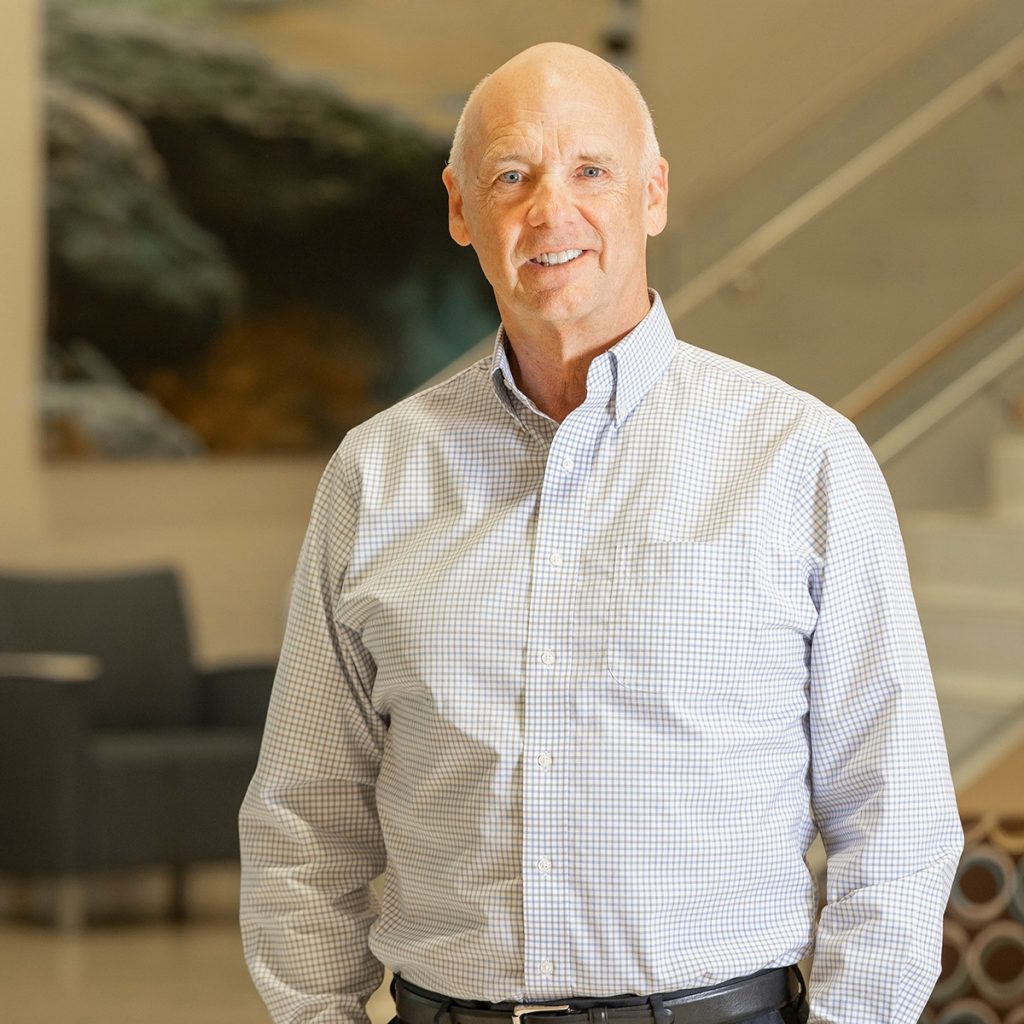 Rick Hinton is thankful for peace of mind he received after taking the MCED test offered by Mercy.
For Rick Hinton, a Mercy patient in Oklahoma City, the test granted peace of mind. Hinton, a healthy 65-year-old, decided to do the blood test due to a genetic predisposition of cancer. "I definitely had a little concern about my health due to my family's history with cancer. My father currently has an aggressive cancer, and my grandfather died of cancer. I knew that this was something I'd want to keep an eye on." 
Cancer is currently the second most common cause of death in the United States, and the timing of a diagnosis matters. The longer a cancer remains undetected in the body, the more chance the cells have of spreading. Early detection of cancer can increase treatment options, produce better outcomes and ultimately save lives. 
"The statistic that helped me decide to take the test is that over 70 percent of cancer deaths are from cancers we don't commonly screen for," Hinton said. "For the number of cancers screened with this blood test, it's actually very simple – no different than any other blood test I've had." 
For Hinton, the results came back with no red flags, bringing an increased confidence in his health. "I would absolutely recommend it to anyone," he said. "It really does give me a sense of comfort to know I have no current concerns detected in my results."  
Routine testing for cancer is recommended by the U.S. Centers for Disease Control and Prevention; however, only breast, cervical, colorectal (colon), lung and prostate cancers have a screening tool available. Of the more than 50 types of cancer picked up in the MCED test, 45 are included in the group currently lacking routine screening. The MCED test can flag a signal for cancers like bone, liver, kidney, pancreas and stomach, which often go undetected until symptoms occur in later stages. 
The blood test is not currently covered by insurance, meaning patients must pay out of pocket. Currently, the test costs just under $950. Mercy assists patients who qualify for but are unable to pay the total cost. Visit mercy.net/EarlyCancerDetection for more information.
"We recognize that the cost is not insignificant to many patients, but we also know that catching cancer early can be the difference between life and death," said Dr. John Mohart, leader of operations for all Mercy hospitals as president of Mercy Communities. "Similar to the cost of purchasing a new iPhone, it's an investment in your health and the life of your family." 
"The MCED test is a great example of Mercy working to provide new and innovative testing that can improve when cancer is diagnosed so we can treat it sooner."
The MCED test is currently available at 11 Mercy labs located within the following hospitals:
Arkansas:
Mercy Hospital Fort Smith
Mercy Hospital Rogers
Missouri:
Mercy Hospital Joplin
Mercy Hospital Lebanon
Mercy Hospital South
Mercy Hospital Springfield
Mercy Hospital St. Louis
Mercy Hospital Washington
Oklahoma:
Mercy Hospital Ada
Mercy Hospital Ardmore
Mercy Hospital Oklahoma City
The MCED test does not diagnose cancer, and not all cancers may be detected through this screening, but it can flag potential issues for further testing. GRAIL recommends the test for adults ages 50 and older with an elevated risk for cancer, which includes those who use tobacco or are overweight, though it should not replace recommended cancer screenings. 
Mercy, one of the 20 largest U.S. health systems and named the top large system in the U.S. for excellent patient experience by NRC Health, serves millions annually with nationally recognized quality care and one of the nation's largest Accountable Care Organizations. Mercy is a highly integrated, multi-state health care system including more than 40 acute care, managed and specialty (heart, children's, orthopedic and rehab) hospitals, convenient and urgent care locations, imaging centers and pharmacies. Mercy has 900 physician practices and outpatient facilities, more than 4,000 physicians and advanced practitioners and more than 45,000 co-workers serving patients and families across Arkansas, Kansas, Missouri and Oklahoma. Mercy also has clinics, outpatient services and outreach ministries in Arkansas, Louisiana, Mississippi and Texas.