Mini Varghese's experience as a nurse has taken her around the world to care for patients in her native India, in Saudi Arabia and in Dubai. She has even treated VIP patients at a military hospital in Bahrain, an island country in the Persian Gulf.
But her experience as a Mercy nurse in the United States has been exceptional. Varghese feels comfortable, confident and respected, and despite being in a new country, she's making it her home.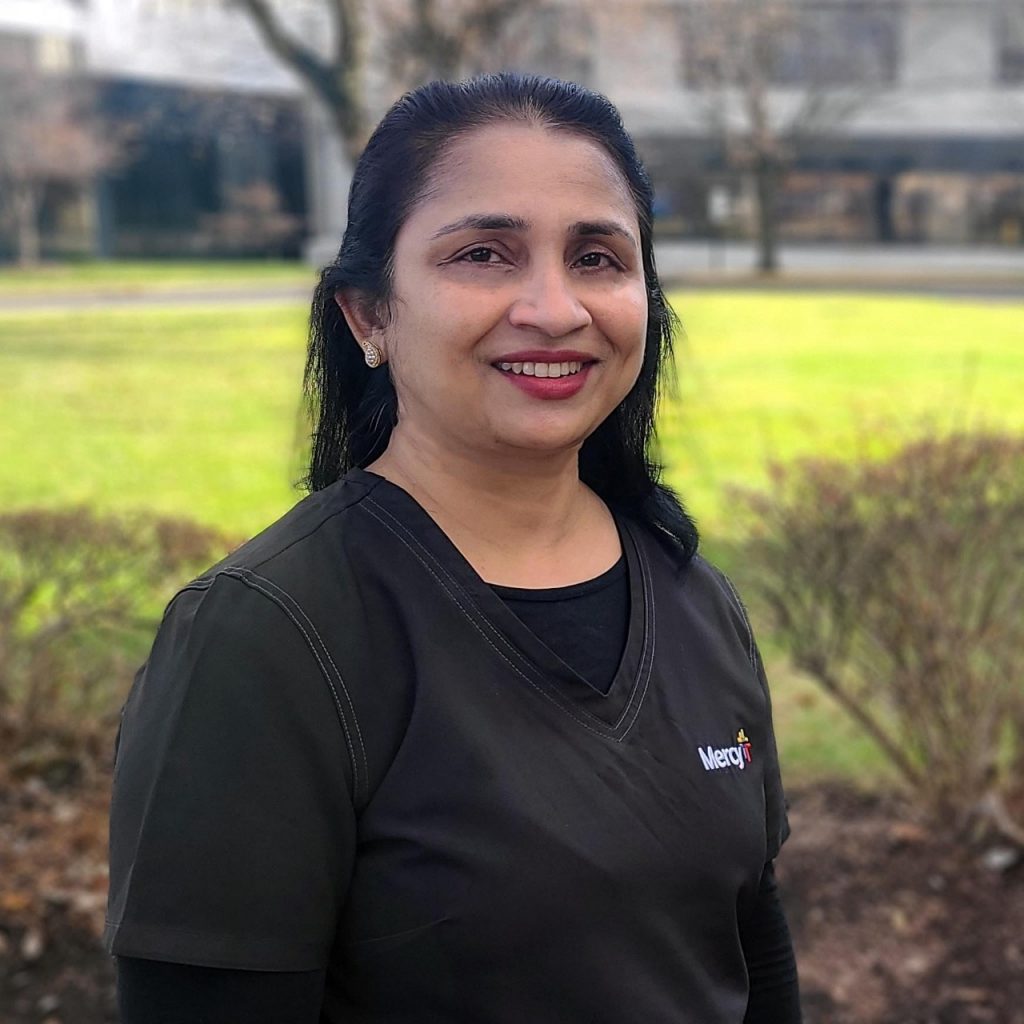 Mini Varghese, RN, joined Mercy Hospital South as an international nurse from India and chose to stay at Mercy after her international nurse contract expired.
When Varghese was completing her time in Bahrain, she knew she wanted to come to the U.S. next to serve patients needing intensive care. She had many options across the country, so she dug in and did her research in hopes of finding the right fit. She wanted a hospital providing quality care that was the right size in a city she could see herself living in. After eliminating many other options, Varghese found Mercy and believed Mercy Hospital South in St. Louis would be right for her.
Varghese packed her bags and came to the United States alone, with no family or friends waiting for her. After joining the Mercy South team in November 2020 as a nurse in the cardiac-medical intensive care unit, she made an immediate impact on patient care. And Mercy made an immediate impact on her.
"I have the autonomy to work here. I'm treated with dignity," Varghese said. "I'm not separated because I'm a nurse or new or different. Everyone works together, nurses, doctors, all care givers at Mercy."
Leading the way
Varghese was the first of the 120 international nurses now working at Mercy South. Another 20 international nurses are working at Mercy Hospital Fort Smith in Arkansas, and the first international nurses have begun working at Mercy's other acute care hospitals across multiple states. They are internationally educated and have the licensing and permits to work in the U.S.
"Mercy South's international nurse program initially began as a strategic effort to bridge the workforce gap created by the multi-decade national nursing shortage in the United States, but it has grown to be so much more," said Stacy Blankenship, chief nursing officer for Mercy Hospital South.
Blankenship started the program at Mercy South in late 2019 with a vision of attracting 100 internationally educated nurses to Mercy South. Three years later, that goal has not only been met but exceeded due to the collaboration, resources and support across Mercy.
"When these international nurses arrive at Mercy, they come with skills and talents that are very complementary to our nurses," said Betty Jo Rocchio, Mercy's chief nursing officer. "They are grateful for the opportunity and work hard to care for our patients."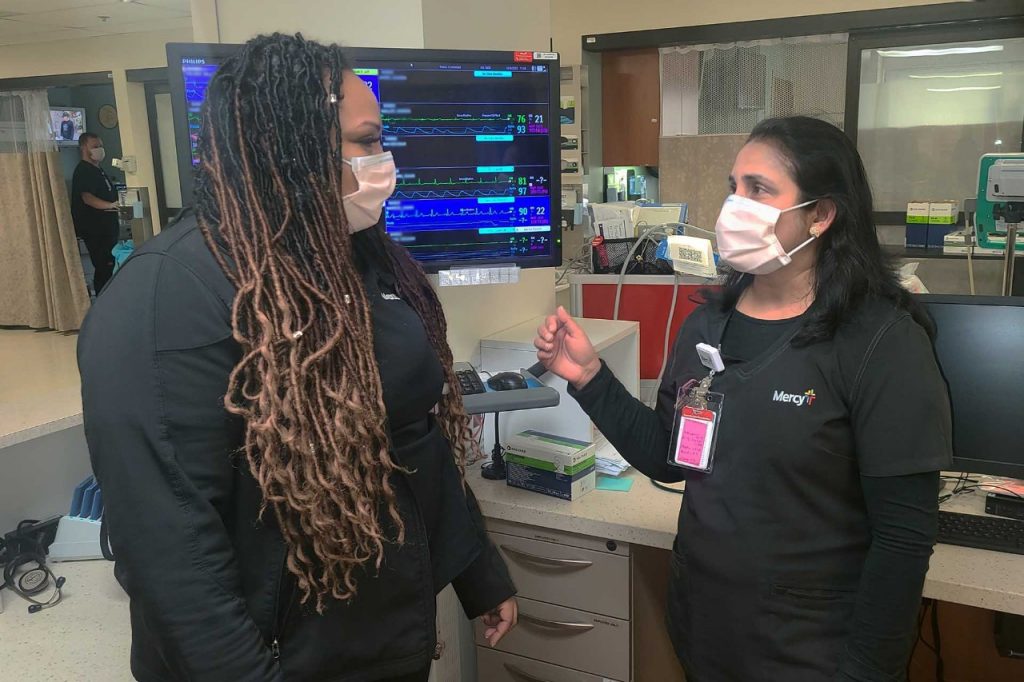 Mini Varghese, RN, speaks with a co-worker in the intensive care unit at Mercy Hospital South.
Mercy provides its international nurses up to 12 weeks of orientation along with regular educational opportunities and other benefits provided to Mercy co-workers. Mercy also has developed a specific internationally educated nurse fellowship program designed to meet the unique and individual needs of these nurses. 
"We provide any additional support these nurses may need" said Stephanie Whitaker, chief nursing officer for Mercy Hospital Fort Smith. "We are finding they fit in well with our existing teams and feel like part of the Mercy family from the first day."
Fitting in
"Leaders regularly ask what I need, including education and clinical support. My co-workers ask what they can do to help and are kind and supportive," Varghese said.
Varghese knew there would be an adjustment period to learn a new language and culture. On top of that, she joined Mercy during a peak in COVID-19 cases.
"Obviously, everyone's focus is on the patient, where it needs to be," Varghese said. "But they also focused on me, making sure I was comfortable. I was confident my co-workers would support me in whatever I needed."
That support includes teaching Varghese about things she had never had to deal with before. Electronic documentation was completely new to her. Mercy uses technology she had never seen before. She is now fully up to speed on all of it through her Mercy training.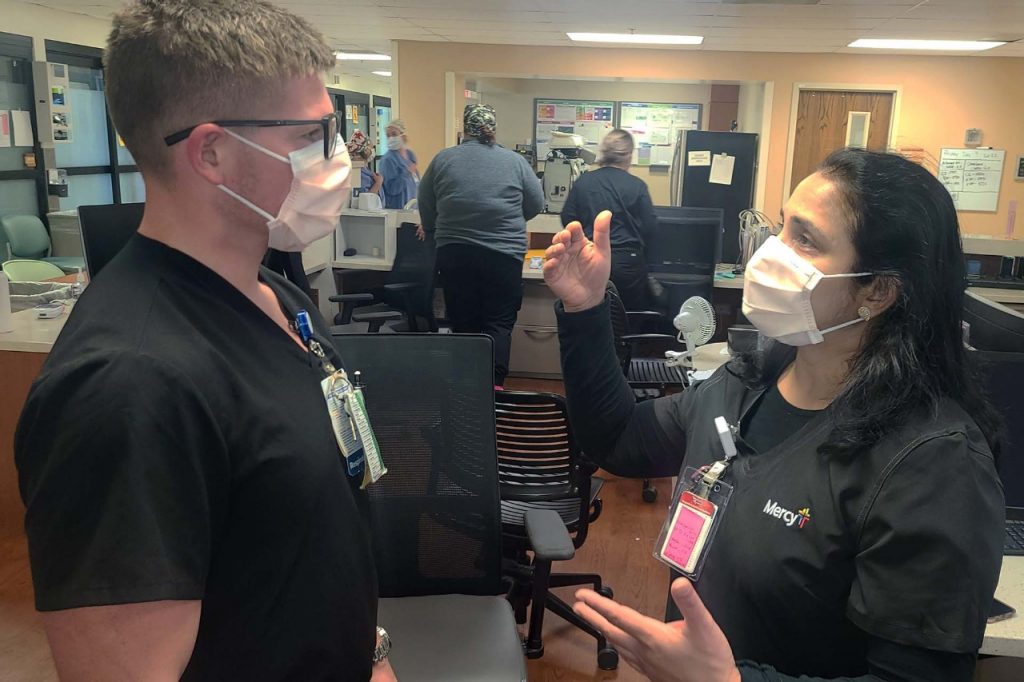 Mini Varghese, RN, speaks with a co-worker in the intensive care unit at Mercy Hospital South.
Varghese also had a lot of learning to do in her personal life. She had never dealt with credit cards, insurance or ATMs prior to coming to America. She says driving is different, but she's comfortable getting around town now and handling new situations thanks to Mercy's network of support.
"I've worked in many places where we don't get that kind of support," Varghese said.
The support extends outside of Mercy, such as when Varghese saw snow for the first time. As the snow covered the ground, she says her neighbors shared with her how to deal with it, including tips for driving on the slick roads.
Meeting the needs of patients and nurses
As the U.S. faces a national nursing shortage and overall worker shortage, international nurses are helping meet patient needs in Mercy hospitals.
"Increased, stabilized staffing helps us ensure we can continue to provide high-quality care to our patients and makes us more efficient," Whitaker said.
"This isn't just about bringing more nurses into Mercy but expanding our diversity, equity, inclusion and belonging lens," Rocchio said. "We may be helping them learn nursing from an American perspective, but they are teaching us how important culture and inclusion are to compassionate care."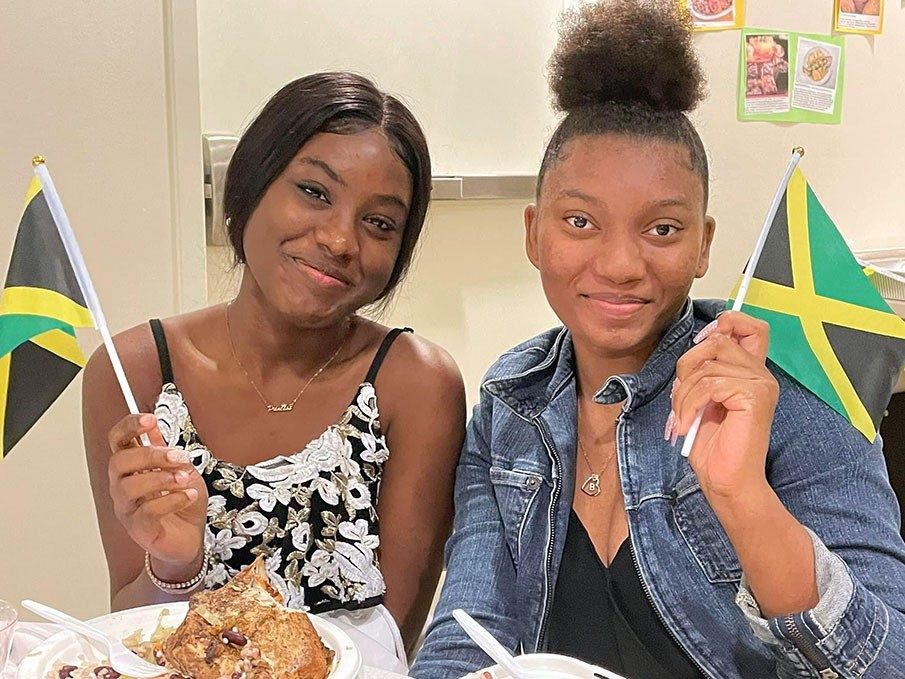 Co-workers celebrate Jamaica at the International Nurses Dinner Club at Mercy Hospital South.
International nurses aren't just embraced at Mercy, they are celebrated. Mercy South hosts its International Nurses Dinner Club every three months. Each event highlights one of the home nations of Mercy international nurses. The dinner features a traditional meal from that country, and nurses speak about their culture and heritage. All hospital co-workers are invited to these free dinner events.
"International nurse dinner club is my favorite night of each quarter," Blankenship said. "We have celebrated our nurses from India, the Philippines, Jamaica and Zimbabwe. It brings me great joy to see the nurses arrive in their native dress for the evening and have the opportunity to share their heritage with us."
Growing the program
Mercy is actively growing its international nurse program. All 12 of Mercy's acute care hospitals are seeking international nurses. Mercy is planning to attract an additional 500 international nurses, but it doesn't happen quickly. The process can take months or even years.
As the first international nurse at Mercy South, Varghese now finds other international nurses turn to her for support and advice. It is a role she embraces, and it is the kind of community that helps lift each other up.
"I am so incredibly proud of and thankful for Mini. She has forever changed my personal and professional life," Blankenship said. "I remember when we first interviewed her, and now she's a mentor for many other international nurses. She has gone out of her way to help them feel comfortable, to get resources they need, and to be a listening ear. I find myself reaching out to her for advice."
Varghese's original contract with Mercy has expired, but she's not going anywhere. In fact, she loves working at Mercy and living in St. Louis so much, she is making it home. She has accepted a full-time core nurse position at Mercy South. And she bought a house, the first home she has ever owned. Her husband is moving from India to join her.
"It's all God's grace that any of this happens," Varghese said. "Here, I am trusted and valued. This is why I am staying."