ST. LOUIS - Mueller Furniture recently donated a massage chair to Mercy's adolescent and young adult cancer program. Mark Mueller, Mueller Furniture owner, helped deliver the chair where it will help provide relaxation and comfort to patients and families during their treatments.
"Pediatric and young adult cancer patients and their family members frequently spend long and difficult days in our treatment center," said Dr. Rob Hanson, director of Mercy's Cardinals Young Adult Cancer program. "Mueller Furniture's generous gift of a massage chair will provide an incredible opportunity to escape for a time into a peaceful, relaxing, and therapeutic environment that will rejuvenate and restore both physical and psychological well-being."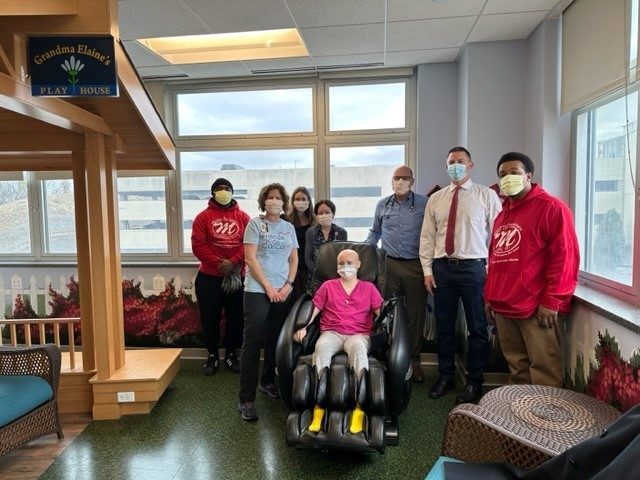 Mueller Furniture team delivered the massage chair to Mercy's Cardinal Young Adult Cancer Program.
The chair is a Cozzia CZ388 zero-gravity therapeutic chair that offers lumbar heating, seat vibration, adjustable massage strength, speed and precise body scanning. 
"I was first made aware of Mercy's adolescent and young adult cancer program at the St. Louis Cardinals Fantasy Camp in Jupiter, Florida this past January," Mueller said. "There was a very moving speech by one of the patients and Dr. Jacquelyn Carter, that inspired me. Dr. Carter specifically mentioned that the patients really enjoyed the massage chairs. That's something I knew I could provide and was proud to help."
To learn more about supporting Mercy's pediatric and adolescent cancer program please contact Mercy Health Foundation at 314-251-3447 or go to mercyhealthfoundation.net/STLAYA.