Mercy broke ground on a new construction project Friday to expand the emergency department at its hospital in northwest Oklahoma City.
The project will include adding square footage to the ER that will house a much-needed CT scanner and space for more radiology equipment in the future. Patients in the ER needing a CT scan currently must be transported to a different floor in the hospital to get this specialized imaging required for a diagnosis.
"We see about 140 patients every day in our ER, and around 60 of them need a CT scan," said Dr. Lance Watson, department chair of the emergency department at Mercy Hospital Oklahoma City. "This project is so important because the quicker we can get a diagnosis, the quicker we can get patients the treatment they need.
The hospital is an Advanced Comprehensive Stroke Center certified by The Joint Commission, the highest level of stroke certification awarded only to hospitals able to treat the most complex stroke cases. This special designation means Mercy has the most advanced imaging capabilities, 24/7 availability of specialized treatments and staff with the unique training and experience to care for patients who have experienced a stroke.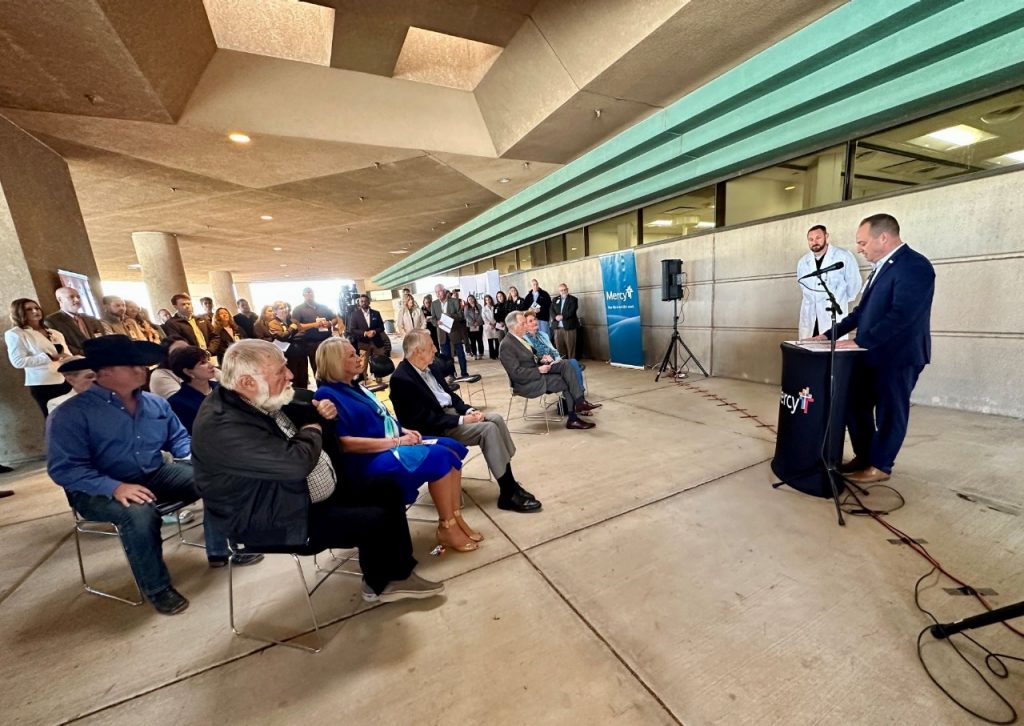 Mercy broke ground on the new ER expansion project May 21, 2023.
"For our stroke patients, getting a CT scan that will lead to a diagnosis as quickly as possible is critical to decrease their chances of having long-term disabilities," said Dr. Bryan Van Zandt, Mercy interventional radiologist.
A CT scan is also needed for patients experiencing trauma, abdominal pain, chest pain, migraines and other neurological conditions.
"The hospital was built in the 1970s, long before we had much of the technology we use today in health care," Dr. Watson said. "Our teams do a phenomenal job working together to make our current process as efficient as possible. But there's no doubt having a CT inside the ER will be a huge advancement for patient care."
Nearly two million brain cells die every minute during a stroke until the patient receives treatment which can lead to disability or death. Despite the challenges, Mercy has the fastest door-to-needle time for stroke patients in the state at 27 minutes, compared to the statewide average of 44 minutes. Door-to-needle time describes the interval between the time a patient arrives at the hospital to the time they receive treatment.
When construction is complete, stroke patients will be wheeled straight from the ambulance into the CT scanner.
Funding construction projects and paying for new technology is a challenge for hospitals across the country. According to the American Hospital Association, 68% of hospitals could lose money this year due to pandemic-related financial challenges including increased costs and labor shortages.
Generous local donor Herman Meinders heard about the need for this equipment and stepped up to provide the funding. Meinders donated $2.6 million to cover the entire cost of the project through Mercy Health Foundation.
"We could not be more grateful to Mr. Meinders for his gift," said Dr. Watson. "His generosity infuses new life into our ER. It's been a tough few years for our co-workers. To know that someone cares enough to fund this critical project will be a huge morale boost for them."

Mercy's Meinders NeuroScience Institute is also named for Herman Meinders. The building houses the Meinders Center for Movement Disorders and its multidisciplinary team of specialists, nurses, physical therapists, speech therapists, home health nurses and advanced practitioners for patients with Parkinson's disease and other movement disorders.
Meinders said he wanted to show his appreciation for the neurology program at Mercy and made the donation in honor of retired Mercy neurosurgeon Dr. Richard V. Smith. Dr. Smith was the visionary behind the stroke program, and the new ER suite will be dedicated in his name.
"Herman is the perfect example of philanthropy at its finest," said Lori Cummins, vice president of Mercy Health Foundation Communities. "He sees a need and asks how he can meet it. His generosity is evident all over the campus of Mercy Hospital Oklahoma City, from the Meinders Neuroscience Institute and Meinders Center for Movement Disorders to the new Love Family Women's Center and now this ER project. People's lives will be changed forever because of him. Herman has been a true blessing to Mercy and those we serve."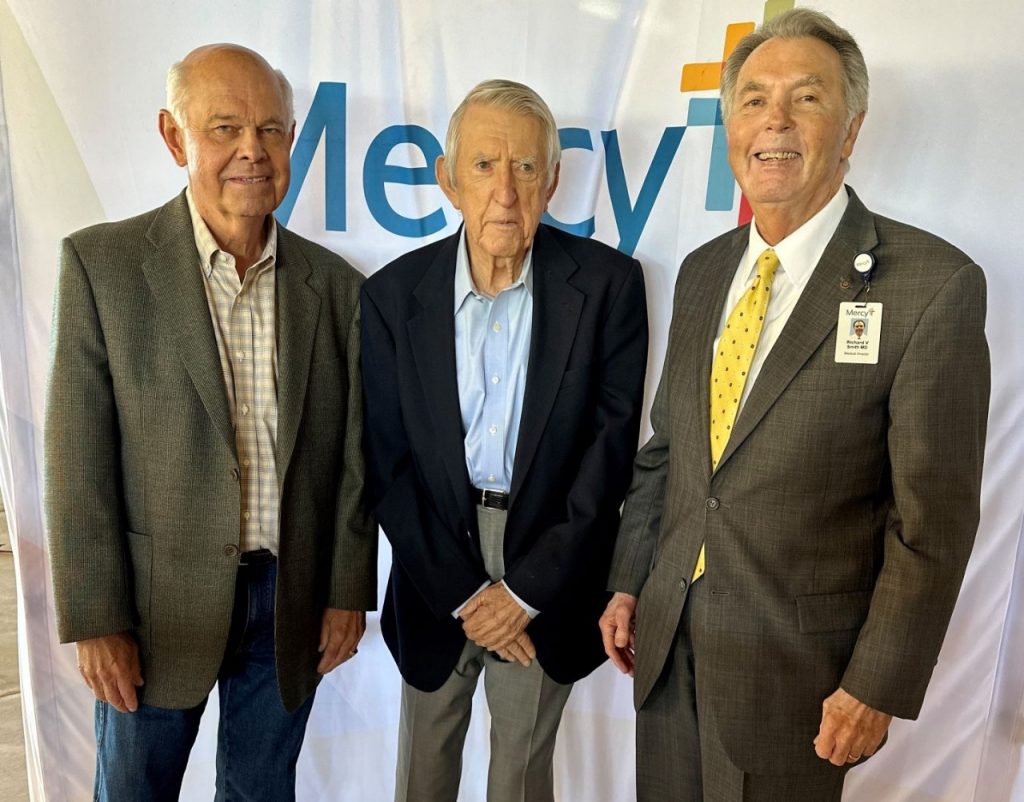 Mo Grotjohn, Herman Meinders and Dr. Richard V. Smith