ST LOUIS – Fifteen-year-old Alex Silies holds two milestone patient titles – the first surgery patient at The Mercy Center for Performance Medicine & Specialty  Care and the first Mercy patient to receive a new type of ACL implant to speed recovery.
Silies, a high school freshman on his varsity soccer team, was playing for his club team in April when an injury sidelined him. After a trip to urgent care, he followed up with an orthopedic doctor and learned he would need surgery.
Mercy Clinic Orthopedic Surgeon Dr. David Irvine, chief of the division of orthopedic surgery at Mercy Hospital St. Louis, was Silies' surgeon and the first in the area to use a BEAR® Implant, a new type of ACL repair.
The BEAR, which stands for Bridge Enhanced ACL Restoration, procedure uses a sponge-like material containing the patient's own blood to fill the gap in the torn ACL. Held in place with stitching, the BEAR starts the healing process and creates a bridge for the ligament to regenerate native cells. Within eight weeks, the body absorbs the implant and replaces it with new, natural tissue that gets stronger over time, versus previous implants that are permanent.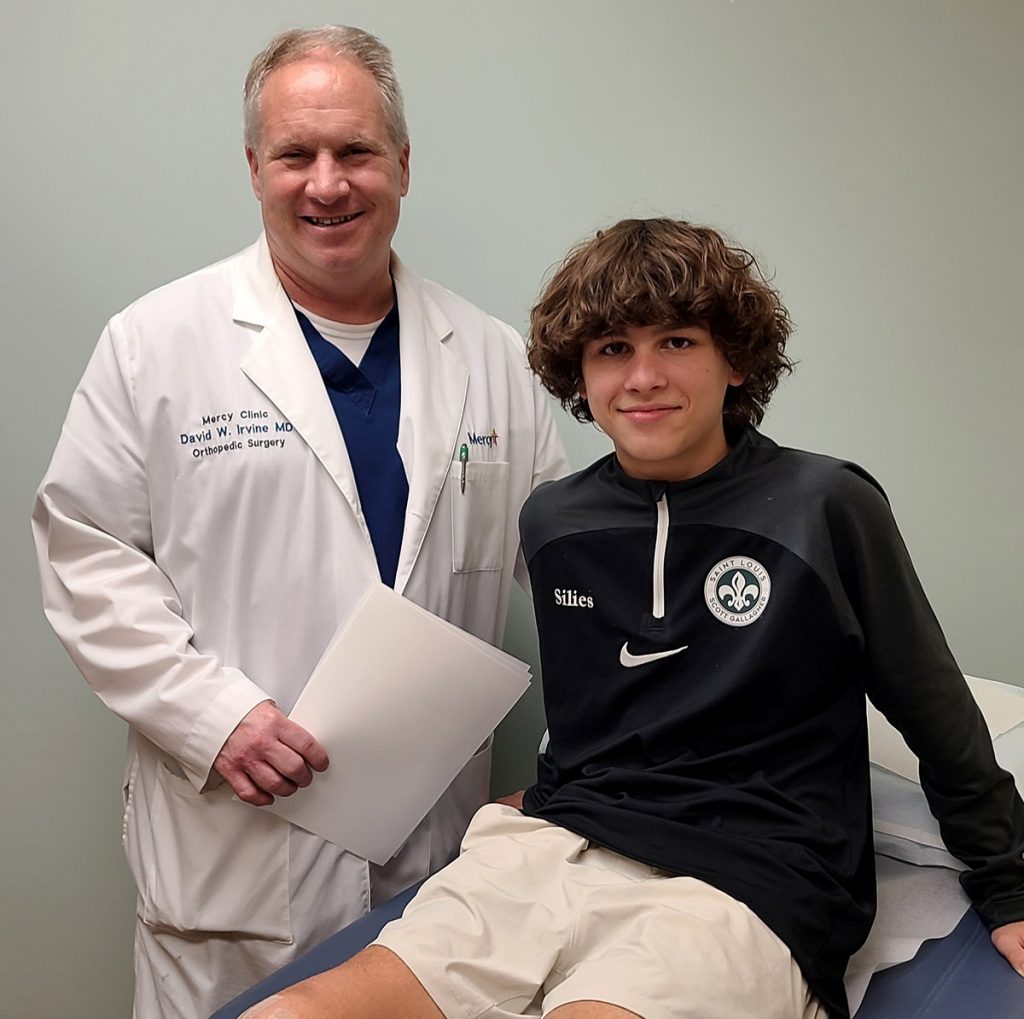 Dr. David Irvine with Alex Silies, the first patient at The Mercy Center for Performance Medicine & Specialty Care and the first BEAR procedure patient at Mercy.
Dr. Irvine explained that ACL tears are in the knee joint where synovial fluid, the joint lubricant, can prevent clotting and keep the ligament from healing. Other techniques, such as ACL reconstruction, involve harvesting ligaments from other parts of the body which can increase pain and can result in a longer recovery.
"The new implant will protect the area during healing so we can repair the tears more anatomically," Dr. Irvine said. "Early studies are promising, showing faster recovery of muscle strength and higher patient satisfaction regarding return-to-sports readiness."
"It was a whirlwind after the urgent care visit," said Michelle Silies, Alex's mom. "We met Dr. Irvine and had an MRI scheduled the same day, with surgery scheduled quickly after."
For patients to be considered candidates for the new technique, surgery needs to occur within 50 days of the injury, and enough ACL tissue must remain to adhere to the new implant.
"Dr. Irvine made us feel very comfortable, sharing his own sports injury story with Alex. He walked us through the new procedure and, of course, Alex did his own research," Michelle said. "Being the first patient in the new Mercy building was a bit surreal. From his surgery team to those who greeted us at the door, everyone made such a big deal about him."
Alex, who has been playing soccer since age 3, recently started physical therapy at the Mercy Center for Performance Medicine and can't wait to get back on the field with his teammates.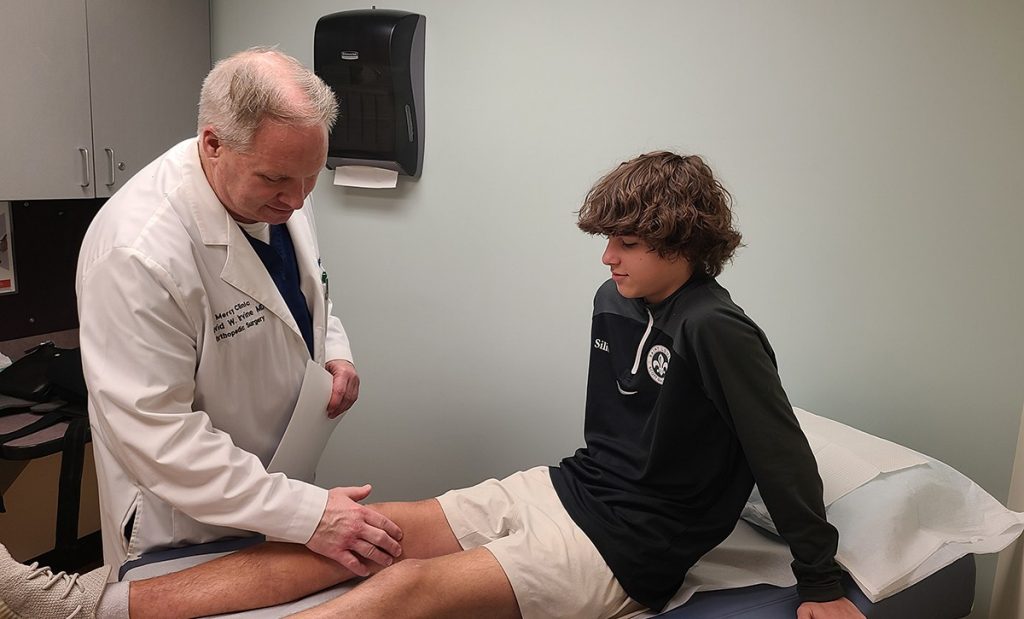 Dr. Irvine checks Alex's knee at a follow-up appointment after his surgery.