Braum's donated half a million dollars to fund a new space to safely store and prepare breast milk for hospitalized infants in the neonatal intensive care unit (NICU) at Mercy Hospital Oklahoma City.
Moms will be able to deliver milk for their babies directly to the Braum's Milk Room, staffed by certified milk technicians who will prepare the milk for Mercy's NICU patients. The room will be a central place for storage and preparation of both human milk and formula. It will also be a designated location for parents to check-in milk to be labeled and stored for their newborn.
"Providing breast milk for their baby is one of the few tangible thing moms can do when they have a preemie in the NICU," said Brandy Chaney, manager of Mercy's NICU in Oklahoma City. "We just didn't have the space before, so our nursing team prepared milk feedings at the bedside or in a dedicated workroom. The milk room will be such an asset to everyone involved in caring for our tiny babies."
The Braum's Milk Room is part of the larger Love Family Women's Center project that will provide more space, resources and care for women of all ages. More than 40%, or $45 million, of the total cost of the new women's center was funded through philanthropy, with a $10 million lead donation from the Tom and Judy Love family.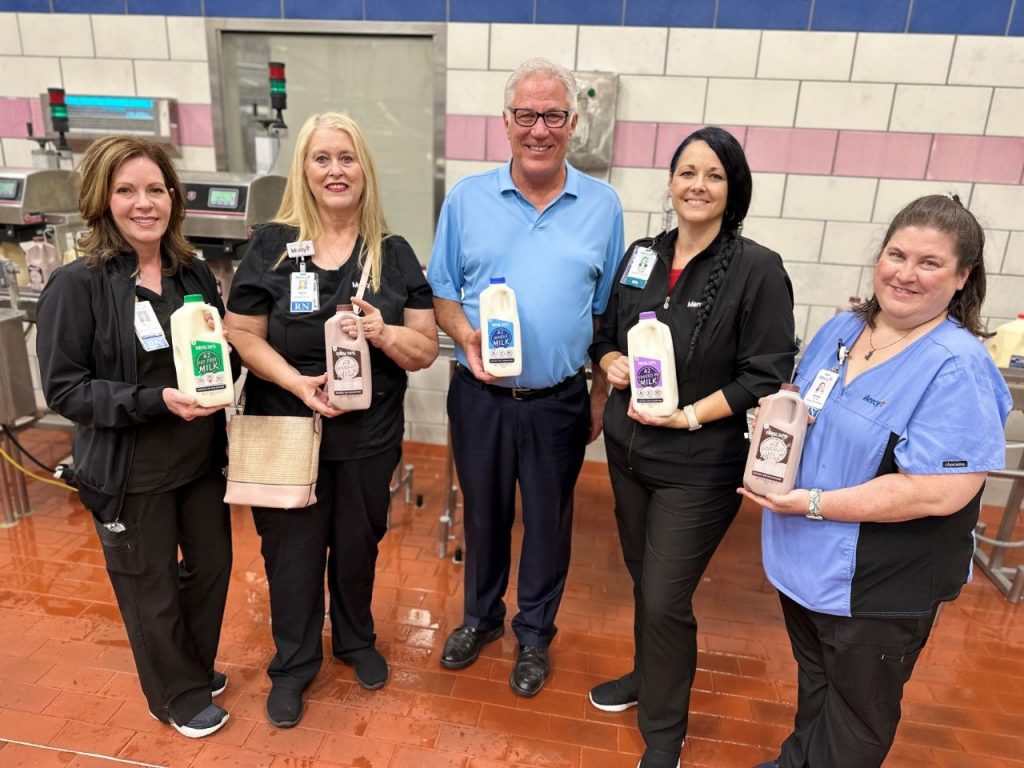 Mercy's NICU team with Drew Braum at the Braum's farm in Tuttle, Oklahoma.
When a donor was needed to fund the milk room, Braum's, an Oklahoma company, seemed like a perfect fit.

"Braum's has been providing milk for Oklahoma families for more than 50 years, and when we approached them about funding a project to create a milk room for our most vulnerable patients, we were so delighted when it was a quick 'yes,'" said Lori Cummins, vice president of Mercy Health Foundation Communities. "The support from the Braum family and so many others will impact generations to come as we prepare to welcome more Oklahomans into the world at the Love Family Women's Center."
The project will create a more streamlined process allowing nurses to focus on patient care while a dedicated team prepares feedings. This type of facility is considered best practice for caring for the nutritional needs of infants needing a higher level of care.
"When the team at Mercy approached Braum's about helping fund the milk room, I knew it was a fantastic addition to the monumental Love Family Women's Center project," said Drew Braum, president and chief executive officer of Braum's. "For many, Braum's is synonymous with milk. While we produce high-quality, nutritious A2 dairy milk on our farm, Mercy will use the Braum's Milk Room to develop the correct formulation of human milk and formula to meet the nutritional needs of all infants, especially those admitted into the NICU. We are honored to partner with Mercy and the Love Family Women's Center to bring this critical element of care to Oklahoma City."