Mercy will bring five new care providers to the Ardmore community within three months. The addition of these new specialists will improve community access to needed health services and allow patients to be seen sooner.
"It's not often that this many care providers from so many different specialties start at one time in a rural community like Ardmore," said Tyler Hillis, vice president of operations at Mercy Hospital Ardmore. "These new physicians and nurse practitioners will have a big impact on patient care and will allow us to provide better assistance and options to our patients."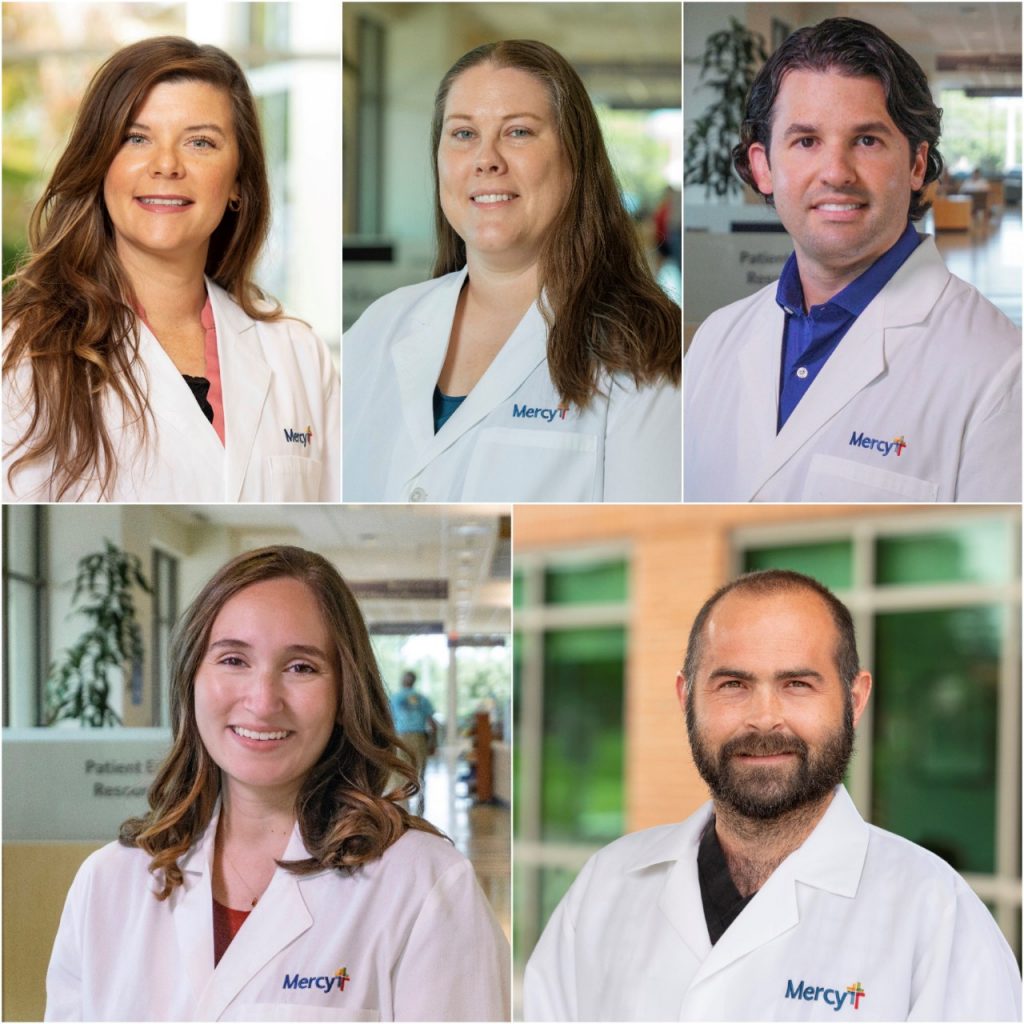 Top Row, L to R: Amy Renfro, APRN-CNP; Dr. Bethany Clutts, Dr. Cameron LanCarte. Bottom Row, L to R: Dr. Kelsey LeMay and Phillip Hatley, APRN-CNP
According to the Association of American Medical Colleges, rural residents are more likely to face unexpected injury or illnesses like cardiovascular disease than urban residents, however, it is more difficult to recruit new providers to rural areas. Medical providers may hesitate to move to a rural community due to fewer employment opportunities for working spouses and fewer community resources. Additionally, the difficulty of providing rural medical care can discourage new doctors from considering employment.
Mercy is working to offset these challenges by recruiting and retaining new talent.
"Adding these new providers is an investment in the well-being and health of this community," said Daryle Voss, president of Mercy Hospital Ardmore. "We are taking the initiative to attract the next generation of medical talent to serve local patients and improve our community's health." 
In addition to these five new providers, Mercy has also added five hospitalists to Mercy Hospital Ardmore since the start of 2023. While patients cannot schedule a clinical visit with these physicians directly, they provide vital care for hospital patients.
"It is a pleasure having Mercy Ardmore as part of our southern Oklahoma community," said Janée Auten, director of membership development with the Ardmore Chamber of Commerce. "With the addition of these new providers to our local Mercy family, the future of Ardmore and Mercy is looking stronger than ever. The Ardmore Chamber of Commerce hopes this will give more people the opportunity of staying local for all their health care needs."