Written by Ellis Kmetzsch
With the addition of a new OB/GYN, Mercy is preparing to serve more patients at the Love Family Women's Center currently under construction on its hospital campus in northwest Oklahoma City. Expected to open next year, the new facility will increase the hospital's capacity to deliver babies by 40%.
"We are excited to be able to serve more women and infants at the Love Family Women's Center when it opens," said Dr. Jesse Campbell, regional physician executive at Mercy in Oklahoma. "Our labor and delivery unit has been at capacity for several years, and we simply need more space. Adding more space means we need physicians and staff to care for patients, and we're excited Dr. Shelby Bassett has joined us as we prepare for the growth to come."
Dr. Bassett recently joined Mercy as an OB/GYN, where she sees patients at Mercy Clinic OB/GYN – North Meridian, across the street from Mercy Hospital Oklahoma City. Dr. Bassett is one of two new specialists Mercy is adding to serve more families in the region. The second OB/GYN is scheduled to begin in 2024.    
Dr. Shelby Bassett
"Working in women's health is a great privilege," said Dr. Bassett. "I love building a personal relationship and transitioning through different stages of life alongside my patients. It's especially exciting to be joining the Mercy team as we enter a new era of care at the Love Family Women's Center."
Originally from Birmingham, Alabama, Dr. Bassett was drawn to practice in a metropolitan environment like Oklahoma City where she could work with a wide variety of patients. Her fiancé is also originally from the state. 
"I've always been a big problem solver and am constantly searching for ways to improve things. This led me to the challenge of medicine," Dr. Bassett said. "I love the diversity of care that OB/GYN allows. As a physician, I am there during some of my patients' best days, when they welcome a new life into their family. But I also get to make a difference in a patient's quality of life through gynecologic care."
Dr. Bassett earned a bachelor's degree in biology at the University of Alabama in Tuscaloosa, Alabama, and a medical degree from the University of South Alabama in Mobile, Alabama. She recently completed residency in Shreveport, Louisiana, with Louisiana State University Health.
After residency, Dr. Bassett gravitated toward Mercy, where she appreciated the focus on women's health, including the ongoing work with the Love Family Women's Center. The four-story, 175,000-square-foot building will feature an obstetrics emergency department and the state's first hospital-based low intervention birthing unit staffed by certified midwives. It will also serve as a hub for services designed for women of all ages, including women's surgical recovery and physical therapy.
The Tom and Judy Love family, for whom the center is named, gave a $10 million lead donation to kick off the project, inspiring another $33 million total in donations toward the Love Family Women's Center.
Three large cesarean section suites in the women's center will connect to the hospital on the first floor via the existing hospital surgical suite. This strategic design allows for quick, safe access to additional hospital services, like Mercy's Level III neonatal intensive care unit, if medical emergencies arise.
"My goal is always to provide competent, evidence-based care that is driven by a strong doctor-patient relationship," Dr. Bassett said. "I look forward to providing this type of care to my clinic patients and those I meet through the Love Family Women's Center, which I believe will make a positive impact on the overall health of women in this region for generations to come."
Dr. Bassett enjoys music and college sports. She especially enjoys supporting her alma mater, the University of Alabama.
Schedule an appointment with Dr. Bassett at Mercy Clinic OB/GYN – North Meridian Building C online or call 405-792-4541.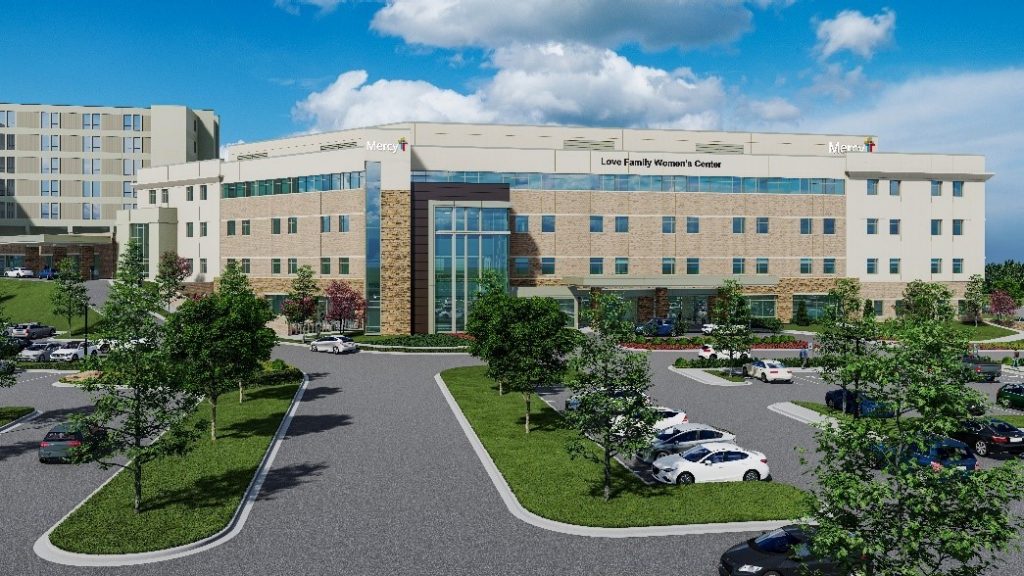 Love Family Women's Center at Mercy Hospital Oklahoma City