ST. LOUIS - "Now I can look in the mirror and feel confident with what I see."
Like many moms, Heidi Tarasuik admits she put her kids' needs ahead of her own for years. A former three-sport college athlete, when sports went away, her struggles with weight began. Add in marriage, two kids and a busy life, and the challenges multiplied.
"I got married at 26, got happy, and I ate," Tarasuik said. "I had my first child when I was 29, and there were lots of medical issues. During my second pregnancy, I was super fit, running 5Ks and half marathons, but after the baby it became more of a struggle."
With a 3-year-old and a newborn at home, Tarasuik said she tried many things to lose weight, including medications, fad diets and meal-replacement shakes. She had some short-term success with the shakes, but the cost was unsustainable.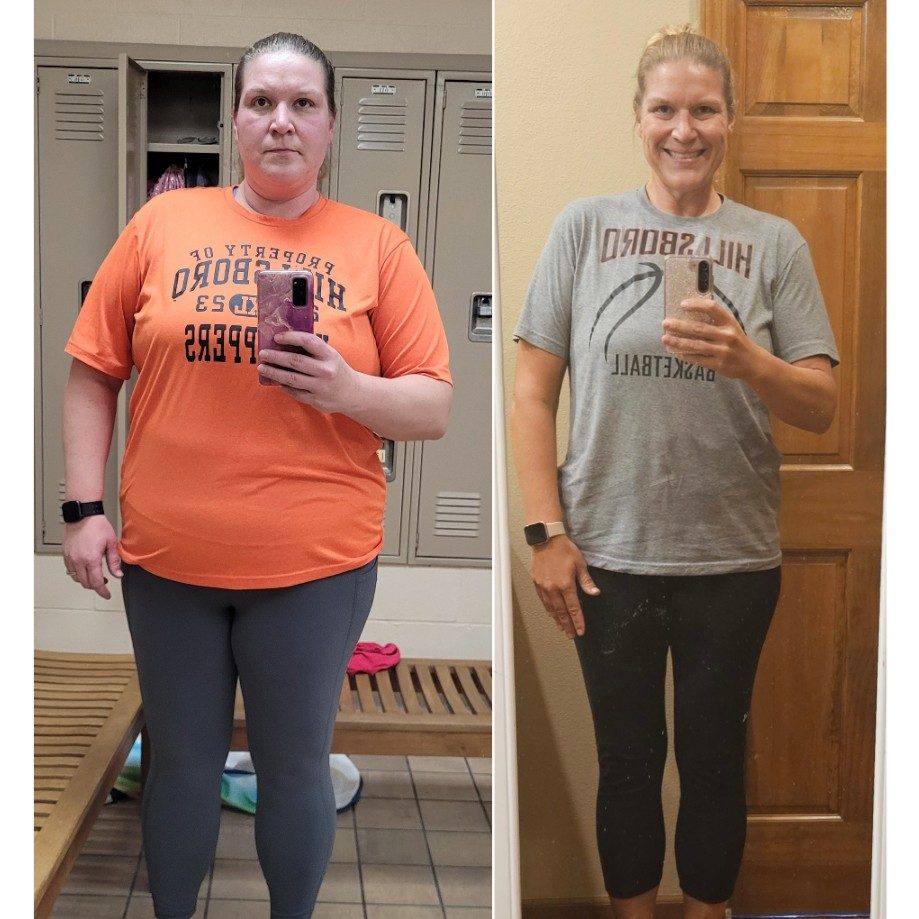 Heidi Tarasuik before and after bariatric surgery.
"The shakes never fixed the problem, which was the mental aspect," Tarasuik said. "Last year, I got to the point that I was tired of being tired and overweight."
At 5 foot, 8 inches and a high of 302 pounds, Tarasuik began searching for a weight loss surgery option. Through referrals from within the medical community, she found Mercy Bariatric Surgeon Dr. Katelin Mirkin. "I felt a connection with her right away, and she felt I could be successful. She even took her time and effort when my insurance initially denied the procedure."
In October 2022, the American Society for Metabolic and Bariatric Surgery guidelines for eligible patients were updated to include anyone with a body mass index (BMI) of 35 or greater, or BMI of 30 with other risk factors. However, some insurance companies have been slow to recognize the change.
"We always do everything in our power to advocate for our patients and help them obtain indicated medical care," Dr. Mirkin said. "We have someone in our office dedicated to assisting patients with navigating insurance coverage for our program."

A common misconception is that bariatric surgery is an easy way out. But surgery is a tool that is only effective in combination with diet and exercise. 
"The two-week liquid diet wasn't as scary as many have said," Tarasuik said. "I lost 17.5 pounds in those two weeks and felt confident on surgery day. There were zero complications, no reflux or pain."
As a PE teacher, she stays active with her students. During the summer, while her two kids were at swim team practice, she would walk.
"I could get in three miles during their two-hour practice," Tarasuik said. "I am also drinking lots of water and eating less food. I put my proteins first, focusing on the right foods, and avoid fast food and sweets, which led me to be overweight."
Tarasuik is sharing her lessons and newfound confidence with her two young daughters, enjoying activities with them she couldn't before, such as riding a banana boat pulled by a jet ski.
Less than eight months after surgery, Tarasuik is approaching her weight loss goal. In September, she celebrated a major milestone. "I'm officially down 100 pounds! I'm at 187.7 pounds in less than eight months!"
Dr. Mirkin said working with Tarasuik has been a privilege. "Heidi's dedication to her health and her family is inspiring. It's incredibly rewarding to witness how she's taken her life back and the positive impact that has had on those around her."