Written by Ellis Kmetzsch
Brenda Aldridge is a mother and grandmother with a legacy of caregiving for family members and loved ones. After a Type 2 diabetes diagnosis in October 2022, she felt overwhelmed about how to manage her disease – until she attended Mercy's diabetes education class. Now Aldridge encourages others to take charge of their diabetes through education. 
"This is the first class I've attended where they didn't tell me being diabetic was a death sentence," Aldridge said. "The knowledge I've gained has changed my life. I make different choices now and try to practice moderation, but I still get to eat food that tastes good."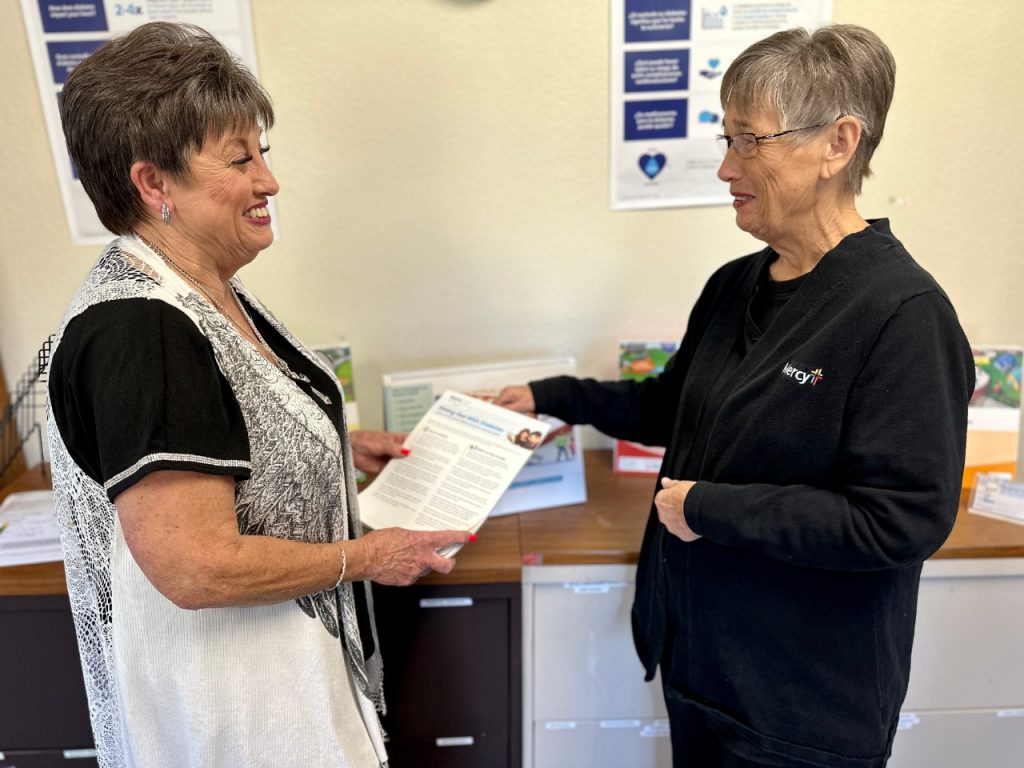 Brenda Aldridge (left) and Judy Kyle (right) at Mercy's Diabetes Education Center in Ardmore.
When Aldridge received her diabetes diagnosis, she was first told she might be 'borderline' diabetic, which caused confusion. Then she attended class with Judy Kyle, Mercy Ardmore's diabetes education instructor. Kyle told the group, "Being diabetic is like being pregnant. You either are or you aren't; there is no in between. We're here to help you learn how to keep it under control."
Even though her late husband was diabetic, the diagnosis for Aldridge still felt intimidating, especially while balancing other health challenges.
"I had no idea how to count carbs and read food labels," said Aldridge. "Judy taught us all of that. I can still call her to get advice if needed."
Kyle has been teaching the class for nearly two years, and over her career has worked with hundreds of people on how to make healthy diet and lifestyle choices. It's important for individuals with Type 2 diabetes to seek treatment. Untreated, it can lead to kidney damage, blindness, increased risk for heart disease and stroke. 
"Diabetes education is important because knowledge is power," said Kyle. "Diabetes isn't an illness that just goes away; it's something you will have to live with throughout your life. For some, that can be overwhelming, but if you know how to take care of your disease, you have power over it, and it loses the power it holds over you."
The class focuses on small things people can do, regardless of insurance or their financial situation. Instructors also provide a list of resources for southern Oklahoma that can help patients get more affordable insulin and other medication.
"There's a financial strain for individuals with diabetes, especially if you don't have good insurance," said Kyle. "This can make it difficult to get lifesaving medication or care. Many patients with diabetes don't have the money to buy the kind of food they need to eat or assistance from family and friends to make healthy food choices."
The program also offers a monthly support group where individuals can ask questions, talk about challenges and provide encouragement to each other.  
"Our program offers not only education, diet and diabetes management, but also community and social support," said Kyle. "We really encourage everyone to come. Many people can be reluctant to learn how to manage their diabetes, but this class gives people power to make small changes that can greatly improve their life."
A new class starts on the first Wednesday of the month and runs for four weeks. To register, email Judy Kyle at [email protected] or call 580-220-6747. Classes are held at Mercy's Diabetes Education Center in the former Red Cross building at 1006 Northwest Blvd, Ardmore, OK 73401.