Hours of Operation:
By appointment only. Please call to schedule.
The Cooper-Anthony Mercy Child Advocacy Center's mission is to utilize a multidisciplinary team approach to providing a safe, child-friendly and caring place where children are assessed when allegations of child abuse arise.
Cooper-Anthony Mercy Child Advocacy Center in Benton, Ark., serves as a satellite center to our main clinic in Hot Springs.

About CAMCAC
The CAMCAC offers a safe, child-friendly environment, where a comprehensive and coordinated approach is taken in response to allegations of child abuse. The CAMCAC is one of 14 advocacy centers in the state of Arkansas and has the unique distinction of being the only hospital-based child advocacy center in the state. The CAMCAC serves approximately 600 clients annually and has offices located in both Hot Springs and Mena.
In 2012, the CAMCAC was awarded the highest level of membership with National Children's Alliance, which is the accrediting agency for Children's Advocacy Centers.
The CAMCAC provides essential services to Arkansas' youngest victims of abuse ranging from birth to 18 years of age. These services include forensic interviews, child advocacy, medical exams, and mental health therapy. The CAMCAC also provides education and training regarding child abuse in the communities we serve, including a child abuse prevention and body safety program for children.
The CAMCAC utilizes a multidisciplinary team approach to reduce trauma placed on children during child abuse investigations, while offering a neutral child-friendly environment. The CAMCAC's services are individualized to meet the needs of each specific child and family while still meeting the needs of the multidisciplinary team. We collaborate with agencies in 11 counties including representatives from the Arkansas State Police (Crimes Against Children Division), local law enforcement, Prosecuting Attorney's office, Division of Children and Family Services, mental health, medical personnel, and other local and/or state agencies. Strong coordination and communication between these disciplines make case investigation less traumatizing for child victims and their families.
Together, We Can Make a Difference
CAC does not charge patients for utilizing any of the center's numerous services. The advocacy center is an outreach ministry provided by Mercy, a non-profit healthcare system located across Arkansas, Missouri, Kansas and Oklahoma, and relies on the philanthropic support of community members and friends to provide care and services for the children and their families.
To help the center meet the needs of these vulnerable children, please consider making a tax-deductible donation to the Cooper-Anthony Mercy Child Advocacy Center.
Special Events
Save the Date
April 5, 2019 | 11:30 a.m.
Saline County | Saline County Courthouse Lawn
The Cooper-Anthony Mercy Child Advocacy Center (CAMCAC) will hold an additional Child Abuse Prevention Rally in Benton, AR on April 5, 2019. The rally is a way to highlight Child Abuse Awareness Month and honor those that are on the front line of the war against child abuse.
The Child Abuse Prevention Rally began in 2008 as a very small community gathering, but has since grown into a community wide event as we celebrate the successes of fighting child abuse within our community.
The Child Abuse Prevention Rally will be held at the Saline County Courthouse Lawn. Immediately following the Rally, lunch will be served.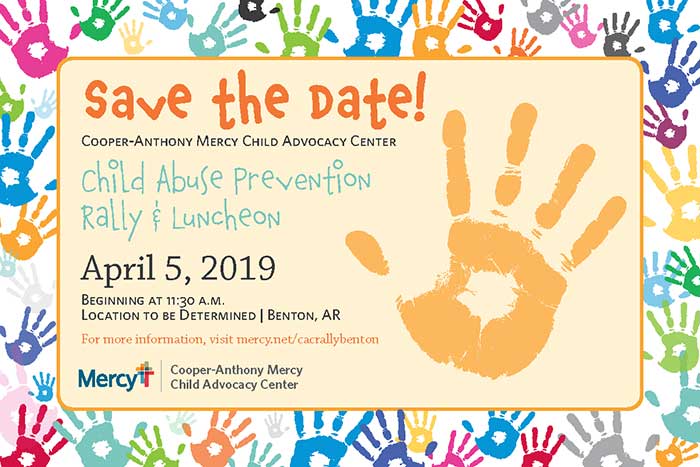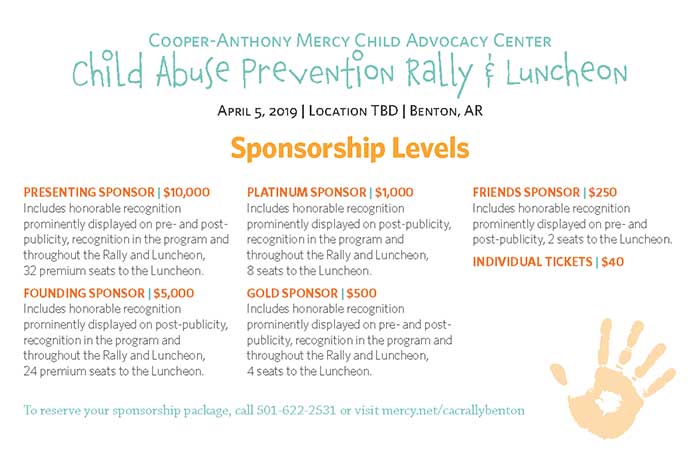 CAMCAC Locations
216 McAuley Court
Hot Springs, AR 71913
400 Port Arthur Avenue
Mena, AR 71953