Suite 108
Hours of Operation:
Monday-Friday: 8 a.m. - 4:30 p.m.
Treating obesity is more than getting rid of the extra pounds; it's also about decreasing associated illness and improving quality of life. At Mercy we believe in personalized medicine, not "one-size-fits-all." That's why we offer weight management programs and weight loss surgery. If you're not sure which approach is best for you, our friendly team can help you sort through your options and make a plan to get healthier. If you qualify for weight loss surgery, Mercy Bariatric Center in Washington, MO can help you reach a healthier weight and reduce your risk of developing health complications like heart disease or diabetes.
In addition, surgical weight loss may also provide significant health benefits and allow you to:
Feel better
Have more energy
Reduce your cholesterol levels
Improve or resolve type 2 diabetes
Decrease your risk of heart disease, stroke, fatty liver disease, osteoarthritis and gastroesophageal reflux
Improve your breathing and mobility
What is Bariatric Surgery?
Bariatrics is simply the field of medicine focused on obesity, its causes, prevention and treatments. Bariatric surgery is divided into two different approaches to helping treat obesity: restrictive, where the stomach's size and capacity are reduced, and malabsorption, where the stomachs ability to absorb calories and nutrients is reduced.
At Mercy Bariatrics our team of leading experts is ready to help you meet your weight loss and health goals. We provide a variety of bariatric procedures including gastric sleeve, gastric banding and gastric bypass. In addition to your primary care physician, we call on our psychologists, dietitians, physical therapists, cardiologists, pulmonologists and surgeons to ensure your success. Bariatric surgery is just one part of your lifelong commitment to better health-but we're here to help.
Am I Eligible for Bariatric Surgery?
Bariatric surgery is a great way to help build a healthy lifestyle, but it's not for everyone. For weight loss surgery to be a viable option, patients must meet the following criteria:
You're 100 pounds or more over your ideal weight and have one of the following conditions:
A body mass index, or BMI, between 35 and 40, and

Diabetes
Sleep Apnea
High Blood Pressure
Your weight is causing health problems

Or have a BMI of 40 or more and none of the above health conditions.
Disclaimer: Surgery may be associated with its own set of problems, such as infection, poor wound healing, and rarely even death. Therefore, you and your surgeon should carefully discuss the risks of your current health condition compared to the risks and benefits of surgery.
I am Not Eligible
If you're not eligible for bariatric surgery, Mercy is still here to help. We have teams of weight loss specialists for non-surgical options as well.
Lisa Renae Martin Hawver, MD, FACS, is our Medical Director and our bariatric surgeon. She's an experienced and board certified surgeon with specialties in bariatric and laparoscopic surgery.
After graduating and completing her surgeon residency at the University of Missouri - Kansas City, she moved to Virginia Commonwealth University for her fellowship in bariatric surgery. Before coming to Mercy, Dr. Hawver served as the Assistant Professor of surgery at the University of Cincinnati and the Medical Director of Bariatric Surgery at The Christ Hospital in Ohio.
Dr. Hawver is a "Surgeon of Excellence" in metabolic and bariatric surgery, according to the Surgical Review Corporation.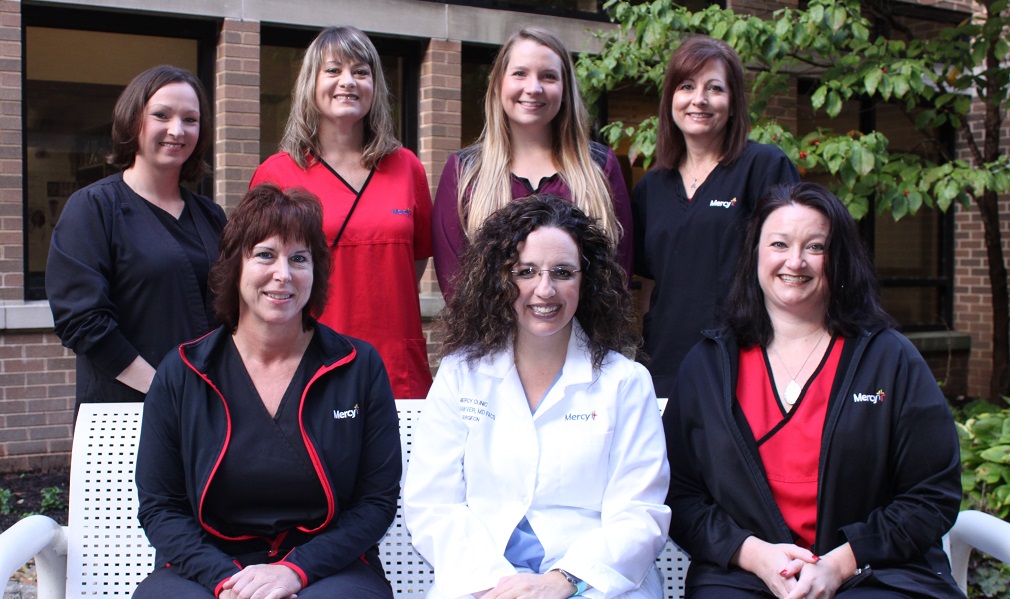 Bariatric Weight Loss Stories
Resources
Services Offered