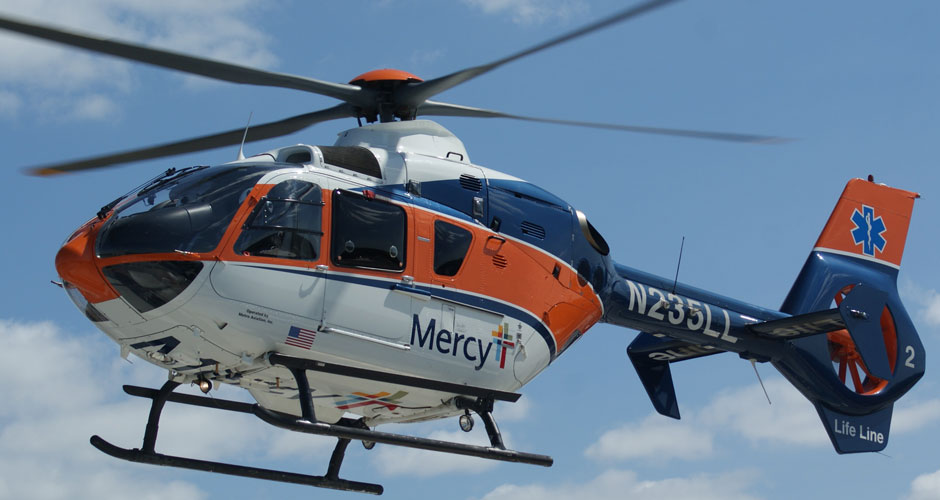 Mercy's Life Line has provided safe, rapid, air transport for emergency patients since 1984.
Mercy Life Line has provided safe, rapid air transport for emergency patients since 1984. Serving patients in Missouri, Kansas, Oklahoma and Arkansas.
Mercy Springfield Communities is bringing faster, safer health care to those who need it in an emergency. Life Line operates five H135P2+ helicopters with upgraded technology which will allow pilots to fly in weather conditions they previously could not have faced. Learn more.
Our team consists of an outstanding group of nurses, physicians, medics, flight communications specialists, pilots, mechanics and support personnel. Thanks to this impressive group of dedicated team members as well as our referring institutions and EMS partners, we are proud of our successful history and look forward to many more years serving our community.
Our flight crews include a registered nurse, a paramedic and a pilot who respond to life-threatening emergencies including trauma, medical, or obstetrical. Crews respond to an emergency scene, where a ground unit assists the crew, or to a hospital to transfer a critically ill patient. Life Line is accredited by the Commission on Accreditation of Medical Transport Systems.
About Mercy Life Line
Air Medical Service Resources
Mercy Kids Transport Team
When seconds count, Mercy has a children's-trained transport team to transfer critically ill or injured newborn to adolescent patients to hospitals for specialized care. 
Mercy Kids Transport Team provides 24 hour pediatric and neonatal critical care transport service.  The specially trained team of critical care nurses, respiratory therapists, and paramedics delivers patient care while working in specially equipped ambulances and helicopters.
The Mercy Kids Transport Team works closely with Level 3 NICU Neonatologists, Pediatric Surgeons and Specialists.  Contact our team directly at 844-MRC-KIDS or 844-672-5437 for Inpatient Admissions and Consultations for the Kids Transport Team.