Services are provided by Mercy Hospital St. Louis
Learn more »
Hours of Operation:
Monday-Friday: 6 a.m. - 3 p.m.
Recognized by the American Society for Gastrointestinal Endoscopy for promoting quality in endoscopy.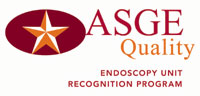 Mercy Gastrointestinal Endoscopy Laboratory is equipped with the latest in advanced diagnostic equipment. We offer a full range of tests to detect gastrointestinal problems such as colon cancer, irritable bowel syndrome and colitis.
Of course, looking forward to any medical test can make you anxious. We understand. We'll keep you informed and comfortable throughout your procedure and make sure you get your results as quickly as possible.
Three Mercy Endoscopy Centers in the St. Louis region - Mercy Hospital St. Louis, Des Peres and Lake St. Louis - recently received a three-year unit renewal for quality and safety by the American Society of Gastrointestinal Endoscopy, a leading GI medical society.
The ASGE Endoscopy Unit Recognition Program honors endoscopy units that have demonstrated a commitment to patient safety and quality shown by meeting the program's rigorous criteria. The criteria include following the ASGE guidelines on privileging, quality assurance, endoscope reprocessing, CDC infection control guidelines and ensuring endoscopy staff competency.
Colonoscopy, upper endoscopy and endoscopic ultrasound are just some of the tests we offer. To schedule a procedure, please call 314-387-2321.
When should I get a colonoscopy?
Services Offered