Services are provided by Mercy Hospital St. Louis
Learn more »
Hours of Operation:
Monday-Friday: 8 a.m. - 4 p.m.
Mercy's Hyperbaric and Wound Treatment Center is an outpatient center offering complete diagnostic evaluation and care for chronic and/or complicated wounds. Mercy's Hyperbaric and Wound Treatment Center recently achieved accreditation from the Undersea & Hyperbaric Medical Society (UHMS). It is the first in the St. Louis area to achieve this level of excellence and is one of only five accredited facilities in Missouri. Only 200 out of 1300 hyberbaric medical facilities are accredited in the United States.
Our experienced surgeons and nursing staff have one focus - healing your wound. We specialize in treating difficult wounds that have not responded to traditional treatments.
We provide treatment for a wide range of conditions, including:
Diabetic foot ulcers
Arterial insufficiency (decreased blood flow or lack of blood flow through your arteries) and venous stasis (loss of proper function of the veins in the legs)wounds
Radiation therapy wounds
Pressure ulcers
Non-healing surgical or complicated wounds
Some services we offer:
Compression therapy
Total contact casting
Surgical debridement
Bio-engineered skin substitutes
Negative pressure wound therapy
Transcutaneous Oxygen Measurements to assess healing potential or problem arterial wounds
Patient and caregiver education
For more information on hyperbarics and wound care treatment in St. Louis, e-mail Lisa Hezel.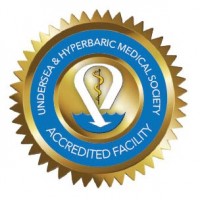 Resources
Services Offered