Did you kick off the year with healthier habits? Don't fumble this weekend. Total food consumption on Super Bowl Sunday is second only to Thanksgiving.
We asked Dr. Barbara Bumberry with Mercy Clinic Family Medicine - HealthTracks to "coach" us ahead of the big game. Here's her advice.
Pregaming Properly: Don't Punt Your Priorities
Drink plenty of water to help burn extra calories.
Drinking a cup of coffee or green tea can speed up your metabolism. 
Eating spicy foods can increase your metabolism. 
Nuts like cashews, almonds, and peanuts are high in magnesium, which boosts your metabolism. 


Healthy Hacks for Fan Favorites
Pizza - Load it with veggie toppings instead of pepperoni, blot off the grease, and skip eating the crust.
Chips - Choose baked sun chips or kettle chips over regular chips. 
Nachos - Take from the bottom to get less cheese. Choose guacamole over sour cream, and add jalapenos to boost the metabolism.
Wings - Go plain and add your own hot sauce. Better yet, remove the skin. 
Veggies - Load up on them to fill you up with fewer calories. 
Mozzarella sticks - Go with string cheese instead (fewer calories).
Subs - Use whole wheat bread and lean meats, opt for oil over mayo, load up on veggies and add double meat for extra protein.
Dips - Dip 2 chips at a time (you only consume half as much dip then). 
Soda - Go with "zero" or diet formulas.  Better yet, go with iced tea.
Beer - Go with the light brews (fewer calories and carbs).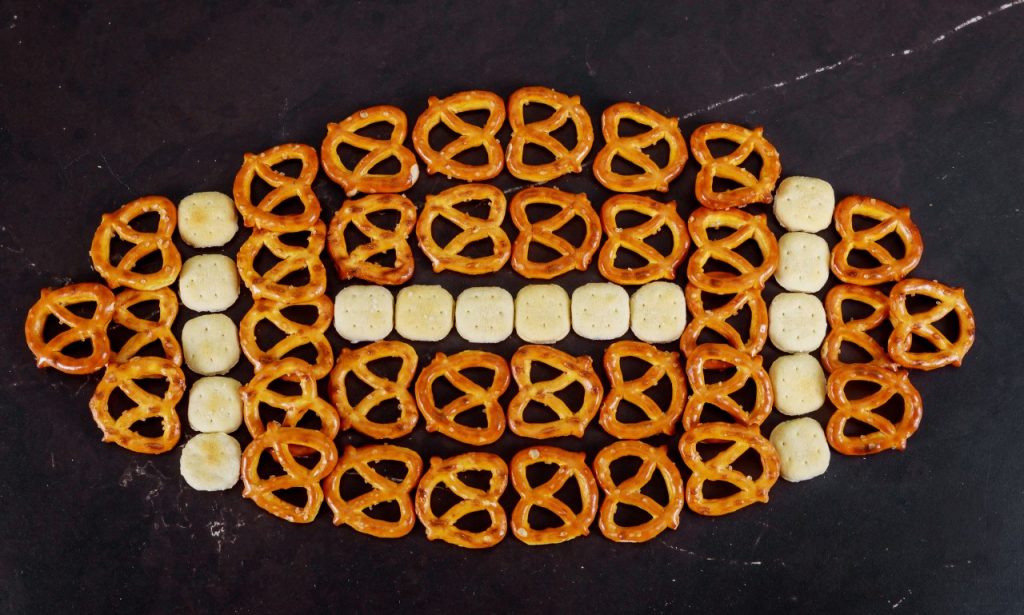 Touchdown! Full-Flavored Alternatives
"Not at all," said Mercy's Rebecca Holcomb, a registered dietitian. "There are plenty of ways to modify favorite recipes and snacks to make them healthier."
For example, dips can be healthy. A simple, easy guacamole dip can be thrown together in a snap. Mash avocadoes, lime juice and garlic powder (or fresh garlic). Decrease the sodium and unhealthy fats in a layered bean dip by going for low sodium or no salt added beans and olives, and then load up on tomatoes, lettuce and avocadoes.
"You can even make your own taco seasoning by combining cumin and chili powder to taste," added Holcomb. "Use lower fat sour cream and cream cheese in spinach artichoke dip. Make your own fresh salsa – adding mango, pineapple or black beans for interest." Hummus (a mashed chickpea dip) is also a healthy choice. And don't forget about the dippers. Use fresh veggies, whole wheat pita or multigrain tortilla chips.

Super Bowl favorites such as fried chicken wings, chicken strips and jalapeno poppers can also be modified.
"You can use whole wheat bread crumbs or panko Japanese style breadcrumbs instead of white flour," said Holcomb. "Try baking instead of frying. The key to a nice crisp crust with baking is to use a baking rack to avoid setting the food directly on the baking sheet. This technique will give a nice, crispy crust just as if it were fried."
Sliders or mini burgers, another common main dish, can be a healthy choice when using lean ground beef or turkey and a whole wheat bun. Holcomb suggests using sweet potatoes for potato skins for an added punch of nutrition.

"Chili is also easy to modify by adding extra beans and veggies. Or get creative and use pumpkin and cinnamon. Shrimp cocktail can also be a good choice. Roast nuts with spices for a healthy treat."
Beverages are a major source of sugar and calories at most get-togethers, so Holcomb says be mindful. "Some mixed alcoholic beverages can be as much as 500 calories! And pop, sweet tea and lemonade are not any better. Drink water or another calorie-free beverage instead. And remember fresh fruit is a great alternative to sugary desserts. You could even dip fruit in some dark chocolate for added antioxidants."