March 2, 2016
ST. LOUIS - Mercy Hospital St. Louis was named one of the nation's 100 Top Hospitals® by Truven Health Analytics™ in its annual study identifying the top U.S. hospitals based on overall organizational performance, one of only two hospitals in Missouri and the only in the St. Louis area.
"The 2016 100 Top Hospitals award winners represent the highest national standards in hospital care and management. They set the benchmarks for peers around the country to follow," said Jean Chenoweth, senior vice president at Truven Health Analytics. "Hospitals in three out of the five report groups actually reduced overall expense year over year, while improving patient outcomes – exactly the results that the entire industry hopes to attain."
The Truven Health 100 Top Hospitals® study, which evaluated 3,000 short-term, acute-care, non-federal hospitals, found the top performing hospitals in the country were able to improve outcomes while reducing overall expense per patient. This was the first time in the study's 23-year history that a notable trend toward reduced expense per patient was observed among the majority of top-performing hospitals.
Overall, the study found the top 100 hospitals in the country had lower 30-day mortality and readmission rates, fewer complications and higher survival rates, while maintaining 3 percent lower inpatient costs per beneficiary than non-winning peer group hospitals. The study also found a year-over-year decline in total inpatient expense per discharge among winning hospitals in the major teaching, teaching and small community hospital categories.
The study shows that if all hospitals in the U.S. performed at the level of this year's winners:
More than 104,000 additional lives could be saved.
Nearly 48,400 additional patients could be complication free.
$2 billion in inpatient costs could be saved.
The average patient stay would decrease by half a day.
"When patients come to Mercy we want them to get quality care with good outcomes," said Jeff Johnston, president at Mercy Hospital St. Louis. "That's why we're consistently focused on top performance benchmarks such as infection prevention after surgery with correct antibiotics, reduction of pressure ulcers with turn teams and specialty mattresses, and the use of outpatient care management to get timely post-hospital discharge appointments and reduce readmissions, just to name a few."
The Truven Health 100 Top Hospitals® study identifies hospitals and leadership teams that provide the highest level of value to their communities, based on a national balanced scorecard measuring overall organizational performance across 11 key analytic measures including patient care, operational efficiency and financial stability. The study has been conducted annually since 1993.
Following were the key performance benchmarks for 100 Top Hospitals award winners when compared with their peers:
Better Survival Rates: As a group, 100 Top Hospitals had 23 percent fewer deaths than expected considering patient severity.
Fewer Patient Complications: Patients at winning hospitals had 21 percent fewer complications than expected considering patient severity.
Lower 30-Day Mortality and Readmission Rates: Mean 30 day mortality and readmission rates were lower at winning hospitals than non-winning hospitals across all comparison groups.
Shorter Length of Stay: Winning hospitals had a median severity-adjusted length of stay that was a half-day shorter than peers.
Higher Profit Overall Margins: Winning hospitals had a median operating profit margin that was nearly nine percentage points higher than non-winning hospitals.
To conduct the 100 Top Hospitals study, Truven Health researchers evaluated 3,000 short-term, acute-care, non-federal hospitals. They used public information — Medicare cost reports, Medicare Provider Analysis and Review (MedPAR) data, and core measures and patient satisfaction data from the Centers for Medicare and Medicaid Services (CMS) Hospital Compare website. Hospitals do not apply, and winners do not pay to market this honor.
For more information, visit www.100tophospitals.com.
The winning hospitals were announced in the February 28, 2016, edition of Modern Healthcare magazine. In November 2015, Mercy St. Louis was named in Truven Health's 50 Top Cardiovascular Hospitals® study.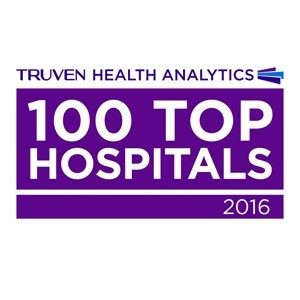 Media Contacts
Bethany Pope
St. Louis, St. Charles, St. Louis - South, Troy, Festus