ST. LOUIS - Ten Mercy Hospital St. Louis nurses were honored as finalists at St. Louis Magazine's recent annual Excellence in Nursing event. Of the 10 finalists, four nurses won their categories.
Jeffrey Hildebrand, clinical nurse for the medical/surgical unit, won the Acute Care/Family Practice/General Medicine category. BJ Hipsky, stroke team coordinator, took home the award for the Neurology/Psychology/Behavioral Health category. Lindsay McDowell, clinical nurse in the trauma ICU, won for the Emerging Leader category.  Bethany Westlake, nurse manager of the transitional care unit and burn center, took home the honor for the Intensive Care category.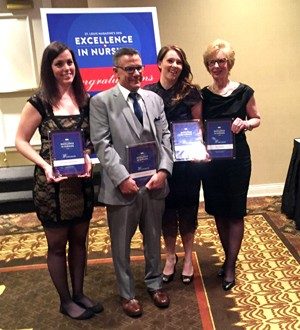 Mercy nurses Lindsay McDowell, Jeffrey Hildebrand, Bethany Westlake and BJ Hipsky won their categories.
Additional Mercy finalists include Kathleen Burmingham, Ashley Conway, Marnie Donohoo, Sheila Purdy, Natalie Morrison and Stephanie Struckhoff.
Congratulations all 10 nurses and thank you for the wonderful care you provide to our Mercy patients.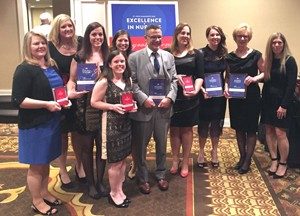 Mercy nurses who were finalists in the 2016 Excellence in Nursing awards.
Mercy, named one of the top five large U.S. health systems in 2017 by Truven, an IBM Watson Health company, serves millions annually. Mercy includes 44 acute care and specialty (heart, children's, orthopedic and rehab) hospitals, more than 700 physician practices and outpatient facilities, 40,000 co-workers and more than 2,000 Mercy Clinic physicians in Arkansas, Kansas, Missouri and Oklahoma. Mercy also has outreach ministries in Arkansas, Louisiana, Mississippi and Texas.