Patients are very happy at Mercy Hospital Cassville – enough to rank the rural facility among the top 20 critical access hospitals in the nation.
The National Rural Health Association (NRHA) announced the Top 20 Best Practices in Patient Satisfaction designation this month, putting Mercy Hospital Cassville in the top 1.5 percent of the 1,332 critical access hospitals in the country – and the only one in Missouri to receive the honor.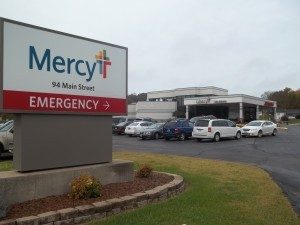 "Our managers, co-workers, physicians and volunteers are dedicated to providing compassionate care and exceptional service to our patients," said Doug Stroemel, Mercy Hospital Cassville administrator. "I am so proud of our entire team and the ongoing efforts that have led to our hospital receiving this prestigious recognition."
The NRHA ranked the 20 "best practices" critical access hospitals in the patient satisfaction category based on recent Hospital Consumer Assessment of Healthcare Providers and Systems (HCAHPS) surveys. HCAHPS is the first national, standardized, publicly reported survey of patients' perspectives of hospital care.
Mercy Hospital Cassville is located at 94 Main Street in Cassville, Missouri. The facility, as well as other top critical access hospitals, will be honored at an awards ceremony during the NRHA's Critical Access Hospital Conferences this September in Kansas City, Missouri.
Mercy, named one of the top five large U.S. health systems in 2017 by Truven, an IBM Watson Health company, serves millions annually. Mercy includes 44 acute care and specialty (heart, children's, orthopedic and rehab) hospitals, more than 700 physician practices and outpatient facilities, 40,000 co-workers and more than 2,000 Mercy Clinic physicians in Arkansas, Kansas, Missouri and Oklahoma. Mercy also has outreach ministries in Arkansas, Louisiana, Mississippi and Texas. 
Practices