Similar to the DAISY and Tulip awards, which recognize extraordinary service by nurses, techs and assistants, the Mercy Jefferson Sunshine Award has been established to honor co-workers in any other category.
The first winner is Admitting Representative Doug Henson. He was nominated by Nurse Manager Teresa Pasley.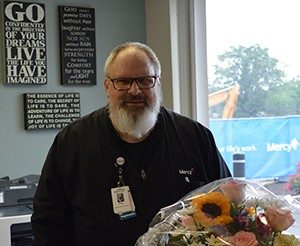 Doug Henson is the first Sunshine Award winner at Mercy Hospital Jefferson.
"I wanted to acknowledge all Doug Henson does to create a positive experience here at Mercy Hospital Jefferson. My mom has been coming in every two weeks for a procedure, and every time she tells me how hard he is working and how pleasant he is to her and everyone he meets.
"A couple of weeks ago I was down registering and I saw for myself! The patient in front of me was giving him 40 kinds of grief about a previous bad experience. Doug kept a smile on his face the whole time and encouraged her that we were going to take good care of her.
"Co-workers like him are what make Mercy Jefferson a great place to be. He is Mercy Signature Service in action!"
Mercy, named one of the top five large U.S. health systems in 2017 by Truven, an IBM Watson Health company, serves millions annually. Mercy includes 44 acute care and specialty (heart, children's, orthopedic and rehab) hospitals, more than 700 physician practices and outpatient facilities, 40,000 co-workers and more than 2,000 Mercy Clinic physicians in Arkansas, Kansas, Missouri and Oklahoma. Mercy also has outreach ministries in Arkansas, Louisiana, Mississippi and Texas.