The Mercy Nursing Professional Practice awards were presented last week to three nurses.
Amy Uphoff was acknowledged for Professional Commitments. She was nominated by Danny Vishino.
"Amy is an inspiration to me, not only as a nurse, but also as a mother, student and tremendous leader. She serves her peers with great knowledge, patience and enthusiasm. Her patients love her. She takes impeccable care of them and their families, and always has a smile on her face. She has served as a preceptor for many new nurses and has taught me not only nursing skills, but some life lessons I will keep with me. She is a shining star."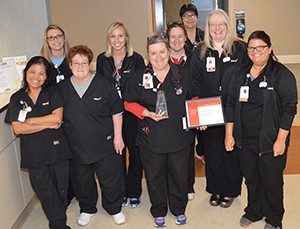 Co-workers celebrate with Kelly Duff, RN, one of three winners of Mercy Jefferson Professional Practice awards.
Megan Schindler was nominated by Teresa Pasley for Therapeutic Environment.
"Megan had an elderly patient who was DNR and considering hospice. The patient had a long stay and his appetite was decreased. One morning he received his breakfast tray and just put the lid back on. He told Megan what he truly wanted to eat was eggs and home fries from Cracker Barrel. Megan ordered and paid for his breakfast and had a friend deliver it to the hospital from Cracker Barrel. This really made the patient's day and made him feel special. Megan always goes above and beyond to give her patients compassionate care and exceptional service."
Two East nurse Kelly Duff was nominated for Practice Expertise.
"Kelly is always aware of what is going on with the unit. She is happy to give advice and suggestions for improving the work flow of the hospital. Kelly will jump in and help her co-workers without a second thought. She is very knowledgeable and will help explain anything that you don't understand."
Mercy, named one of the top five large U.S. health systems in 2017 by Truven, an IBM Watson Health company, serves millions annually. Mercy includes 44 acute care and specialty (heart, children's, orthopedic and rehab) hospitals, more than 700 physician practices and outpatient facilities, 40,000 co-workers and more than 2,000 Mercy Clinic physicians in Arkansas, Kansas, Missouri and Oklahoma. Mercy also has outreach ministries in Arkansas, Louisiana, Mississippi and Texas. 
Practices