By Mercy's Jaclyn Bardin
When you are battling cancer, it's the little things that sometimes make all the difference and provide much needed comfort.
For 64-year-old Debra Bostick, that comfort came in the form of a small pillow that attaches to her car's seatbelt to provide padding between the seatbelt and where she has a portacath inserted under the skin in her chest. The portacath is a small device that provides easy access to a patient's veins for intravenous treatments, like chemotherapy.
The port pillows are handmade in a variety of fabrics for men and women by Mercy Hospital Ada volunteers Frieda Carter and Virginia Luttrell. Carter has volunteered at Mercy for more than five years and Luttrell has volunteered for almost two years.
"It makes me feel great that somebody cares enough to do that for me," said Bostick, of Ada. "Your faith comes back that there really is humanity."
Supplying a Little Comfort
In April, Bostick was diagnosed with stage 4 cancer that has spread to a few spots on her liver. So far, she's undergone two rounds of chemotherapy and will start a third round in October.
When she received her port about two months ago, she did not receive a port pillow right away. She's thankful the volunteers started providing the pillows because they help keep the pressure off the area near her port and prevent the seatbelt from irritating the area.
Carter and Luttrell began making the pillows over the summer after receiving a request from Marietta Carter, nurse manager of the Mercy Cancer Center in Ada and daughter-in-law of Frieda Carter. Within one day of the request, Frieda Carter and Luttrell went home and made pillows to meet the needs of patients.
"Their goal is to do anything they can to make the patients more comfortable and more at ease," said Marietta Carter. "They give of themselves so selflessly."
Sharing Their Gifts
Both Frieda Carter and Luttrell are lifelong seamstresses. In fact, Frieda Carter made many of the clothes for her grandchildren when they were kids and still hems their clothes. Luttrell and her husband used to be square dancers and she would make all of their costumes. She also sews Christmas gifts for her family.  
These two talented ladies said they are thankful they can share their gift with others, especially patients with cancer.
Luttrell's husband battled cancer in 2009 and, unfortunately, lost his battle after a yearlong fight. It was this experience that inspires her to do everything she can to help other patients with cancer.
"There are so many emotions when you think about people going through cancer," says Luttrell. "For me, when I walk in I'm thinking, 'golly, I'm so glad that God's given me the knowledge to be able to sew to make you all something.'"                                         
About Mercy's Auxiliary
The hospital's auxiliary began in 1947 and currently features 40 volunteers, five college students who participate in the college volunteer program and six volunteer chaplains. The auxiliary raises money through gift shop sales and fundraisers to purchase equipment and help improve the hospital environment for patients, families and co-workers.
Volunteers work in various departments throughout the hospital. They also deliver balloons to all patients who have a birthday while in the hospital; give small stuffed animals to pediatric patients in certain areas of the hospital; and provide handmade baby hats to all newborns and Christmas stockings to December babies. A few volunteers, including Frieda Carter and Luttrell, also sew more than 1,000 pillows a year that are distributed to patients needing an additional pillow to put under an arm or leg or to hold for comfort.
Last November, the Hospital Volunteers of Oklahoma recognized Frieda Carter as a 2015 Volunteer With Spirit at the Oklahoma Hospital Association's Hospital Volunteer Day for her strong commitment to volunteerism at Mercy Hospital Ada.
To become a volunteer, visit Mercy Hospital Ada's Auxiliary Department to pick up an application or call 580-421-1466.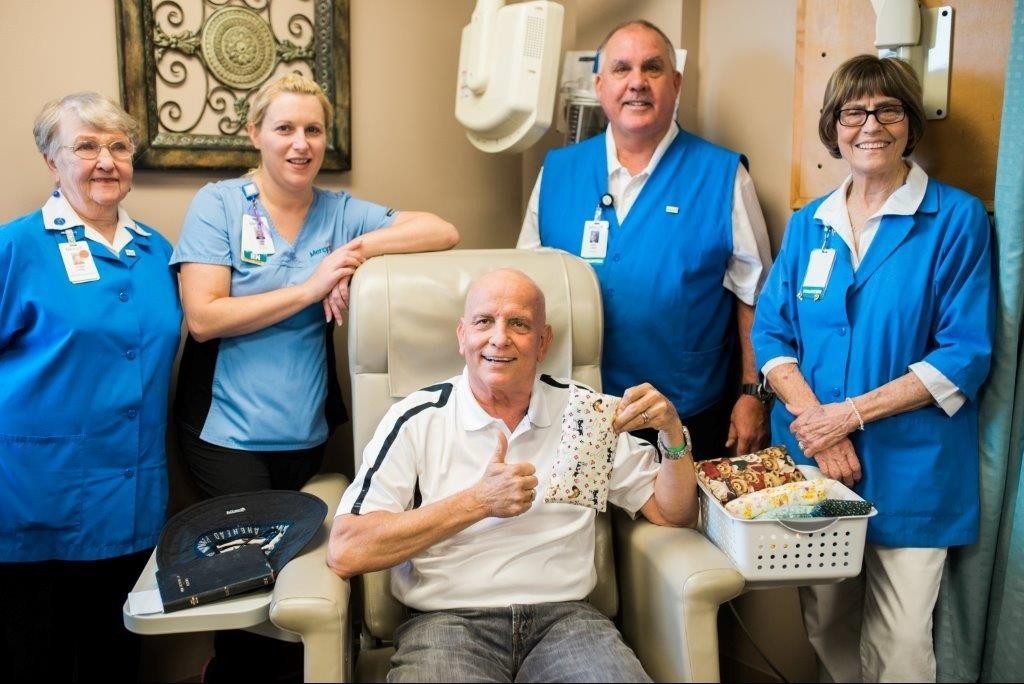 Mercy Volunteers began making "port pillows" over the summer to help relieve seatbelt pressure on patients' chemotherapy ports.
Practices