Jenna Bush Hager warned the audience at the beginning of her talk with sister Barbara Pierce Bush that they were both prone to getting teary on stage.  The next hour would be part conversation, part therapy, she said.
The sisters charmed the 200 women gathered for Mercy Health Foundation's "Day of Inspiration" on Wednesday with glimpses into their lives as the granddaughters and daughters of the Bush presidencies and tales of their work today with the nonprofits UNICEF and Global Health Corps.
Jenna has been involved with UNICEF for many years and is chair of the charity's Next Generation initiative, which is dedicated to reducing childhood deaths around the world. She also recently became a "this close" ambassador in Rotary International's push the end polio in the tiny pockets where it still exists. 
Barbara Pierce Bush is the CEO and co-founder of Global Health Corps, an organization that has trained and placed 750 young leaders to build the movement for health equity around the world.
Both women said traveling with their parents during their father's presidency allowed them to see other cultures and especially how poverty prevented people from getting health care. Barbara Bush said she was troubled to see people in Africa suffering from HIV/AIDS, which had become a manageable illness in the United States, where medication was available.
The sisters encouraged women attending the event to work together to find solutions to health concerns here at home. 
The Day of Inspiration was put together to honor the women who participate in seven women's giving societies in four states to support Mercy hospitals. The societies – called Women with a Mission - have 364 members who give $1,000 annually that is pooled to support specific needs at Mercy.
Members gather for events, including at least two annually focused on educating the membership health care topics. The Day of Inspiration at Crystal Bridges Museum of American Art in Bentonville also featured a luncheon and a panel of Walmart executives speaking about inspiration, motivation and ah-ha moments.
For more information about joining Women with a Mission in your Mercy community, click here:
Fort Smith, Arkansas
Northwest Arkansas
St. Louis
Springfield, Missouri
Four Rivers Region – Washington, Missouri
Joplin, Missouri
Jefferson, Missouri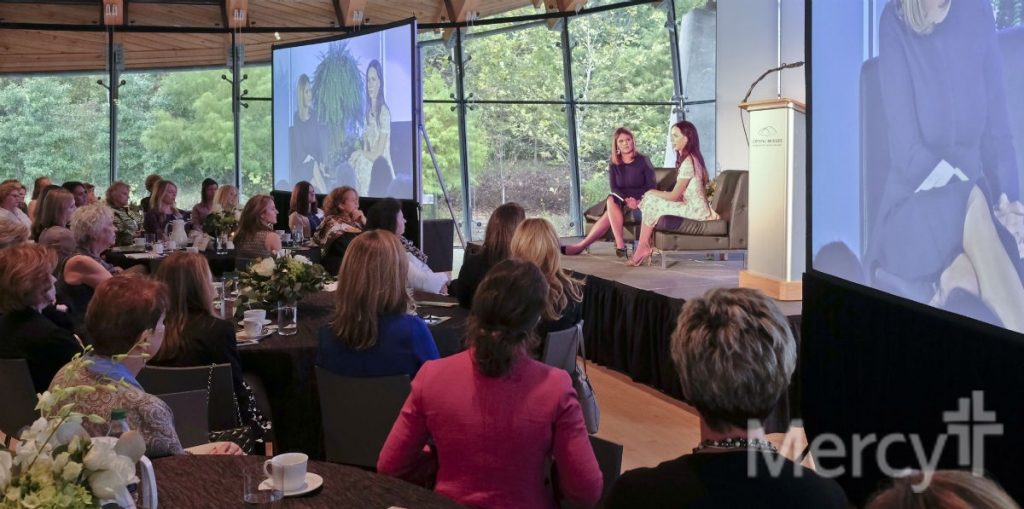 Jenna Bush Hager and Barbara Pierce Bush address members of Women with a Mission at the Oct. 26 "Day of Inspiration."