Mercy, with its supply chain organization ROi, has been ranked by Gartner, Inc. as a Top 10 global supply chain in health care. Mercy is the only provider to earn a Top 10 spot for 8 consecutive years. The Gartner ranking recognizes companies across the health care value chain that demonstrate leadership in improving human life at sustainable costs.
In its report, Gartner cited the following:
"Mercy moves up one spot to No. 4. The company has seen a vastly improved Truven Health Analytics performance score over the past four years, culminating with recognition as one of the 15 Top Health Systems in the U.S. for 2016. This movement is the result of focused efforts. Supply chain is a partner to the delivery of patient outcomes, especially in areas like perioperative services where the relationship has meant co-development opportunities in the pathway of care. All this, together with the company's solid peer opinion and Gartner opinion scores, keeps Mercy in the top five.
"Mercy continues to develop its supply chain capabilities. The company has a $5 billion health system with a majority ownership of ROi, its commercial supply chain arm, which provides supply chain services all the way to the point of care. This has led to the largest private-label offering for a healthcare provider, Regard, with $30 million in revenue for 2016. ROi offers advanced centralized services across a number of areas, including distribution, transportation, central capital management, pharmacy repackaging, central IV compounding, custom procedure tray and print services. In addition, Mercy developed a medical device distribution strategy that it piloted successfully for spine procedures and has moved to expand that to other areas (see "Healthcare Supply Chainnovators, 2014: Fresh Approaches to Major Challenges" ).
"One of the biggest changes at Mercy is its recognition that innovation has to be an intentional effort for healthcare providers. Many systems innovate opportunistically, but Mercy is one of a few that has fully committed to cost savings and growth through innovations. This commitment shows in Mercy's developments. Its Unified Analytics Platform (UAP) allows the company to look at all costs associated with a procedure by cross-pollinating data from seven internal platforms, including Mercy's electronic medical record (EMR) and ERP. Moreover, Mercy is committed to generating 25% of its revenue from innovation in the coming year."
View a summary of the Gartner report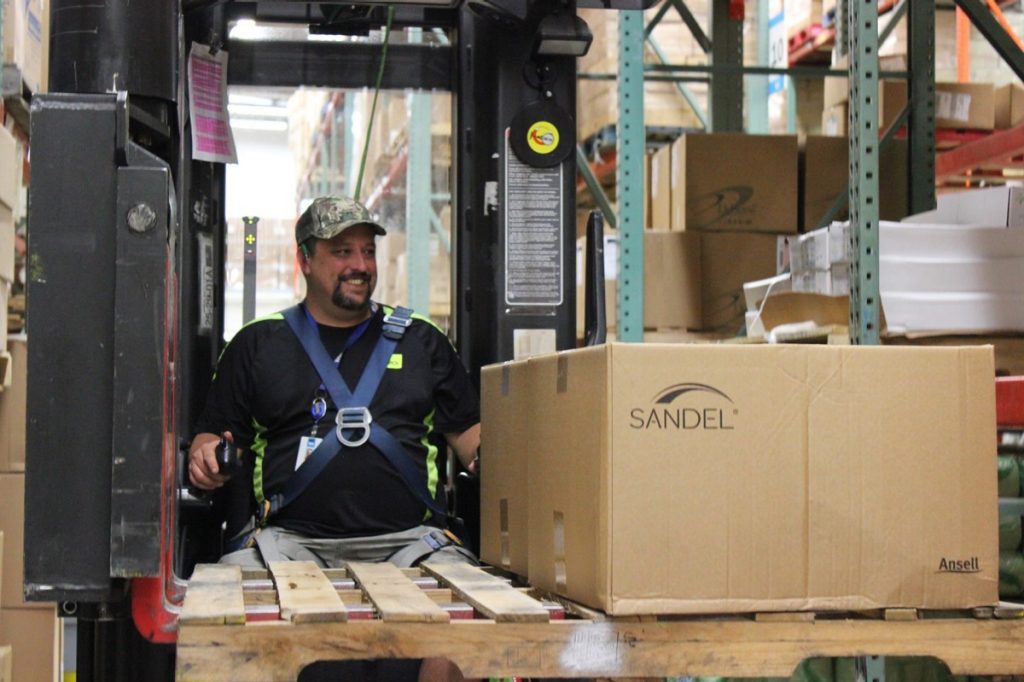 David Greene, ROi operations specialist, runs a forklift inside Mercy's Consolidated Services Center (CSC) in Springfield, Mo., where medical supplies are managed and passed through to Mercy's network of hospitals and clinics across four states.
ROi believes in the power of provider collaboration to transform health care. A recognized leader in supply chain management, ROi serves health care organizations across the United States that share a passion for supply chain excellence. As a provider-owned Accountable Supply Chain Organization, ROi provides a range of cost management and supply chain services, focusing on all aspects of supply chain from planning through fulfillment and consumption to ensure the highest quality of care is delivered in the most cost effective manner. ROi is the only provider to be ranked by Gartner as a top 10 health care supply chain for eight consecutive years.
Mercy, named one of the top five large U.S. health systems in 2017 by Truven, an IBM Watson Health company, serves millions annually. Mercy includes 44 acute care and specialty (heart, children's, orthopedic and rehab) hospitals, more than 700 physician practices and outpatient facilities, 40,000 co-workers and more than 2,000 Mercy Clinic physicians in Arkansas, Kansas, Missouri and Oklahoma. Mercy also has outreach ministries in Arkansas, Louisiana, Mississippi and Texas.