ST. LOUIS - Patients at Mercy Rehabilitation Hospital St. Louis get well faster than patients at 9 percent of similar hospitals, according to a Report Card from inpatient rehabilitation facilities Uniform Data System for Medical Rehabilitation (UDSMR) in 2015.
Upon admission, patients and families work with caregivers at Mercy Rehabilitation Hospital to set goals to reach by the time they go home. Ranking in the top 6 percent of rehab centers highlights that patients are meeting their goals and other marks of quality care better at Mercy Rehabilitation Hospital than the majority of other rehab facilities, recognizing it as a Center of Excellence.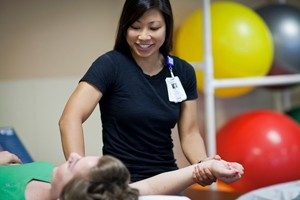 Therapist working with patient
"Our number one focus is the care of our patients and getting them well enough to return home as quickly as possible," said Donna Flannery, CEO of Mercy Rehabilitation Hospital St. Louis. "We recognize there are choices when it comes to rehab facilities and the UDSMR ranking highlights factors patients should look for when it comes to making that choice."
The rankings were determined by using UDSMR's program evaluation that provides a composite performance score and percentile ranking drawn from 782 rehab facilities, nearly three-quarters of all inpatient rehab facilities in the country.
The goal of the Report Card is to recognize high-performing facilities for their delivery of quality patient care that is effective, efficient, timely and patient-centered.
"We were thrilled with the results of the report card because it demonstrates our work with rehab patients is working – we're getting patients home more quickly," Flannery said. 
The Report Card was developed as part of a proactive solution to the Institute of Medicine's 2006 recommendation to Congress that every Medicare provider be reimbursed on a pay-for-performance basis. The data used for this report was based on 12 months of 2015 data, drawn from both Medicare and non-Medicare patients.
Mercy Rehabilitation Hospital St. Louis, a 82-bed inpatient rehabilitation hospital, offers all-private rooms complete with televisions, telephones and wireless internet capabilities. In addition to caring for general rehabilitation diagnoses, Mercy Rehabilitation Hospital St. Louis specializes in inpatient programs for conditions of stroke, brain injury, orthopedic, cardio/pulmonary, amputations, spinal cord and neurological disorders. Other services offered include on-site dialysis treatment, respiratory care and wound care. For more information, visit mercy.net/STLrehab.
About UDSMR: Uniform Data System for Medical Rehabilitation (UDSMR) is a division of UB Foundation Activities Inc., a not-for-profit corporation affiliated with the University at Buffalo, The State University of New York. Founded in 1988, UDSMR administers the world's largest medical rehabilitation database, and its instruments provide the field with a common language and measurement tools for outcomes and functional assessment. CMS has adopted UDSMR's FIM® instrument as the basis for the IRF PPS, and UDSMR provides exclusive training and support to the agency.
Mercy, named one of the top five large U.S. health systems in 2017 by Truven, an IBM Watson Health company, serves millions annually. Mercy includes 44 acute care and specialty (heart, children's, orthopedic and rehab) hospitals, more than 700 physician practices and outpatient facilities, 40,000 co-workers and more than 2,000 Mercy Clinic physicians in Arkansas, Kansas, Missouri and Oklahoma. Mercy also has outreach ministries in Arkansas, Louisiana, Mississippi and Texas. 
Practices