This is the first in a two-part series on the McCune-Brooks Health Care Foundation Infusion Center at Mercy Hospital Carthage.
For the past year and half, Carthage-area patients receiving infusion treatments have benefited from a welcoming, healing environment in an expanded center with easy access and a relaxing view of a lake.
The McCune-Brooks Health Care Foundation Infusion Center at Mercy Hospital Carthage has become a respite in a long struggle for patients who need regular infusions that can last hours at a time.
The $750,000 outpatient center was made possible by the foundation and donors. In 2015, the center relocated across a hallway and expanded to meet the needs of cancer, rheumatology and pain management patients, as well as patients needing blood, antibiotics and hydration.
"A goal of the infusion center is to provide treatment in an outpatient setting without having to be admitted to the hospital," said Dr. Irving LaFrancis of Mercy Clinic Oncology – Carthage. "The patients appreciate having a warm and friendly environment when they're going through difficult treatments."
When plans were being developed, Chalaine Bell, the center's manager, visited other centers to help determine what would work best for Carthage and make it like no other.
"A lot of small community hospitals perform infusions in their emergency departments or in crowded rooms," she said. "At most of these other places, patients don't have a view out of a window and mostly only can look at each other."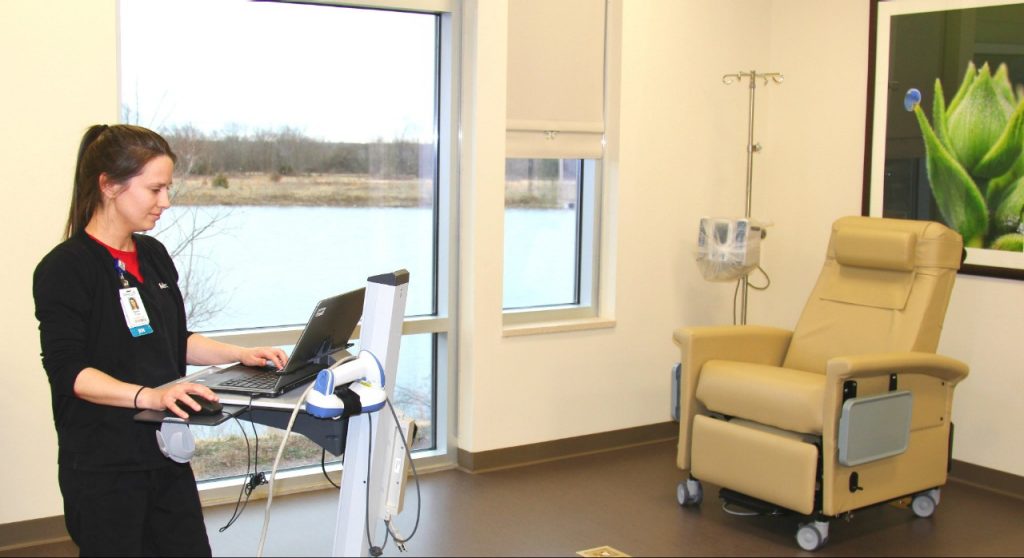 Natalie, an oncology-certified nurse, prepares for a patient in the McCune-Brooks Health Care Foundation Infusion Center at Mercy Hospital Carthage. Patients receiving treatment can enjoy a view of a lake while sitting in an adjustable chair that includes massage and heat.
Bell and many others, including the foundation board, wanted to ensure patients in Carthage would have a much better experience.
"Infusion patients are going through so much. We wanted our center to make this time in their lives better in any way possible by making their infusion a more pleasant and peaceful experience," she said. "They have a great view and get to see nature."
Nine infusion chairs offer massage and heat, as well as recline.
"One of the biggest complaints you'll hear from infusion patients is that they're cold and the chair's uncomfortable. Many have had weight loss and hurt all over," Bell said as a main reason to provide the best chairs possible.
The chairs can be placed in about any location in the room and have access to power sources for electricity, a television for personal viewing, wired Internet and more, with Wi-Fi available.
The infusion center includes a small room with a bed for a patient who needs to lie down during treatment and a consultation room for private conversations. Patients also are welcome to bring a friend or a family member as the center is large enough to provide seating for each patient to have a guest.
"Before, it was difficult for everyone to fit in the one room," Bell said. "Many visitors had to sit in the hall. Now we have accommodations for a guest, and we have a large waiting area across from the infusion center."
The kitchen area includes a variety of snacks and drinks, helpful when patients need something in their stomach to help with hunger, nausea or low blood sugar. The center also provides a meal for patients who are receiving infusions through the lunch time.
Patients appreciate the infusion center, not just because of the setting and amenities, but also because of the staff, according to Bell.
"A lot of patients are here because of the care from the infusion nurses. We have the same infusion nurses here every day, so the patient finds comfort in seeing these familiar faces. The patients are used to these nurses and have built good relationships with them."
For more information on the McCune-Brooks Health Care Foundation Infusion Center at Mercy Hospital Carthage, 3125 Dr. Russell Smith Way, call 417-359-2672.
Practices