After a career in business and finance, Bill Besore knew things weren't adding up when it came to his heart function.
"I couldn't do much of anything," he remembered. "My sons and I had gone to Lake of the Ozarks to winterize the fifth-wheel trailer, and I couldn't even help. I could barely give directions."
It wasn't long before he found himself in a local hospital, near death. "The family had gathered, and the priest had given me last rites," he said. That's when Theresa Witt, Mercy RN and clinical nurse specialist, came to his bedside. Besore's doctor had called Mercy Hospital Springfield to see if its heart team could implant a left ventricular assist device (LVAD) in his patient, and Witt came to answer the family's questions.
An LVAD is a partially-implanted device that works like a jet engine for the heart. It replaces some of the work of the left ventricle and circulates a patient's blood constantly throughout their body. As a result, patients often have no detectable pulse and must stay constantly connected to a power source, like a battery pack.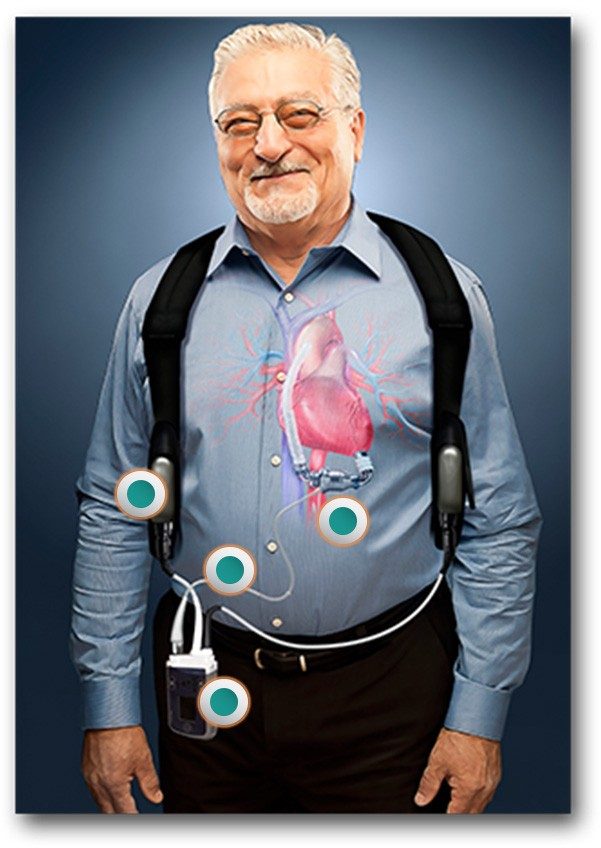 A left ventricular assist device (LVAD) replaces some of the work of a patient's left ventricle, constantly circulating blood throughout the body. Image courtesy: Thoratec
It's a big decision to get an LVAD, and not one that Bill's wife, Annina, felt she could make for him. "We asked for some medication to help make him more alert so he could give informed consent," she said. "When he said he wasn't ready to die, we knew we should try it."
Bill's heart history at that point stretched back nearly 20 years, to his first heart attack in 1996. After getting a pacemaker and defibrillator, and quitting smoking, he'd done well. That's until his doctor told him that his congestive heart failure was worsening. By that summer in 2015, he could definitely feel it. "It was like I fell off a cliff," he said.
Days after getting the LVAD, Bill woke up at Mercy. "I was absolutely astonished that this level of technology was available here in Springfield," he said. "There are a lot of talented surgeons around here." Currently in Missouri, Mercy Hospital Springfield is one of only three places where patients can get an LVAD.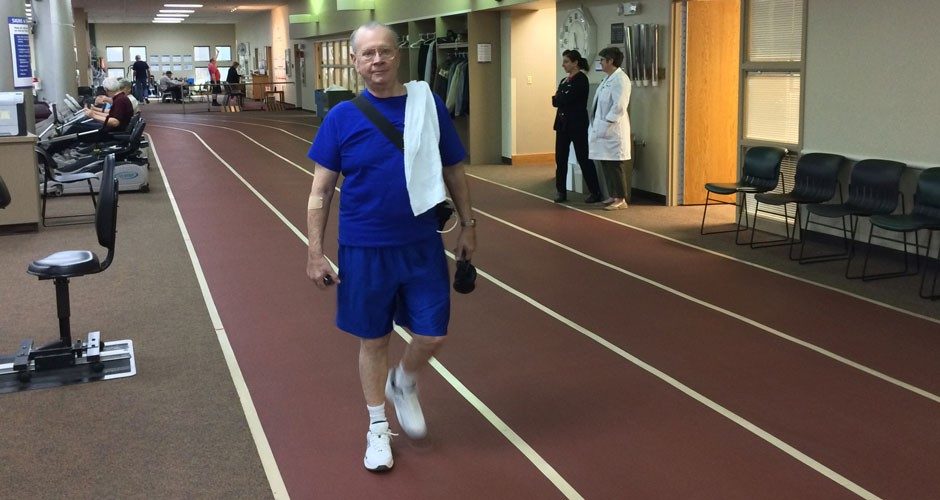 Now equipped with an LVAD, Bill Besore works out several times each week at Mercy Cardiopulmonary Rehabilitation, walking and lifting weights.
Bill still had a long road ahead of him, including weeks of hospitalization and months of rehab. The work was just beginning for Annina, too. The retired RN polished her skills and began changing his dressings and monitoring his medications. "It's a lot of responsibility," she said, "but it's welcome responsibility."
Luckily, the Besore's experience is no longer unique in Southwest Missouri. Since Mercy implanted its first LVAD in September of 2014, nine patients have gone from the brink of death back to living their lives. Now, nearly a year and a half after his surgery, the only change for Bill is that he'll never get out on the lake again, because of his battery pack. He spends several days each week zipping around the track at Mercy Cardio-Pulmonary Rehabilitation, and his family is planning a big reunion this spring.
"We're all going to Gatlinburg," he said. "It's our three sons, their wives and all the grandchildren. It will be the first time we're all together."
Even when Mercy's LVAD patients travel, the team isn't far away. As the VAD coordinator at Mercy, Witt will be on call for the Besores the entire way. Before they leave, she'll map out the hospitals along their route, and call ahead to make sure they know what to do if her patient arrives at their facility. "I've gotten so close to all of our patients, I want to make the calls and be sure they're taken care of," she said.  
Now, the Besores are returning the favor, by talking with those who are considering the LVAD or who have gotten one. "Helping these other families is now a personal ministry of ours," Bill said. "I'd say if your condition is such that this will help, don't hesitate."
As the little heart engine whirrs away inside Bill's chest, he and his family focus on cherishing each day together. "Sometimes I can hear it if I'm snuggled up next to him," Annina said. "It's like a comforting little kitty purr."
Mercy's LVAD Program in the News