The Springfield-Greene County Health Department (SGCHD) has chosen Mercy's Dr. James T. Rogers as its first-ever winner of the Harold K. Bengsch Award.
This year, SGCHD developed the Harold K. Bengsch Award to honor Bengsch - the department's previous long-serving director of public health - and his unwavering belief in the value of collaboration and cross-sector approaches. Bengsch was also named Honorary Winner of the award in a ceremony on Friday, April 7.
More from SGCHD:
There is no better embodiment of that collaborative spirit for the inaugural award than Dr. J. T. Rogers.
"Dr. Rogers has been a public health advocate for many decades in Greene County and beyond. His work on community flu vaccine campaigns is the definition of this award," wrote Adam Whitten, the Director of Primary Care Transformation at Mercy, who nominated him for the award.
"Leading work with the Greene County Medical Society and other organizations and individuals across the community, he allocated funds, helped develop a supply process and targeted a given population underserved by current vaccine process. This program was developed with excellent foundation and continues in operation today."
Dr. Rogers was also a passionate advocate of Springfield's smoke-free air ordinances and has been a behind-the-scenes evangelist for public health. His impact in public health extends well beyond just Greene County as well.
It is this sort of collaborative thinking that is the hallmark of the Harold K. Bengsch Award.
SGCHD could think of no better way to highlight the value of public health during National Public Health Week than to give an award named after Bengsch, one of public health's most vocal supporters and advocates, to Rogers, a man who has been such a strong example of collaboration in our community.
The location itself was also chosen to further celebrate public health collaboration in our area. Jordan Valley Community Health Center arose and has thrived as a resource for underserved populations after a variety of community partners came together and recognized the need.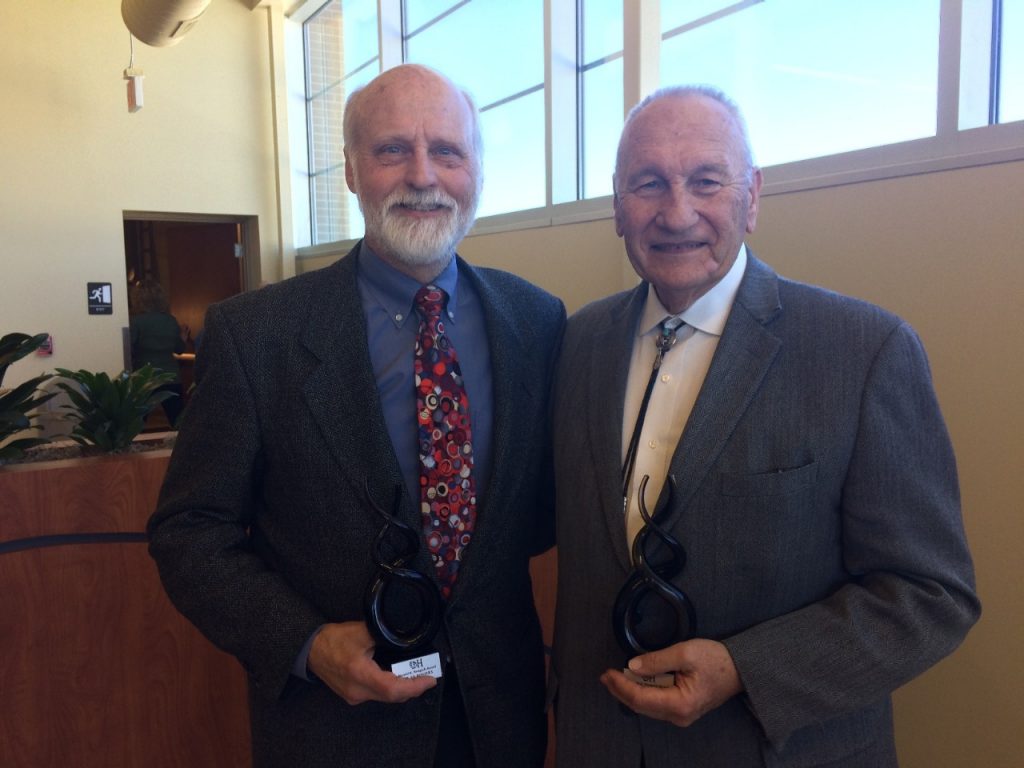 Dr. James T. Rogers and Harold K. Bengsch.
Mercy Springfield Communities is comprised of Mercy Hospital Springfield, an 866-bed referral center; an orthopedic hospital; a rehab hospital; a children's hospital; five regional hospitals in Lebanon, Aurora, Cassville, Mountain View, Missouri and Berryville, Arkansas; and Mercy Clinic, a physician clinic with nearly 700 doctors and locations throughout the region. It is part of Mercy, named one of the top five large U.S. health systems in 2017 by Truven, an IBM Watson Health company. Mercy serves millions annually and includes 43 acute care and specialty (heart, children's, orthopedic and rehab) hospitals, more than 700 physician practices and outpatient facilities, 40,000 co-workers and more than 2,000 Mercy Clinic physicians in Arkansas, Kansas, Missouri and Oklahoma. Mercy also has outreach ministries in Louisiana, Mississippi and Texas.