Patients who come to Mercy Hospital Springfield with stroke symptoms are getting treatments based on nationally-recognized, research-based guidelines that can speed recovery and reduce death and disability.
Close adherence to those guidelines has earned Mercy Hospital Springfield the American Heart Association/American Stroke Association's Get With The Guidelines®-Stroke Gold Plus Achievement Award with Target: StrokeSM Honor Roll Elite Plus. It's the second year in a row that the stroke team has received such honors.
To receive the Gold Plus Quality Achievement Award, hospitals must achieve 85 percent or higher adherence to all Get With The Guidelines®- Stroke achievement indicators for two or more years. They must also achieve 75 percent or higher compliance with five of eight stroke quality measures.
To qualify for the Target: Stroke Honor Roll Elite Plus, hospitals must meet quality measures developed to reduce the time it takes for a patient to receive the clot-busting drug tPA, which treats ischemic stroke. If given within the first three hours after stroke symptoms start, tPA has been shown to significantly reduce the effects of stroke and lessen the chance of permanent disability.
Mercy's stroke team will be recognized in the American Heart Association's U.S. News and World Report recognition publication in August's "Best Hospitals" edition, as well as during a recognition ceremony at AHA/ASA's International Stroke Conference in February 2018.
Click here to learn more.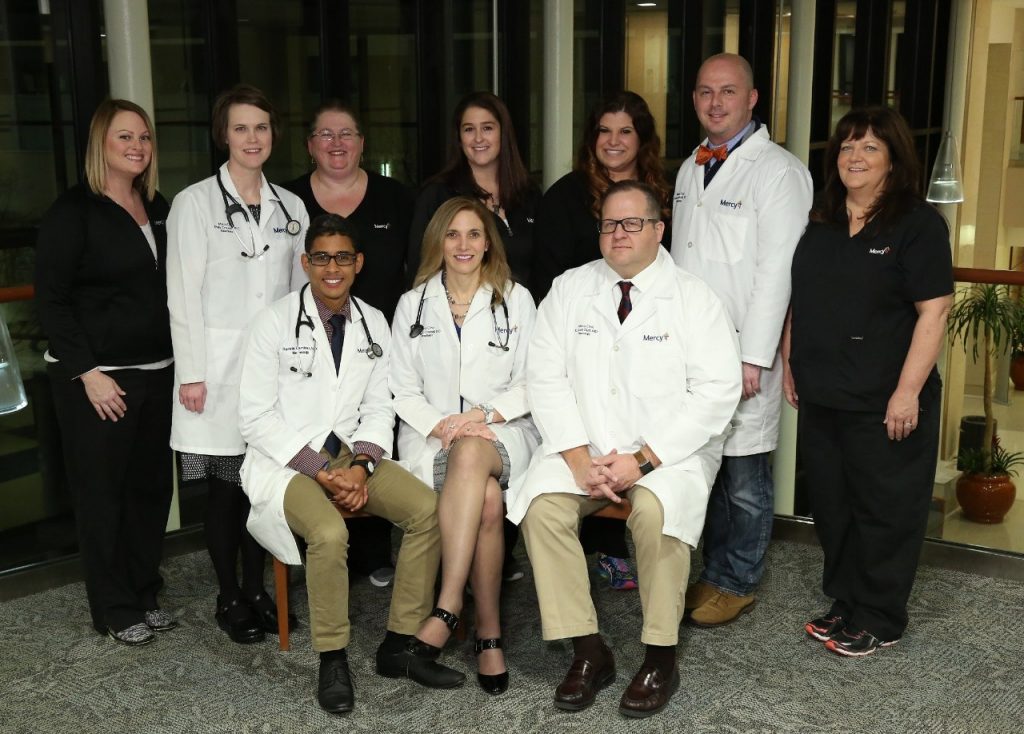 "Our patients deserve the best stroke care with speed and precision," said Dr. Scott Duff, neurologist at Mercy Hospital Springfield. "Our entire team, from paramedics to radiologists, nurses and doctors, has worked diligently to reach this milestone, but we aren't finished. We will further our quality of care and strive for public awareness of stroke symptoms."
Those symptoms include:
Sudden numbness or weakness of the face, arm or leg, especially on one side of the body
Sudden confusion, trouble speaking or understanding
Sudden trouble seeing in one or both eyes
Sudden trouble walking, dizziness, loss of balance or coordination
Sudden severe headache with no known cause
Developed with the goal to save lives and improve recovery time, Get With The Guidelines®-S has impacted more than 3 million patients since 2003. "The American Heart Association and American Stroke Association recognize Mercy Hospital Springfield for its commitment to stroke care," said Paul Heidenreich, M.D., M.S., national chairman of the Get With The Guidelines Steering Committee and Professor of Medicine at Stanford University. "Research has shown there are benefits to patients who are treated at hospitals that have adopted the Get With The Guidelines program."
According to the American Heart Association/American Stroke Association, stroke is the No. 5 cause of death and a leading cause of adult disability in the United States. On average, someone in the U.S. suffers a stroke every 40 seconds, someone dies of a stroke every four minutes, and nearly 800,000 people suffer a new or recurrent stroke each year.