September 24, 2021
Mercy's story began with Catherine McAuley and two companions; today, it's carried out by hundreds of thousands of people in hospitals, schools and community programs across the globe.
Friday, Sept. 24, marks 194 years since Sisters of Mercy Founder Catherine McAuley opened the House of Mercy in Dublin, Ireland. Its doors have remained open since 1827 to serve the poor, sick and uneducated.
Nearly two centuries later, we continue Catherine's legacy of caring and compassion, not only within Mercy's hospitals and clinics, but also within our communities where the need remains great.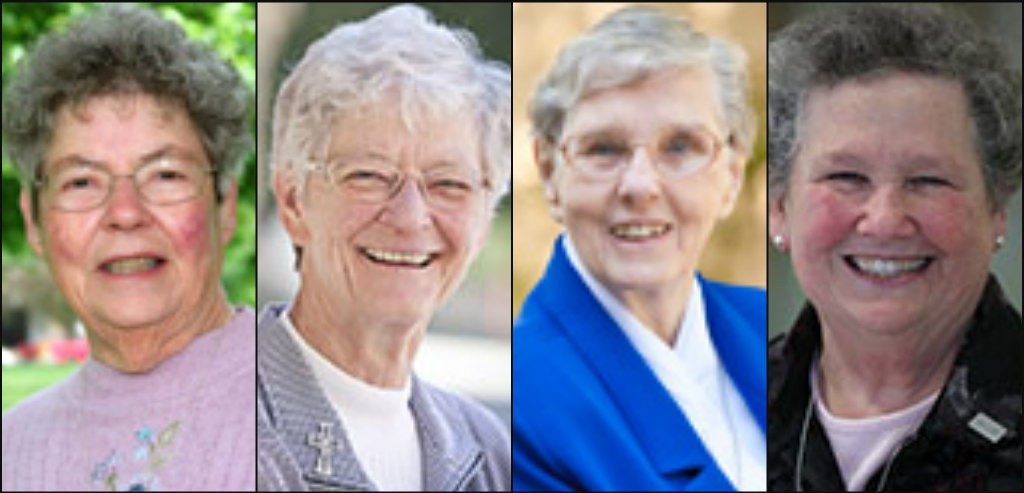 Left to right: Sisters Michaelanne Estoup, Mary Roch Rochlage, Rose Elizabeth Power and Richard Mary Burke.
Today's Sisters Reflect on Mercy Day
The Sisters of Mercy not only encourage us – they also need the encouragement of others. We reached out to four Sisters who have invested their lives in others to reflect on who inspired them…and why. 
Sister Michaelanne Estoup
"Mercy Day is an opportunity to celebrate the women who went before. There are so many who have deeply influenced my life…beginning with the Sisters who taught me in school. They were wonderful, always challenging and loving toward us. There are remarkable women I have lived with – Sisters who were not movers and shakers, but who were so dedicated and hard-working. Many spent their entire lives working in the kitchen and laundry, using their gifts of cooking and washing to serve other Sisters so we could go out and serve others. What an impression they made on me being so happy in their work! They were truly selfless, following the example of Christ.
"Mercy co-workers have inspired me, as well. While in pastoral care in Washington, Missouri, I was so influenced by these beautiful people who so clearly understood the gospel message and lived it. It always touched me to see their surgery teams begin each day with prayer and to hear from co-workers how their own prayer lives were growing because they could pray. This is truly something to celebrate."
Sister Mary Roch Rochlage 
"When I first entered the convent, there were several Sisters who made a deep impression on me. One Sister was in the Dietary department and worked all day preparing trays for the Sisters who were bedridden. Another Sister was very sick with tuberculosis and was very limited in what she could do. So she chose to walk up and down the halls greeting others as her ministry, and she was a gentle, permeating presence. We also had a Sister who was a seamstress who worked tirelessly creating vestments. These were women of substance, called to this life – and they gave everything to it. They had little formal education but their selfless service shaped the rest of us. 
"I recently had an extended stay at Mercy Hospital St. Louis. Each night, a voice announced visiting hours were over and then offered a prayer for all the family members to have a safe journey home – and for all the sick remaining in their rooms. It touched me, and I found myself looking forward to hearing that prayer every night. I'm glad to think of that prayer continuing to be proclaimed every night.
"As the Sisters of Mercy say in our constitution, 'We know mercy from one another.' That's why we must pray for and encourage one another."
Sister Rose Elizabeth Power
"A memorable Mercy Day was Sept. 24, 1998. On that day, we commemorated the beginning of the health ministry established as Mercy Hospital of Oklahoma in 1947.  Our engineers and carpenters constructed a beautiful wooden altar that was placed in the large conference room.  All were invited to attend Mass celebrated by Archdiocesan bishops, priests and deacons. Co-workers, volunteers, visitors and relatives of the Sisters were in attendance.  For some, it was the first Mass they had ever experienced. 
Following the liturgical celebration, in Mercy festive fashion, all enjoyed music, food, multiple cups of tea and dated t-shirts. We all talked about the changes in those 50 years, which is now over 70 years. But one thing that is good is that some things never change. The Word of God 'ever ancient, ever new,' Mercy Day is celebrated each year and our spirit of hospitality and service lives on."
Sister Richard Mary Burke
"When I reflect on the meaning of Mercy Day over the years, one thought comes to me: Each and every day is an invitation to have a blesseed and wonderful Mercy Day! The date on the calendar is irrelevant. My intentional focus to recommit myself to being a messenger of God's Mercy in whatever way I can is the core purpose that brings me joy!"
Mercy, one of the 25 largest U.S. health systems, serves millions annually with nationally recognized quality care and one of the nation's largest Accountable Care Organizations. Mercy is a highly integrated, multi-state health care system including more than 40 acute care, managed and specialty (heart, children's, orthopedic and rehab) hospitals, convenient and urgent care locations, imaging centers and pharmacies. Mercy has 900 physician practices and outpatient facilities, 3,400 Mercy Clinic physicians and advanced practitioners, as well as more than 40,000 co-workers serving patients and families across Arkansas, Kansas, Missouri and Oklahoma. Mercy also has clinics, outpatient services and outreach ministries in Arkansas, Louisiana, Mississippi and Texas.
Media Contacts