September 24, 2017
Mercy's story began with one woman; today, it's carried out by hundreds of thousands of people in hospitals, schools and community programs across the globe.
This Sunday, Sept. 24, marks 190 years since Sisters of Mercy Founder Catherine McAuley opened the House of Mercy in Dublin, Ireland. Its doors have remained open since 1827 to serve the poor, sick and uneducated.
Nearly two centuries later, we continue Catherine's legacy of caring and compassion, not only within Mercy's hospitals and clinics, but also within our communities where the need remains great.
Our Heritage & Virtual Tour of House of Mercy
Mercy Day: Meeting Community Needs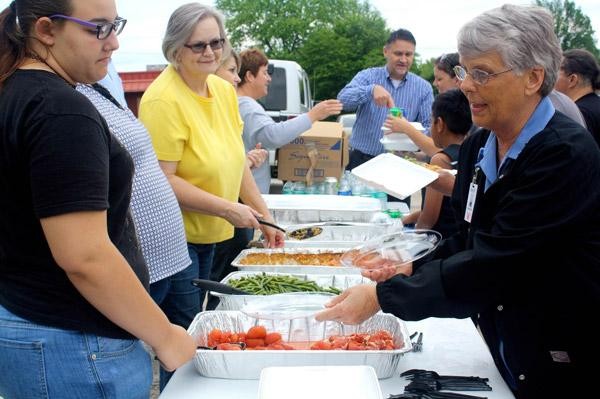 While it's impossible to list every moment that Mercy's mission has been fulfilled this year, we'll highlight a few examples, including Mercy Hospital Northwest Arkansas. Seven months a year, a team of Mercy volunteers and co-workers – from nutritionists to physicians – serve hot meals weekly to hungry children, families in need and the homeless through the 8th Street Motel Ministry.
Social advocates, led by Sisters Anita DeSalvo and Lisa Atkins – who helped found the community-wide initiative – also meet with local residents in Rogers, Arkansas, to connect them with vital resources. Together, the Mercy teams impact the lives of 60-90 people a week. Read more here.
"Our hope and prayer is to help one person or one family, one meal at a time," said Mercy volunteer Kyle Brunen. "We want to help them leave behind poverty, hopelessness, fear, and isolation to find housing, medical access, a job and someone who will listen."
Similar projects have been cooking up in other Mercy communities, including Mercy Hospital Ada, where co-workers recently served dozens of meals at Abba's Table. The nonprofit's mission is to provide a wholesome meal in a safe, warm and caring environment. It relies on volunteers to prepare and serve food.
Mercy co-workers also pulled together to help gather donations and restock a food pantry maintained within Mercy Hospital Ada. A friendly competition led to an incredible outpouring of support – so much food that a flat-bed cart was needed to transport it! 
Registered nurse Lisa Muelleman works full time at Mercy's Virtual Care Center in Chesterfield, Missouri. Every Friday since 2010, she has also volunteered her voice to MindsEye, a free, virtual newsstand and radio station that broadcasts around the clock for the blind and visually impaired – both online and through special, donated radios.
"I started as a substitute reader, filling in for other volunteers," Muelleman said. "Then I became a volunteer myself, and became honored to start my own programs. Currently, I voice the 'Eating in St. Louis' segment that airs Fridays at 2 p.m. I absolutely love connecting with people, and providing a much-needed service to my community."
The International Association of Audio Information Services recently nominated Muelleman for "Magazine Digest Program of the Year."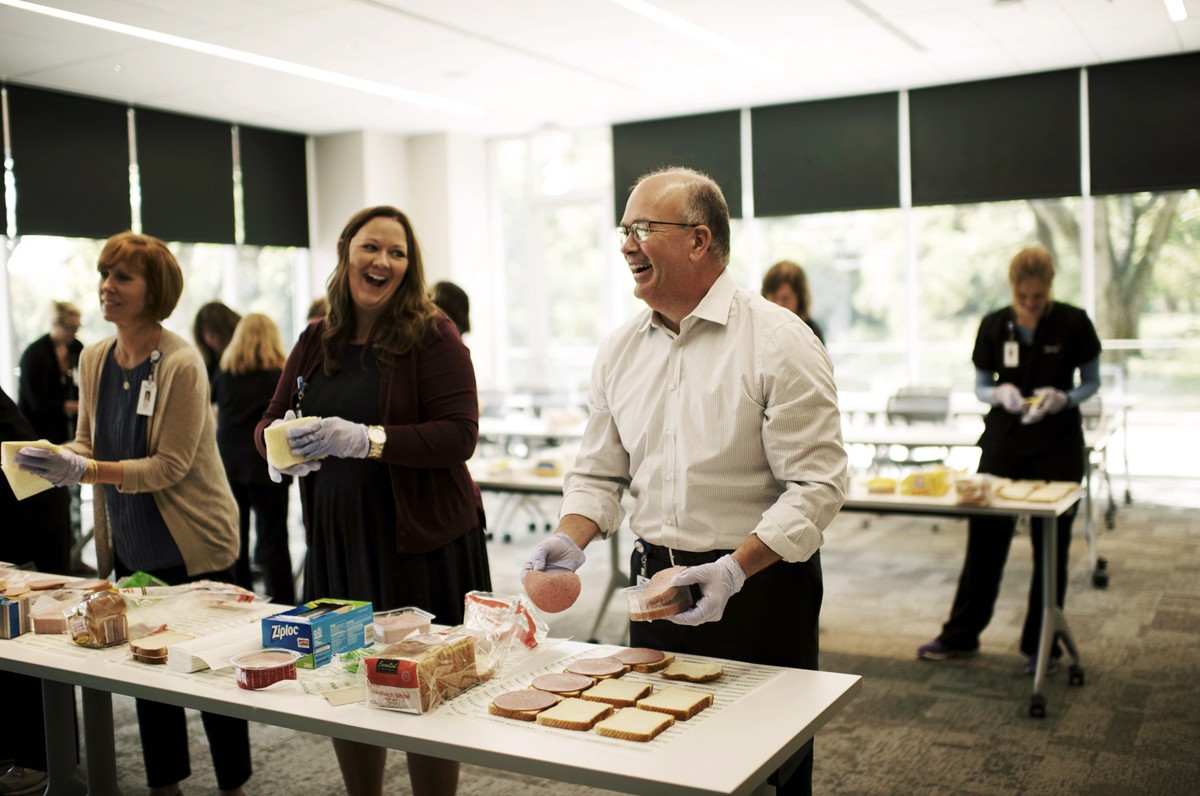 In celebration of Mercy Day, Muelleman's colleagues at the Mercy Virtual Care Center recently gathered to assemble sandwiches for the St. Patrick Center.  It's one of Missouri's largest providers of housing, employment and health opportunities for people who are homeless or at risk of becoming homeless.
The Mercy Service Project included the collection of donations, as well as preparation and distribution of what ended up being 748 sandwiches.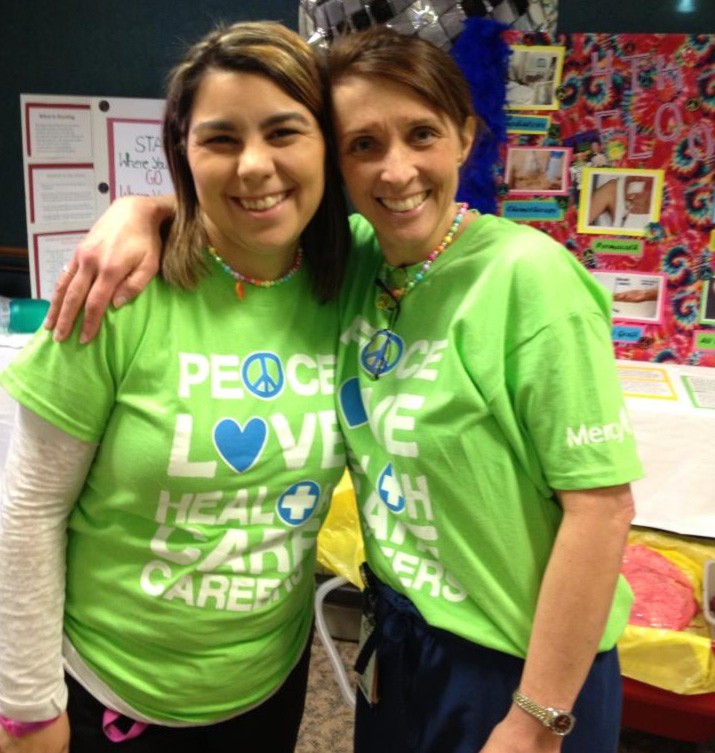 Since 2009, registered nurse Sara Taylor and nurse manager Darcy Duncan have helped save lives at a local safe spot for sexual abuse victims, in addition to those who come through the emergency room doors at Mercy Hospital Ardmore.
Taylor and Duncan are SANE (Sexual Assault Nurse Examiner) nurses, trained to provide comprehensive care for victims to address their medical, emotional and long-term needs. In their free time, the two Mercy nurses volunteer similar services at the C/SARA Foundation, which assists children and adults experiencing crisis resulting from trauma, abuse or loss.
"This is a fantastic organization that we have been around to see grow over the years, and have been blessed to be a part of," Duncan said. "We get to work with some of the most amazing people, to include our local law enforcement agencies, as well as partnering with Mercy in so many areas."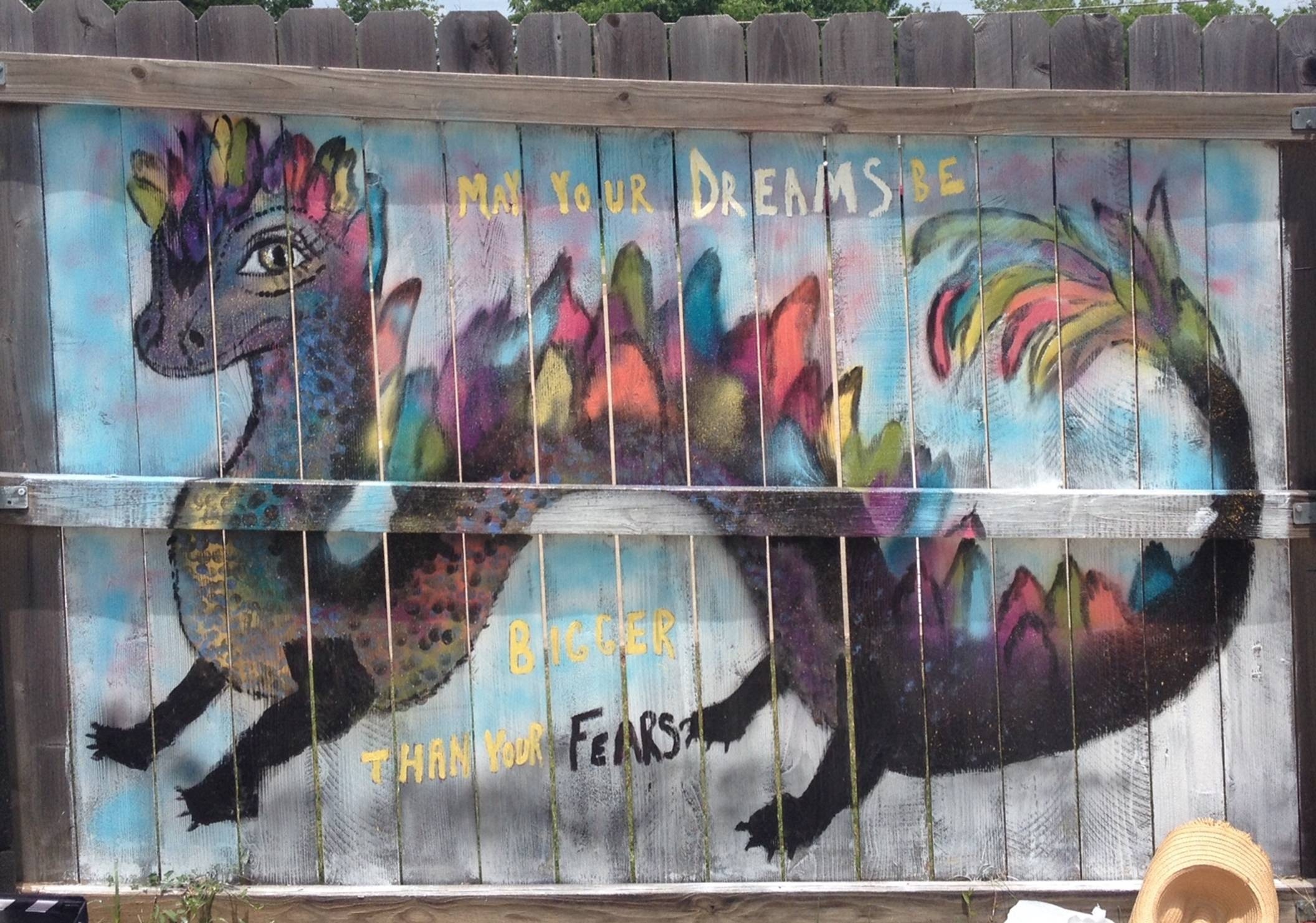 Community support comes in many forms at Mercy Hospital Ardmore. Every six months, co-workers sign up to be on teams that cook, serve food and clean up at a local soup kitchen; about 10 Mercy co-workers assist each evening. Their dedication is echoed by the hospital's admitting and patient access team that hosts a donation drive and provides services for the Community Children's Shelter. That includes the work of Terrah White, client services representative, who volunteered her free time and supplies to paint an inspirational mural in the kids' outdoor play area.
Another team, led by registered nurse Jennet Dugger, distributes water, cups, coolers and more to the A2A (Arbuckles to Ardmore) Race for Mercy marathon, a yearly event that benefits the local cancer center and its patients. And earlier this year, the Ardmore radiology team delivered baked goods and a big "thank you" poster to local first responders. 
Mercy co-workers' outreach knows no boundaries – literally. A handful of co-workers from Mercy Clinic Family Medicine – St. Robert traveled to Haiti earlier this year to set up clinics in three locations, helping 2,741 patients in four days.
"It was an honor to provide services to those who otherwise wouldn't get help," said Dr. Debbi McCaul. "Each person was synced up with a provider, medicine, scabies treatment and dental extractions – for only 50 cents!"
To learn more about Mercy's global impact this year, click here.
Sisters Reflect on Mercy Day
This year's theme for Mercy Day is "Footsteps of Mercy." Through this week long celebration, we will reflect on how we follow in the footsteps of the Sisters who have gone before us. But the Sisters of Mercy not only encourage us – they also need the encouragement of others. We reached out to three Sisters who have invested their lives in others to reflect on who inspired them…and why. 
Sister Michaelanne 
"Mercy Day is an opportunity to celebrate the women who went before. There are so many who have deeply influenced my life…beginning with the Sisters who taught me in school. They were wonderful, always challenging and loving toward us. There are remarkable women I have lived with – Sisters who were not movers and shakers, but who were so dedicated and hard-working. Many spent their entire lives working in the kitchen and laundry, using their gifts of cooking and washing to serve other Sisters so we could go out and serve others. What an impression they made on me being so happy in their work! They were truly selfless, following the example of Christ.
"Mercy co-workers have inspired me, as well. While in pastoral care in Washington, Missouri, I was so influenced by these beautiful people who so clearly understood the gospel message and lived it. It always touched me to see their surgery teams begin each day with prayer and to hear from co-workers how their own prayer lives were growing because they could pray. This is truly something to celebrate."
Sister Patricia Jane
"The first Sisters in the House of Mercy served those who were disadvantaged and on the margins of society – and helped them find their place. Today, we are still working with those who are on the fringes of society. We serve to share compassion and mercy…because the mercy of God extends to all creation and all creation is affected by it. So I'm happy to celebrate and recall what the first Sisters did – and what we continue to do.
"I have served in many places, but I have been most inspired ministering to the elderly. While in Mississippi, I worked with African-Americans in poverty stricken areas who came together for weekly fellowship and prayer. They were always willing to share the little they had with me, and their joy was contagious. They were people of prayer, and their prayer came from their hearts…and they sang powerful songs that touched you down deep. Hearing them call on God with such transparency taught me so much and I will never forget the tremendous compassion they had for one another."
Sister Roch 
"When I first entered the convent, there were several Sisters who made a deep impression on me. One Sister was in the Dietary department and worked all day preparing trays for the Sisters who were bedridden. Another Sister was very sick with tuberculosis and was very limited in what she could do. So she chose to walk up and down the halls greeting others as her ministry, and she was a gentle, permeating presence. We also had a Sister who was a seamstress who worked tirelessly creating vestments. These were women of substance, called to this life – and they gave everything to it. They had little formal education but their selfless service shaped the rest of us. 
"I recently had an extended stay at Mercy Hospital St. Louis. Each night, a voice announced visiting hours were over and then offered a prayer for all the family members to have a safe journey home – and for all the sick remaining in their rooms. It touched me, and I found myself looking forward to hearing that prayer every night. I'm glad to think of that prayer continuing to be proclaimed every night.
"As the Sisters of Mercy say in our constitution, 'We know mercy from one another.' That's why we must pray for and encourage one another."
About Mercy
Media Contacts
Sonya Kullmann
Berryville, Branson, Cassville, Lebanon, Mountain View, Rolla, Springfield, Aurora