September 24, 2018
Mercy's story began with one woman; today, it's carried out by hundreds of thousands of people in hospitals, schools and community programs across the globe.
This Monday, Sept. 24, marks 191 years since Sisters of Mercy Founder Catherine McAuley opened the House of Mercy in Dublin, Ireland. Its doors have remained open since 1827 to serve the poor, sick and uneducated.
Nearly two centuries later, we continue Catherine's legacy of caring and compassion, not only within Mercy's hospitals and clinics, but also within our communities where the need remains great.
The Sisters of Mercy
Catherine McAuley was born in Dublin, Ireland, and founded the Sisters of Mercy.  A woman of deep faith, Catherine spent her entire inheritance building a home to educate children and care for women in need. Her "House of Mercy" still endures today, as does the ministry of the Sisters. Find out more about Mercy's legacy of excellent care.
Our Heritage & Virtual Tour of House of Mercy
Mercy Day: Meeting Community Needs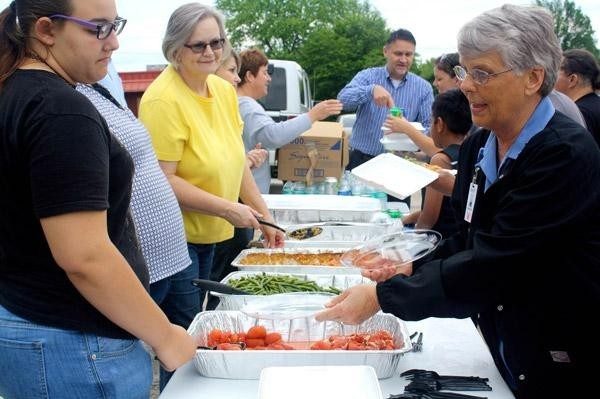 Sister Anita DeSalvo, RSM, (right) and other Mercy volunteers prepare plates of food May 26 to serve to people who live at 8th Street Motel in Rogers. (Courtesy: Arkansas Catholic)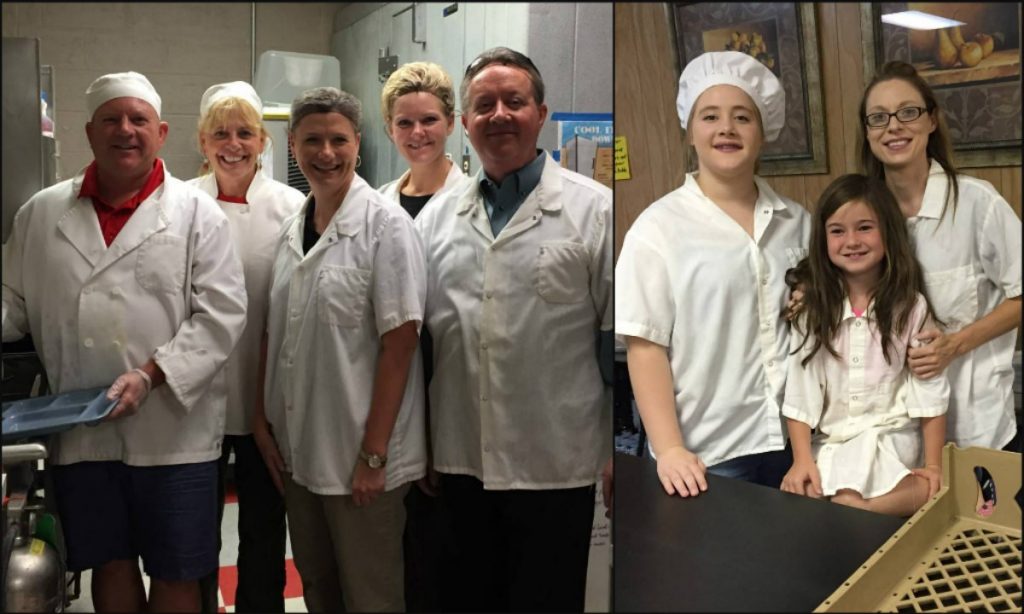 Mercy co-workers in Ada, Oklahoma, served meals to dozens in need.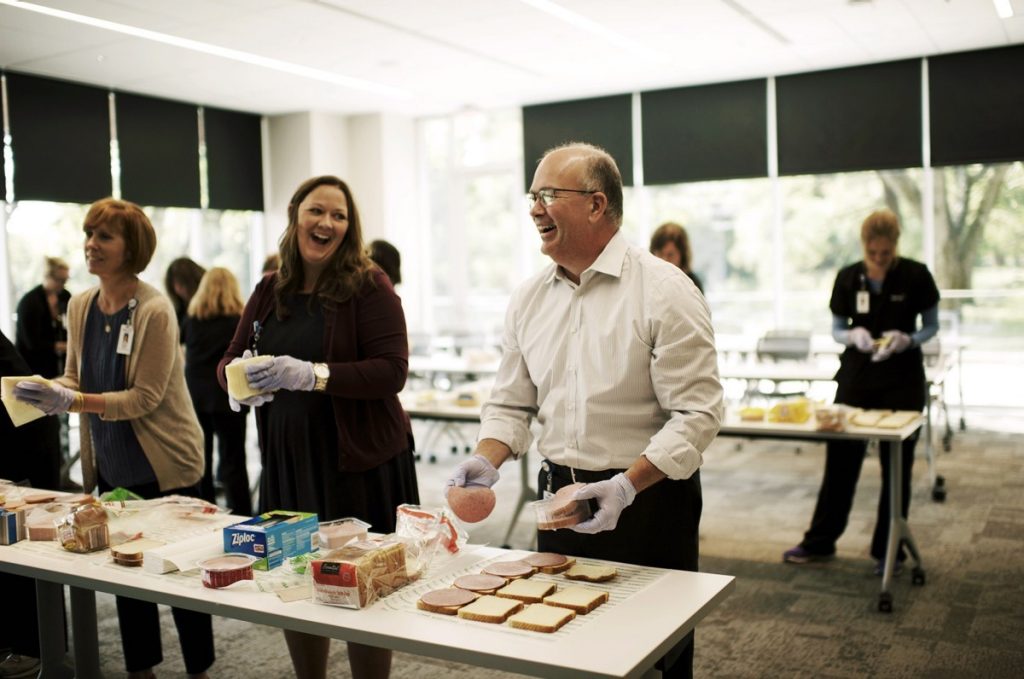 Mercy Virtual Care Center co-workers prepare sandwiches for Mercy Day.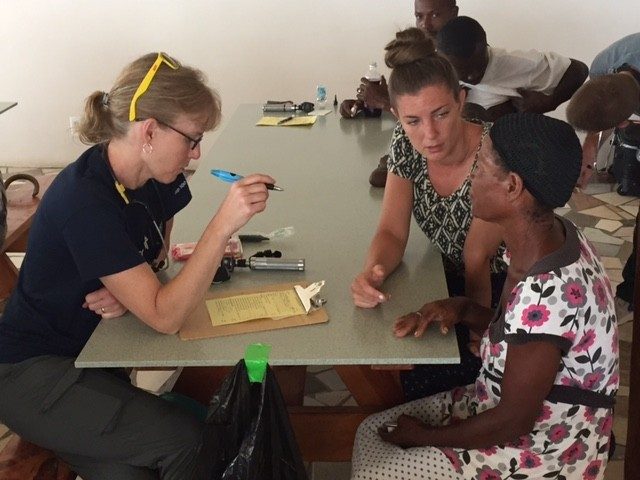 Mercy co-workers from St. Robert, Missouri, meet with patients in Haiti.
The First Sisters of Mercy in America
Sister Francis Xavier Warde and the five young women who accompanied her across the Atlantic left everything behind them to answer a call from the Bishop of Pittsburgh. As the first Sisters of Mercy in America, they spread rapidly across the country, meeting the needs of rapidly growing communities. Their legacy of innovation continues today, with Mercy building the world's first virtual hospital, caring for patients from coast to coast.
Today's Sisters Reflect on Mercy Day
The Sisters of Mercy not only encourage us – they also need the encouragement of others. We reached out to three Sisters who have invested their lives in others to reflect on who inspired them…and why. 
Sister Michaelanne 
"Mercy Day is an opportunity to celebrate the women who went before. There are so many who have deeply influenced my life…beginning with the Sisters who taught me in school. They were wonderful, always challenging and loving toward us. There are remarkable women I have lived with – Sisters who were not movers and shakers, but who were so dedicated and hard-working. Many spent their entire lives working in the kitchen and laundry, using their gifts of cooking and washing to serve other Sisters so we could go out and serve others. What an impression they made on me being so happy in their work! They were truly selfless, following the example of Christ.
"Mercy co-workers have inspired me, as well. While in pastoral care in Washington, Missouri, I was so influenced by these beautiful people who so clearly understood the gospel message and lived it. It always touched me to see their surgery teams begin each day with prayer and to hear from co-workers how their own prayer lives were growing because they could pray. This is truly something to celebrate."
Sister Patricia Jane
"The first Sisters in the House of Mercy served those who were disadvantaged and on the margins of society – and helped them find their place. Today, we are still working with those who are on the fringes of society. We serve to share compassion and mercy…because the mercy of God extends to all creation and all creation is affected by it. So I'm happy to celebrate and recall what the first Sisters did – and what we continue to do.
"I have served in many places, but I have been most inspired ministering to the elderly. While in Mississippi, I worked with African-Americans in poverty stricken areas who came together for weekly fellowship and prayer. They were always willing to share the little they had with me, and their joy was contagious. They were people of prayer, and their prayer came from their hearts…and they sang powerful songs that touched you down deep. Hearing them call on God with such transparency taught me so much and I will never forget the tremendous compassion they had for one another."
Sister Roch 
"When I first entered the convent, there were several Sisters who made a deep impression on me. One Sister was in the Dietary department and worked all day preparing trays for the Sisters who were bedridden. Another Sister was very sick with tuberculosis and was very limited in what she could do. So she chose to walk up and down the halls greeting others as her ministry, and she was a gentle, permeating presence. We also had a Sister who was a seamstress who worked tirelessly creating vestments. These were women of substance, called to this life – and they gave everything to it. They had little formal education but their selfless service shaped the rest of us. 
"I recently had an extended stay at Mercy Hospital St. Louis. Each night, a voice announced visiting hours were over and then offered a prayer for all the family members to have a safe journey home – and for all the sick remaining in their rooms. It touched me, and I found myself looking forward to hearing that prayer every night. I'm glad to think of that prayer continuing to be proclaimed every night.
"As the Sisters of Mercy say in our constitution, 'We know mercy from one another.' That's why we must pray for and encourage one another."
Care for Women
When the Sisters of Mercy were founded, women and children were especially vulnerable to illness and poverty. For this reason, the Sisters gave special attention to their needs. Today, Mercy remains deeply committed to helping women live healthier lives. From heart specialists to same day mammography appointments, we partner with women to make it easier to care for themselves… and everyone else.
Helping Communities
Being drawn by need, the Sisters of Mercy settled across the American frontier, building hospitals and establishing the health care infrastructure that would support growing populations, especially during epidemics of small pox and other diseases. The men and women of Mercy remain committed to bringing care wherever it is needed most, with state of the art hospitals, clinics and specialty services. 

About Mercy
Media Contacts