Darin Farrell, vice president of operations for Mercy Hospital Ardmore, received the highest award at the Oklahoma Hospital Association's (OHA) 98th Annual Convention & Trade Show on Nov. 3 in Oklahoma City.
Farrell received the W. Cleveland Rodgers Distinguished Service Award in recognition of his 25-year career in the health care industry.
"Ensuring everyone in our community has access to high-quality health care services has always been a passion of mine," said Farrell. "I'm truly honored and humbled to receive this award recognizing that commitment from OHA."
In 1992, Farrell began his career in health care at Memorial Hospital of Southern Oklahoma (now called Mercy Hospital Ardmore) as a transporter, nurse aide and unit secretary. In 1996, he became a registered nurse, where he used his skills in several clinical departments over the years. In 2002, he became the manager of nursing support services at Mercy Hospital Ardmore after receiving his master's degree from East Central University in Ada, Oklahoma.
Prior to joining Mercy Hospital Ardmore as vice president of operations in September 2017, he served as administrator of Arbuckle Memorial Hospital in Sulphur, Oklahoma, for 13 years. In that role, he converted the facility into a critical access hospital. He also led a campaign to pass a permanent sales tax to support the operations of the hospital and provide stable funding to build a new facility, which opened in 2009.
While at Arbuckle Memorial Hospital, Farrell received several awards, including Murray County Leader of the Year, Sulphur Citizen of the Year, and the Oklahoma Rural Health Association's Rural Administrator of the Year.
He has served on the OHA Council on Finance, has been chair of the OHA Council on Rural Health and has been the southeast region chair on the OHA board since 2010.
Established in 1919, OHA represents more than 130 hospitals and health systems across the state. OHA's primary objective is to promote the health and welfare of all Oklahomans by leading and assisting its member organizations in providing high-quality, safe and valued health care services to their communities.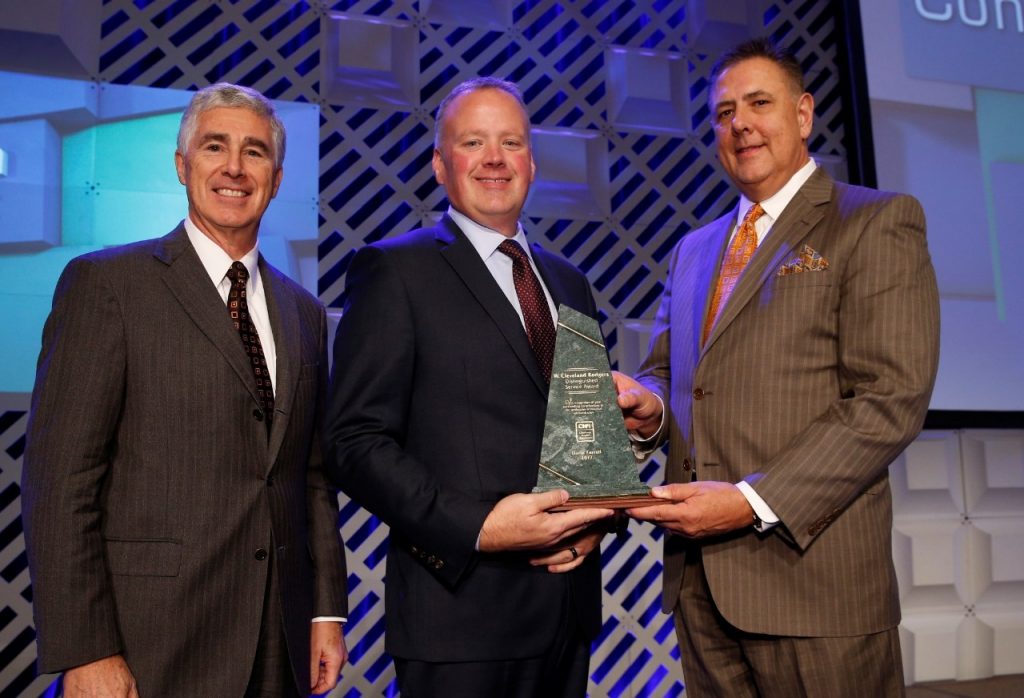 Darin Farrell (center), vice president of operations for Mercy Hospital Ardmore, received the W. Cleveland Rodgers Distinguished Service Award from Craig Jones (left), OHA president, and Jimmy Leopard, OHA board chairman and CEO of Wagoner Community Hospital.