ADA, Okla. – Ashley Trower has persisted through adversity in many circumstances in her life. "I have seen the good, the bad and the ugly in myself and others," she said. But from that, I've taken the best of all perspectives and made them my own great reality."
"I grew up in a loving but dysfunctional home and when I was 18, I lived on the streets," she added. "But failure is not an option to me."
"My personal motto is, 'it is what you make of it.' I stick to that and truly believe it. No matter how bad or good a situation is, I have to make it better!"
Its Trower's "can-do spirit" that make her one of 50 front-line, behind-the-scenes and administrative employees who received the Spirit of Resilience Award at the recent 2017 Oklahoma Hospital Association (OHA) Convention. 
Award recipients were chosen by their hospitals for exemplifying the Spirit of Resilience because they: recover quickly from a set-back or adversity; do not let failure define them, continuing on a path to success; come back stronger than ever when knocked down; react optimistically when faced with sudden change or an unexpected outcome; or change a negative turn of events into a positive source of healing for their patients.
"Ashley is a very hardworking lady that failure is not an option, said Lyndal Dedmon, Mercy Hospital Ada director of food services and nutritional services. "She is very optimistic and willing to do what it takes to succeed."
Ashley was surprised to hear she was named a recipient. "I told them they had the wrong person when I was approached," she said. "I guess those around me have seen something that I never seen in myself until now."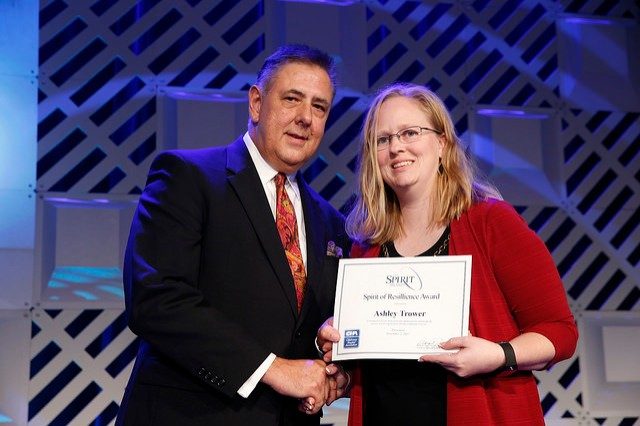 Oklahoma Hospital Association President Craig W. Jones presents Ashley Trower the Spirit of Resilience Award at the 2017 OHA Annual Convention.