Mercy Sleep Centers in Fort Smith, Ozark and Waldron have received three-year national accreditation that demonstrates a commitment to providing the highest level of performance and patient care.
The Accreditation Commission for Health Care (ACHC) granted the accreditation, which focuses on clinical care when patients are tested for a variety of sleep disorders. The three centers demonstrated a commitment to providing quality care and services to patients through compliance with ACHC's nationally recognized standards.
"ACHC has a great reputation. It doesn't just accredit sleep labs, but also hospitals, home care, pharmacies and more," said Dr. Stephen Snell of Mercy Clinic Sleep Medicine and medical director of the sleep centers. "It shows that we're not just saying we meet the standards but have had a surveyor confirm that we meet or exceed the standards."
During the accreditation process, one surveyor noted that "Mercy Fort Smith Sleep Center is one of the nicest, well-run sleep programs I have ever visited. … The staff's years of combined experience in sleep and teamwork definitely shows in the work you do. Your team's compassion for quality sleep services is evident."
Mercy's sleep centers help people with disorders such as insomnia, restless leg syndrome and sleep apnea, which is characterized by brief interruptions of breathing during sleep. The centers, staffed by seven registered polysomnographic technologists and a certified polysomnographic technologist, at 5401 Ellsworth Road in Fort Smith, 801 W. River in Ozark and 1341 W. Sixth St. in Waldron.
After it's determined a sleep study is needed, a technician walks patients through an in-depth, one-on-one discussion before they're wired with sensors. The technician closely monitors patients sleeping in a comfortable, bedroom-like environment. Testing and treatment is determined by a board-certified sleep specialist.
If you think you could benefit from a sleep study, ask your primary care doctor for a referral to one of the three sleep centers or make an appointment with Dr. Snell or nurse practitioner Paula Brosnan at Mercy Clinic Sleep Medicine, 7001 Rogers Ave., 479-314-8917.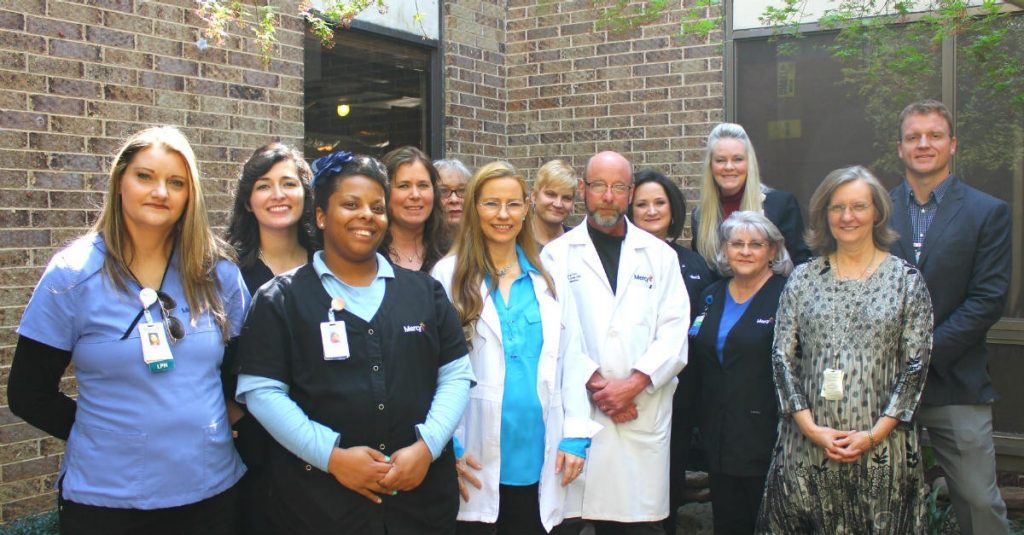 Mercy Sleep Center staff and Mercy Fort Smith leaders were instrumental in the three centers receiving accreditation.
Practices