The St. Louis Business Journal has selected Gil Hoffman as one of the recipients of its Technology Executives of the Year award.
Hoffman, senior vice president and chief information officer of Mercy, was selected for the organization's innovative use of technology to differentiate the business, enable growth, create competitive advantages and impact the company's bottom line.
After 30-plus years with Maritz Holdings Inc., Hoffman joined Mercy Technology Services in 2012 to take on a new challenge: advancing a mission of better health care through the use of emerging technology across the system, including more than 40 hospitals and more than 300 physician clinics and outpatient facilities. Building from the capabilities in Mercy's electronic health record (EHR), Hoffman has helped catapult Mercy's data-driven care model in his six years on the job.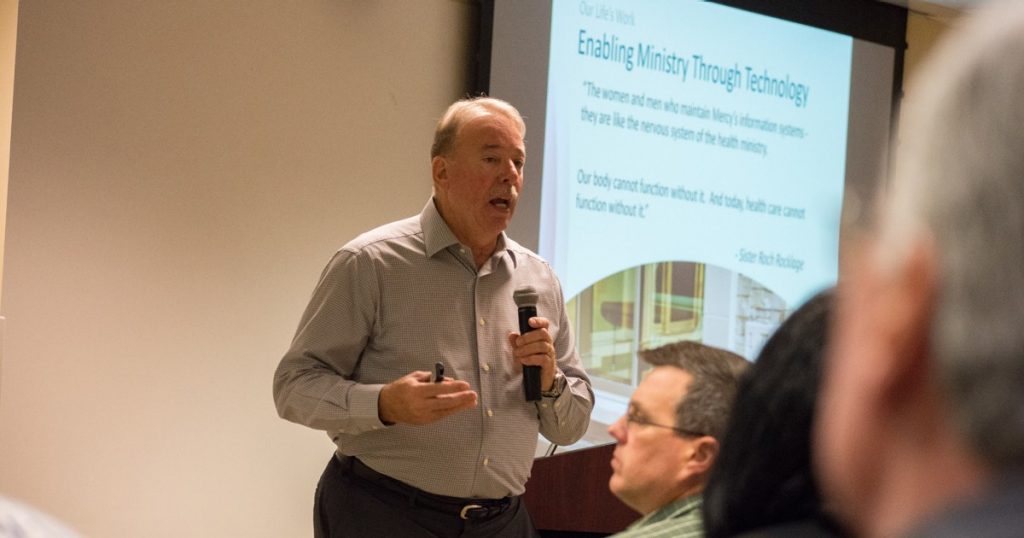 Mercy Senior Vice President and Chief Information Offier Gil Hoffman was named among the region's best technology leaders.
Today, thanks to Hoffman's leadership, Mercy's physicians, care team and leaders have intelligence – not just data – at their fingertips, boosting productivity, reducing cost and saving lives. Achievements include:
Building evidence-based pathways into Mercy's EHR helped reduce mortality rates by 50 percent for heart failure and pneumonia patients – a number that's less than half the national average.
Using surgical procedure data to help achieve more than $33 million in cost reductions, eliminate or minimize the use of certain surgical products, reduce variation in surgical protocols, establish best practices across surgical departments and ensure quality post-operative results for patients.
Health care is challenged with a nursing shortage and high nurse turnover. With advanced data analytics helping nursing leaders make better use of available staff and avoid costly overtime incentives and agency labor, Mercy saved $4.3 million in nursing labor costs, decreased turnover and increased nurse satisfaction. 
Since 2014, Hoffman has been leading the team to help other hospitals by extending EHR services, cloud hosting, PACS imaging services and big data analytics so more doctors have the tools they need and Mercy's mission reaches more patients.
You can find the list of winners on bizjournals.com.