FORT SMITH, Ark. – Mercy recently recognized six co-workers and a community leader for consistently modeling Mercy's values of dignity, justice, service, excellence and stewardship.
The seven were honored May 10 at the 2018 Mercy Fort Smith Service Awards and Living Our Values Ceremony at the DoubleTree downtown. This year's theme for the annual event was "Everyday Heroes."
"I cannot think of any other environment where everyday heroism is more prevalent or more important than in health care," said Ryan Gehrig, president of Mercy Hospital Fort Smith. "Seeing extraordinary efforts every day is truly one of the highlights of my job."
Each year, Mercy Fort Smith selects five Living Our Values honorees from nominations. This year's recipients:
Dignity: Rachael Waggoner, registered nurse, patient placement and staffing, Mercy Hospital Fort Smith.
Justice: Kevin Peoples, food services supervisor, Mercy Hospital Fort Smith.
Service: Shirley McGrath, environmental service tech I,  Mercy Hospital Fort Smith.
Excellence: Gary Bowman, patient transporter, Mercy Hospital Fort Smith.
Stewardship: Lisa Thorne, senior financial analyst II, Mercy Clinic.
"Mercy heroes save lives every day, whether they are in direct patient care, ensuring a clean, safe environment for our patients or making sure all needed equipment and supplies are readily available," said Amy Fore, chief operating officer of Mercy Clinic in the Fort Smith region.
For the second time, Mercy also selected a co-worker and a Fort Smith community member for the Lamplighter Award, which encapsulates all of Mercy's values and honors those who guide others and keep them moving forward. Dr. Tony Flippin of Mercy Clinic Oncology received the co-worker award and Jerry Glidewell of the Fort Smith Boys & Girls Clubs the community award.
Mercy Fort Smith also recognized 365 co-workers who reached service five-year milestones in 2017 up to 45 years of service. Forty-six have between 25 and 45 years of service:
45 years: Dr. James Long, Mercy Clinic Orthopedics; Karen Rinke, coding services.
40 years: MaDonna Becker, financial coordinator; Dolores Hoyt, inventory management; Liz Schluterman, diabetes coordinator; Mary White, cafeteria; Carol Willhite, central services.
35 years: Inga Burlison, operating room; Sandy Corrieri, EDI billing; Gail Fisher, Mercy Clinic administration; Zoe Hathaway, employee health; Nedele Olsen, recovery room; Sherry Stone, medical/surgery.
30 years: Dr. Allen Beachy, Mercy Clinic Family Medicine; Shirley Bearden, bariatric program coordinator; William Bench, respiratory; Alesia Davis, APRN, Mercy Clinic Cardiology; Mary Hall, endoscopy; Rebecca Harkey, Hembree Cancer Center; Mary Hudson, medical/surgery; Carree Joyce-Brewer, endoscopy; Kathy Kennedy, Mercy Clinic Orthopedics; Victoria King, Mercy Clinic Family Medicine – Ozark; Donna McFerran, labor and delivery; Lisa Myers, medical/surgery ICU; Denna Rankin, supply chain; Monica Sharum, cardiac catheter lab; Larry Shelton, cardiac catheter lab; Leilani Snow, EDI billing; Andrea Williamson, hospice.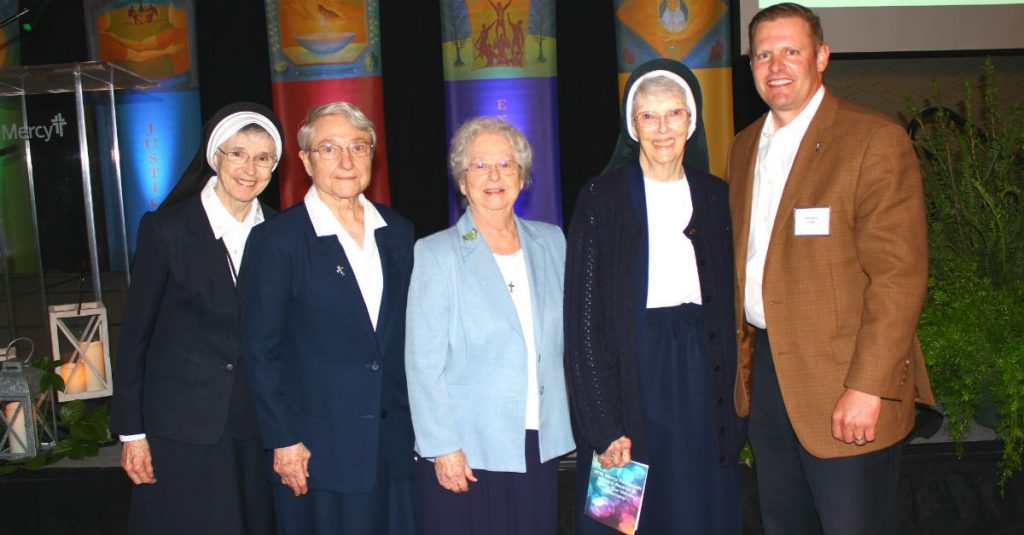 Sisters of Mercy and Ryan Gehrig, president of Mercy Hospital Fort Smith.