The front entrance at Mercy Hospital Ada will soon look different as a major renovation project aims to create a better experience for patients and visitors. The construction project kicked off July 27 with a groundbreaking and blessing ceremony.
The project has been in the planning stages for years and focuses on feedback Mercy has received from patients. Community members, Roger Cupps and Debbie Thompson, were instrumental in providing integral feedback that helped shape the design.
"It was important to us to include the Ada community voice in this project," Danny Coats, vice president of operations at Mercy, said. "Hearing from those who could walk through the doors as guests and patients ensures we deliver on our promise to transform health care."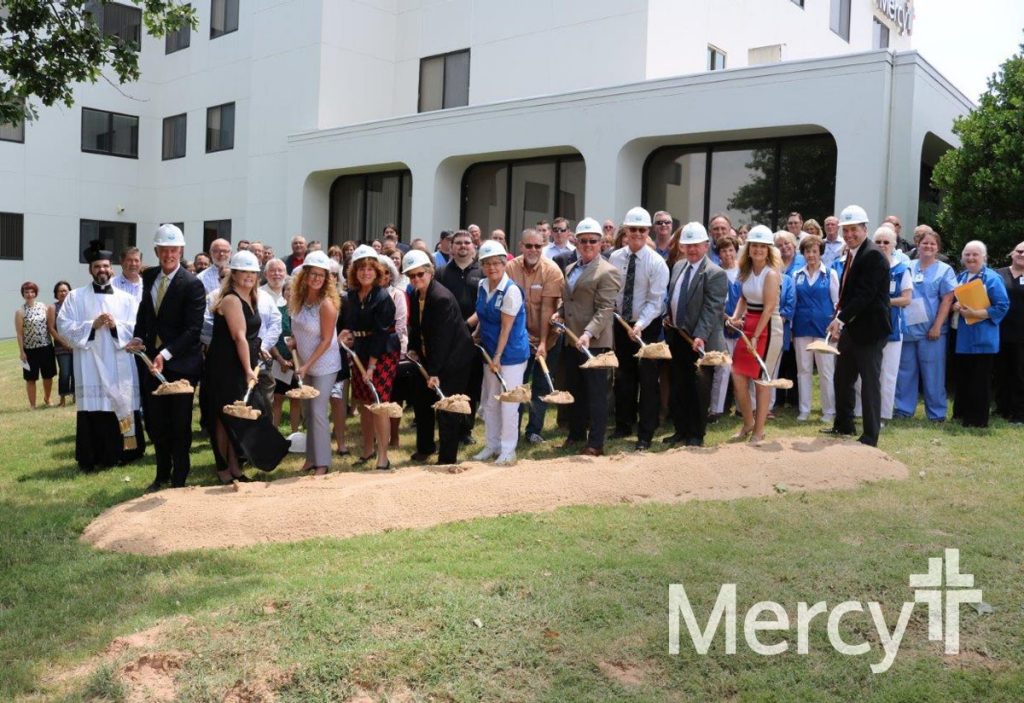 Mercy has a history of asking patients and health care consumers their opinions about the places where they receive care. Years of research and asking patients went into the designs of Mercy's places.
"We committed a few years ago to change the way people experience health care and that includes where they experience it," Lori Wightman, president of Mercy Hospital, said. "What we learned has really changed the way we design our spaces."
According to Mercy design guidelines, spaces should be easy to use and not cause confusion. In the new spaces, wide and open corridors are used and waiting spaces are inside a gallery space which gives good visibility to the various services along the corridor.
In addition, the places and services patients or guests need are placed up front in hopes they are easy to access. In the front entry renovation, Ada residents can expect to see a streamlined information desk with no one taking phone calls there, lab and imaging services will be brought to the front of the building for patient ease and the chapel will be very visible in the entry.
"Our goal was to create a welcoming entrance with easier access to more of the services patients need," Coats said. "We also planned for the space to feel more open and warm with use of natural light and calming colors."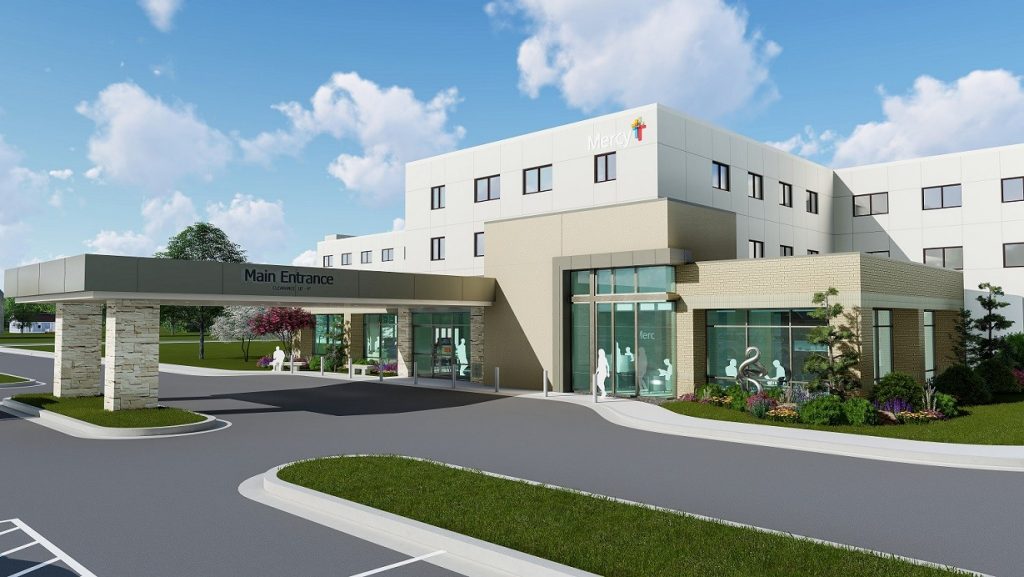 Patient research emphasized the importance of natural light and nature in the healing process and in creating a calming environment. These elements will be part of the design for the front entry, along with the addition of elements designed to create a connection with Mercy's faith-based heritage.
The centerpiece of this mission connection will be the chapel, moved from further inside the building to the front entrance, making it easier for patients, co-workers or anyone who needs a few moments of quiet reflection to find it.
"We know our patients and their loved ones are often going through really stressful situations," Catherine Darcy, RSM, director of mission, said. "The new chapel will be easy to find and anyone who enters will pass it and see it. Our hope is it is there when you need it and provides a bit of comfort."
The front entry project brings together a few community partners to fund the work. In addition to Mercy's contributions to the $3 million project, Valley View Foundation made a $1 million donation to make it possible. In addition Mercy Health Foundation and the Mercy Hospital Ada Auxiliary will contribute funds as well.
The auxiliary runs the gift shop, which will also be getting a facelift during the project.
"We are a community hospital and this is truly a community project," Wightman said. "The groundbreaking and blessing ceremony give us the opportunity to celebrate with all of those who made this work possible."
The $3.1 million dollar project will include:
·       A larger admissions and waiting area
·       Convenient access to lab, imaging and EKG services
·       Information desk to welcome and provide information
·       Accessible medical records area
·       Chapel located at the entrance
·       Restroom upgrade to include ADA accessibility
·       Gift shop remodel